APM in the API Economy - Part 2
The following is an edited excerpt from Application Performance Management (APM) in the Digital Enterprise: Managing Applications for Cloud, Mobile, IT, and eBusinessby Rick Sturm (CEO, Enterprise Management Associates), Carol Pollard and Julie Craig (Research Director for Applications, Enterprise Management Associates). The book is available now from Amazon.
This blog condenses some of the key concepts covered in Chapter 11, entitled Application Programming Interfaces and Connected Systems.
Start with APM in the API Economy - Part 1
API Management Tools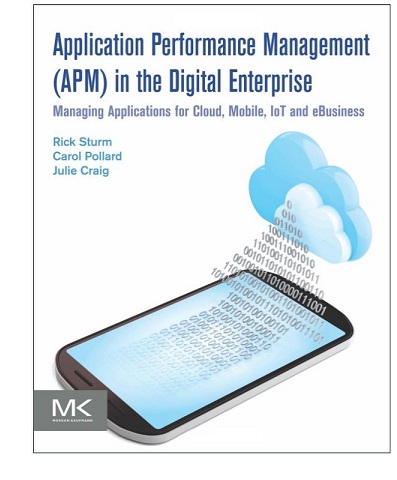 So how and where do tools fit into this picture? Tools help rein in this growth and complexity by addressing key functional questions supporting tools acquisitions.
API providers often find themselves asking:
■ How can we track usage growth and the impact of that growth on back-end systems for capacity planning purposes?
■ How do we ensure that only authorized users and applications connect to our systems?
■ How can our organization synchronize API development with traditional application development lifecycles since the two are often linked?
■ How can we secure API usage to ensure that sensitive data is protected?
■ How can we track usage of "for pay" services to correctly bill for access?
API consumers ask:
■ How do we find out about new APIs offered by our vendors and partners, and how do we then go about accessing them?
■ How do we know when the APIs our systems are accessing are modified by the provider?
■ We have hundreds of applications that access APIs—and some of them interact with one another. How do we measure end-to-end performance? And when one such application fails, how can we determine what changed, what's wrong, and how to fix it?
A large majority of both consumers and providers are monitoring performance and availability of applications accessing APIs from the perspective of the gateway. Although this is a good starting point, it is essentially a silo solution to a far broader and more complex problem.
API-connected applications, like any other tiered, distributed, or componentized applications, may have hundreds or thousands of potential failure points. From this perspective, simply monitoring the gateway is akin to monitoring server, network, or database silos. Such monitoring fails to address the touch points BETWEEN hardware and software elements that occur during application execution. In other words, it lacks the visibility to the entire end-to-end execution path that distinguishes application management from systems or silo management.
In the end, APM platforms — and API management systems -- should have mechanisms for incorporating gateway performance data into analytics, correlations, and dashboards. A few vendors are already addressing the API market with data-sharing capabilities and/or and products specifically designed to manage API-connected applications across each stage of the lifecycle. Lacking a single point of visibility and control to application execution (versus silo performance), full automation of the end-to-end monitoring/management function remains a fruitless quest.
EMA is currently in the process of launching new research into the automation and tools supporting the API Economy. This study, "Enterprise Management Strategies for the Connected Business: Hybrid Services and API Ecosystems Become Business as Usual", will include both a user-facing survey and vendor "snapshots" encapsulating the types of tools and capabilities currently available in the enterprise management tools market. For ongoing updates on this research, visit www.enterprisemanagement.com or contact EMA sales at: sales1@enterprisemanagement.com.