IM
The Must-Read Guide to Successful Software Defined Networking Deployments
The Critical Guide to Modern Network Monitoring is a handbook for NetOps leaders and practitioners to ensure the true benefits of your SDN investments are always achieved
Did you know that 81% of enterprises have or plan to deploy SDN and NFV technologies in the next 12 months but most have admitted that their current monitoring tools DO NOT support these modern network architectures?
Software defined networking (SDN) means networks will grow and shrink based on user demand, as virtual network devices come and go, move between hypervisors and chew up resources in a heartbeat. The days of "set it and forget it" network administration and monitoring are gone, and your monitoring tools currently deployed won't be able handle these increasingly dynamic, virtualized and complex modern network architectures.
Say Goodbye to Swivel Chair Monitoring
Recent advances in networking technology coupled with user demands means that network operations teams often find themselves with a multiplicity of tools, each designed to manage and monitor just a single aspect of the enterprise network. The result is that over 50% of enterprises use 10 or more network monitoring/troubleshooting tools and spend 71% of their day fighting fires.​
Swivel-chair monitoring created many challenges for network teams. First, there is the duplication of effort involved in managing multiple tools and interfaces. Then there is the uncertainty brought on by having to rely on a variety of tools for various infrastructure components. Just keeping track of which tool is used for which network element can induce stress.
Full Visibility Means Full Stack Coverage
Perhaps the biggest problem created by this fragmentation is a lack of end-to-end network visibility, cited as the No. 1 challenge to successful network operations in the same EMA report. Additionally, the migration to software defined networking technologies will not happen overnight. Very few enterprises, if any, will do a rip and replace of existing networking technology for modern architectures. An integrated approach is the only truly feasible approach.
Network teams need a convergence of operations driven by a one NetOps portal experience with full-stack monitoring and management for both traditional and modern architectures that spans the greatest number of protocols and vendor landscapes. Enterprises are increasingly virtualizing every part of the network. However, that does not mean traditional network infrastructure is going away anytime soon.
Running healthy networks means removing visibility gaps you may have in your traditional, SDN or even cloud architectures. If you're not monitoring the entire stack; from Layer 1 to Layer 7 across any protocol and any technology or vendor offering; then you are lack the complete visibility you need to triage network issues and how they relate to the application experience.
CA Technologies has adopted the term "FITPAL" as the selection criteria for choosing a network monitoring tool. FITPAL stands for Fault, Inventory, Topology, Performance, Application and Logs; and is the convergence of all the data streams needed for advanced visibility and healthy operations across traditional and software defined networks. The greater your visibility of FITPAL data, the greater your ability to ascertain availability and performance, and to troubleshoot and fix problems as they arise.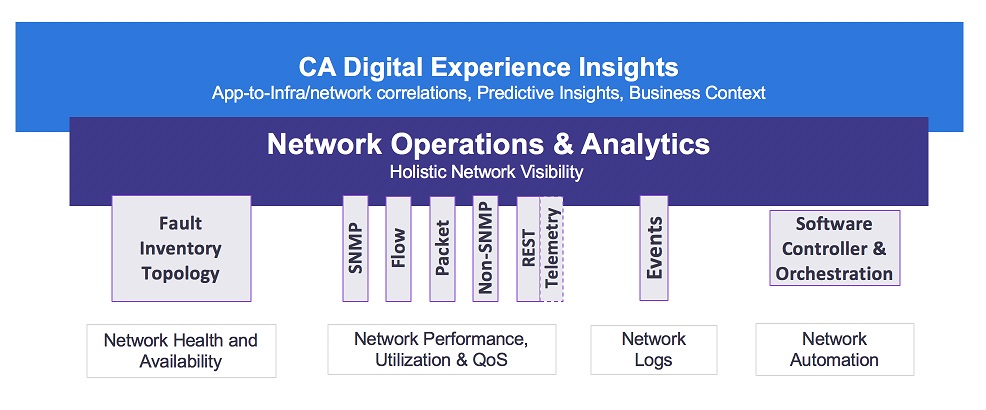 Unified Network Operations and Analytics from CA Technologies

Modern Analytics Drives Automation and Advanced Triage
With networks incorporating traditional, SDx, NFV, IoT and SD-WAN elements, network tools must be in a continual state of discovery, constantly looking for new elements being created or transitions between hypervisors of network elements and workloads alike. CA's centralized analytics engine brings together data gathered from monitoring and topology and provides predictive and automation capabilities to the enterprise, support network self-healing and application-to-infrastructure correlation and predicts customer impact based on any network event.
With the ability to have deep visibility and context of network issues — across all application service chains, individual network nodes and endpoints — NetOps can now have the ability to significantly reduce triage times while enhancing user experience satisfaction.
Popular SDN Monitoring Use Cases: SD-WAN and Cisco Application Centric Infrastructure (ACI) monitoring
Network Operations and Analytics from CA is a full-stack monitoring and analytics platform for assuring traditional WAN and SDWAN and provides:
■ Software defined networking relationship mapping that enables easy VNF management
■ Validation of traffic decisions made by SD-WAN intelligence
■ Easy troubleshooting workflows to assure SD-WAN health
■ Unified monitoring of SD-WAN and traditional WAN
A successful transfer of a production Cisco ACI environment from engineering teams to the network operations teams (NOC) depends on making ACI monitoring easy, scalable, and manageable for the NOC and depends on just some of the following:
■ Operationalizing SDN- the NOC needs out-of-the-box (OOTB) standard operations workflows with less clicks to troubleshooting and triaging complex software defined networking environments like Cisco ACI.
■ Enabling "relationship triage" - ACI introduces new inventories and new topologies that need to be auto-discovered, understood and visualized to be managed effectively.
■ Correlating network impact to applications and critical business services via high speed and high scale packet analysis. Cisco ACI makes it difficult to access packet data and the large amount of traffic generated by this technology demands advanced monitoring scalability.
■ Correlating ACI events, reducing the noise and dumping now-critical alarms to allow the NOC to focus on the real pain point of any outage for faster triage.
With the ability to have deep visibility and context of network issues — across all application service chains, individual network nodes and endpoints — NetOps now has the ability to significantly reduce time to resolution while enhancing user experience satisfaction across traditional and software defined network architectures.