Performance Management from the Cloud: The Deployment Perspective
What Exactly Is Cloud Performance Management?
For long, cloud performance management has been an overloaded term. Many have referred to the ability to collect metrics from public cloud providers like Amazon EC2 as cloud performance management. However, there is a lot more to cloud performance management than this.
There are three different perspectives that cloud performance management can take and there are unique requirements for each of these perspectives:
The deployment perspective: performance management from the cloud.
The cloud consumer perspective: performance management of the cloud hosted applications.
The cloud service provider perspective: performance management for the cloud.
This four-part blog series will cover these three perspectives in greater detail. Part One, the introduction, started with Performance Management Challenges for Cloud-Hosted Services. This blog, Part Two, explores the deployment perspective.
Conventionally, performance management software has been deployed on-premise. Depending on the complexity of the software, deployment and configuration has often been a time consuming, challenging exercise.
Today, as an IT manager, you have the option to not deploy performance management on-premise but to get this as a service delivered from the cloud. The advantages that cloud computing offers – agility, cost saving and ease of use – also apply to performance management delivered from the cloud. Performance management delivered "FROM" the cloud provides the same advantages that the cloud offers for business applications. With a flexible pay-per-use service model, you can turn on/off the service as you require.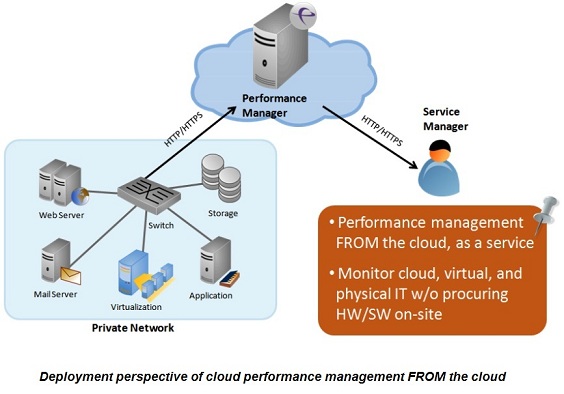 There are several aspects you will need to consider when evaluating different performance management solutions from the cloud:
How will the monitoring be done and from where?
Monitoring is often done by software agents that are deployed on the servers to be monitored. These agents connect and report metrics to a management platform in the cloud.
While agents are known to provide granular monitoring, they also add additional burden from an operations standpoint. So, can the performance management solution also support agentless monitoring? Do you require the monitors to be deployed in your infrastructure or will be the monitors also be deployed in the cloud?
The ideal cloud performance management solution will give you complete flexibility in deploying monitors. It must support agent-based and agentless monitoring, so you can decide which servers you need agents on and which ones you do not.
What kind of metrics will the management system collect and how will it assist in troubleshooting service performance issues?
Conventional CPU, memory, and disk metrics are important to understand how your servers are being used. But given the complexity of today's infrastructures, you need a management system that can do much more. It must include monitoring for all the virtual and physical infrastructures you are responsible for. It must also have in-depth visibility into key application components you are managing including databases, web servers, middleware servers, messaging systems, etc.
How does the performance management solution handle the security concerns you will have when monitoring performance from the cloud?
One of the major concerns you have to take into account when deciding whether to use performance management from the cloud is security: What new firewall rules do you need to configure? Do the servers that you want to manage have to be directly accessible from the cloud? What new TCP ports do you have to open?
Ideally, none of these should be necessary. The ideal performance management solution from the cloud will be 100% web-based, so it can use HTTP/HTTPS for all communications between its monitors and the management platform. If all the communication is initiated from the monitors (rather than from the management platform), there is no need to open any new TCP ports as well.
How will you access the performance metrics collected and reports generated?
Most cloud performance management systems allow IT managers to access the management platform to get access to metrics, alerts, and reports about their key network, server, application and service components. This software as a service (SaaS) approach allows organizations to access performance metrics, dashboards, reports and alerts directly FROM the cloud.
Using this service, enterprises can monitor their cloud, virtual, or physical infrastructures without having to procure and deploy the software and hardware necessary for provisioning a performance management system in-house.
How will the service be licensed?
Finally, there is the question of licensing. Will the service be licensed based on what applications you want to monitor? Will it depend on the size of the servers (number of CPU cores and sockets) you plan to use for your business?
Today's IT infrastructures are dynamic. Applications come and go and your infrastructure changes over time – you may add more memory or CPU to get an application to work better. You don't want to have to worry about the licensing of the performance management system every time you make a change in your infrastructure. Therefore, it is essential that the performance management system be licensed based on the number of servers you want to monitor and not based on the size of the servers, type of applications you want to monitor, etc.
There are several key benefits available from such a cloud-based management solution. There are no investments to be made in hardware or software for the management solution. It is also a pay-as-you-go model that allows for addition/removal of monitors as required. And finally, this approach is a rapid deployment model where you only need to set up monitors.
This blog is the second in a series of four on cloud management.
Part One: Performance Management Challenges for Cloud-Hosted Services
Part Three: Performance Management of the Cloud: The Cloud Consumer View
Part Four: Performance Management for the Cloud: The Cloud Service Provider View
Srinivas Ramanathan is CEO and Founder of eG Innovations.
Related Links: