How Will Streaming News Impact Office Networks During the Democratic Debates?
The past several weeks have been chock-full of "event programming," from the U.S. Women's Team's thrilling victory during the 2019 World Cup to game-changing matches during Wimbledon. But perhaps the biggest watercooler topic of the summer so far hasn't been a sport in the traditional sense, but the start of the ahead of this fall's primaries.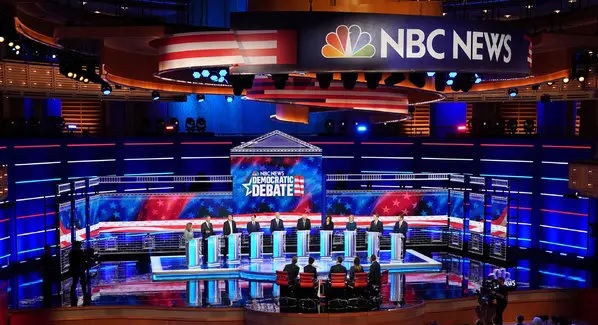 While not technically a sport, the debates represent another heated competition that is likely to have many people switching back-and-forth between live streams over the coming months. This is going to be especially true in the days before and after each debate, which will mean many office networks are likely to see a greater share of their total capacity going to streaming news services than ever before.
Not unlike the rise of streaming sports, traditional news services rely significantly less on televised broadcast and are branching out into new methods for content delivery that will allow consumers to enjoy news wherever (and whenever) they're connected to the internet. That means that many of the day-after "hot takes" that viewers would otherwise miss because they aren't glued to daytime cable news can instead be watched on-demand, be it from a tablet during a conference or on a smartphone in the office breakroom.
Just a few weeks back, NBC News launched a free streaming service to join ABC and CBS in creating easily digestible content that appeals to more web-savvy Millennial viewers, for instance. And recent reports indicate that in the leadup to the 2020 election specifically, streaming news will play a huge role in bringing political content to previously untapped audiences.
All of this is in direct response to the rapidly aging viewership of cable news, which has historically led in traditional-broadcast TV ratings: The average viewer of CNN is 60 years old, while Fox News' and MSNBC's demographic is an average of 65 years old.
Instead, a recent study from eMarketer estimates that this year will mark the turning point where, for the first time ever, Americans will spend more hours on smartphones and tablets than watching traditional television, period. The programming from streaming TV News services is optimized for a mobile audience, with minimalist framing and direct visuals that viewers can absorb at a glance.
And with Millennials currently accounting for the bulk of the modern workforce, enterprise network teams shouldn't be surprised to see a surge in streaming on the job as the primaries start heating up.
Mixing work and politics is never recommended, but it's impossible to avoid the conversation around 2020 given the current news cycle and all that's at stake. Plus, despite the gravity of it all, watching presidential nominees jockey for a lead in the polls is its own form of entertainment that even politically-agnostic watchers can enjoy.
While it might not be prudent (or even possible) to flat-out ban political discourse at work, enterprise teams need to be sure that their total network capacity isn't being sucked up by non-business apps. Streaming and video services already suck up a dominant share of network bandwidth, according to AppNeta's 2019 State of Enterprise IT report, but teams should be on the lookout for sources of streaming content that could be having a material impact on the end-user experience of business-critical tools.
This kind of insight can only be gleaned when teams are empowered with end-to-end visibility across the entire enterprise network. This includes the ability to identify specific web apps, for instance, that are leveraging a lot of network overhead without exhausting resources in the process. It also calls for solutions that can help teams immediately identify users and locations whose behavior is negatively impacting the tools that teams need most to get the job done.
It's important that, as citizens, all employees are getting access to the news they need when they need it. But to make sure business isn't impacted as a result, a robust network monitoring solution that can help enterprise IT make sense of their total network capacity and all of their traffic is a critical component of any network management stack.