User Expectations Sky-High as Businesses Face "Work From Anywhere" Future
As vaccinations rise and businesses plan for a post-covid future, more than 80% of knowledge workers in the United States would like their long-term work environment to include some element of remote work.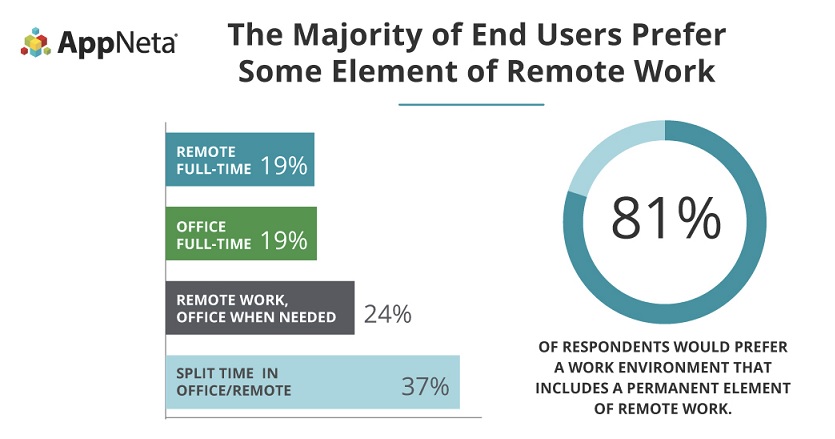 Employees are looking for flexibility and a hybrid model, either hoping to work remotely permanently or have the option to exercise more flexibility when it comes to an in-office schedule, according to AppNeta's 2021 Work From Anywhere Outlook.
More than 1,000 knowledge workers took part in the study, which also found that since March of 2020, 21% of respondents relocated from their original address. Now, the American workforce is nearly evenly dispersed among urban areas, suburban areas and rural areas.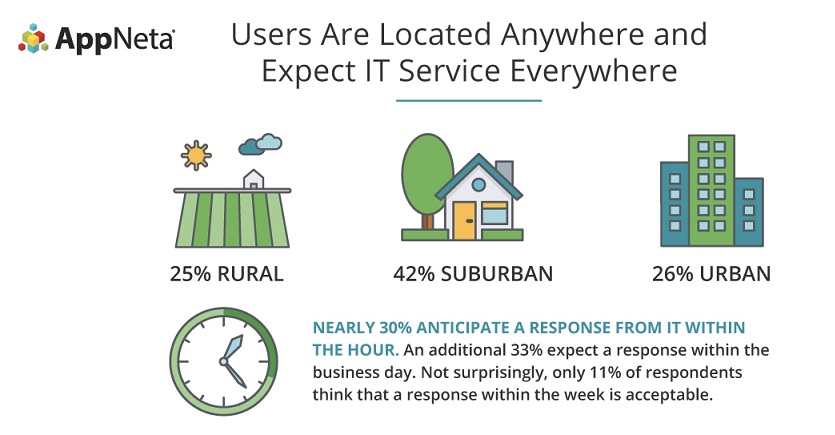 These and other findings from the report identify the need for companies to be able to provide the same level of user-experience across vastly different regions, calling into play a bevy of ISPs and vendors who will be involved in the application delivery chain out to remote users.
This broader trend of urban decentralization creates new challenges for already strapped IT teams, as delivering optimal internet connectivity to residential and rural communities can be a challenging task, requiring employers and IT teams to set user expectations around the quality of their network performance.
The events of the past year pushed companies across industries to move entire workforces to operate productively at home, essentially calling for the IT support footprint to explode as teams were now tasked with managing hundreds or thousands of remote locations opposed to a few branch offices and HQ.
Of the technology-related issues causing frustration in the past year for remote employees, the biggest gripe was internet connectivity, with almost half (44%) of respondents expressing their frustration. Another top stressor was issues with video calls, with 40% of respondents identifying freezing screens and challenges with popular tools such as Zoom.
Unfortunately, more than one-third of end-users shared that they were frustrated by technology challenges and experiences with their employer's IT team since the pandemic, even though 21% of respondents acknowledged that the IT team may be doing their best in the circumstances.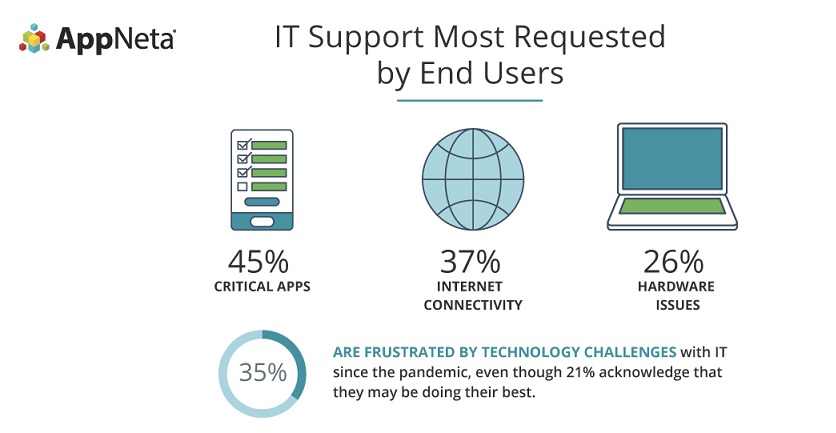 "The pandemic completely blew up most IT departments' support model for their remote users. Remote office visibility for the end user experience of business critical applications was already a challenge for many, but in the new normal, the 'user-to-problem ratio is now often 1-to-1 vs. hundreds-to-1 that used to be the norm with large groups of users consistently working from offices," stated Matt Stevens, CEO of AppNeta. "The IT prioritization process of understanding truly critical applications and their associated users and achieving alignment with the lines of business has never been more critical to the success of the overall business."
Not Losing Sight of the Main Office
Despite the need to support a more remote, work-from-anywhere business, enterprise IT still need to support application and network performance from the remote office and data center locations supporting the major lines of business.
Teams also need to bear in mind that 19% of the workforce do crave returning to the office full-time. Microsoft and Uber, for instance, reopened their respective headquarters on March 29, with the ladder moving up their previous back-to-office schedule from September 13. While Uber may be accelerating their return to the office, they still are stressing to employees that it'll be on a fully voluntary basis, and that only up to 20% of staff will be allowed to return in March.
Microsoft is also emphasizing in their outreach to employees that any return to their Redmond, Washington, headquarters will be mostly voluntary.
The tech giant had already begun letting some employees return to their 21 global offices in small waves over the past few months, but the majority of Microsoft's workforce has been remote for close to a year.
While tech companies may be ready to return to the office, a remote work policy will remain in place at many other businesses well beyond the summer. Wells Fargo, for instance, just announced that they'd be aiming to bring employees back into the office in September, as public health officials continue to encourage businesses to practice caution and maintain flexibility in their operations to help prevent another widespread outbreak.
Employers granting their workforce the flexibility to work from anywhere that suits them aligns directly with what knowledge workers want in a post-covid world. Where possible, business leaders should add clarity around responsibilities and response time and seek out technology solutions that are able to scale to the dispersed workforce and assist in network performance monitoring to ease the burden of internet connectivity and support with critical apps.