2019 State of the WAN: Complexity is a Rising Top Concern for Enterprises
The cloud is a game changer. From the rise of Netflix and the Internet of Things (IoT) to the less sexy, but still impactful examples like the enablement of collaboration tools like Office 365, the cloud continues to transform IT in every industry.
But in order to migrate to the cloud, embrace these new technologies and truly evolve their business, organizations need an underlying network that can support digital transformation.
In Aryaka's recently released 3rd annual State of the WAN Report, almost 800 network and IT practitioners across the globe were surveyed on their networking and application performance challenges, priorities and plans for the future.
When comparing this year's results to the 2018 report, a pattern emerges: more respondents identified complexity, even surpassing performance, as the biggest challenge with their WAN. As applications and cloud connectivity become more complex, so do the networks required to enable their performance. Organizations may recognize this, but don't always have the expertise or resources to deliver on their digital transformation objectives.
The Key Findings: Today
As organizations continue to migrate to the cloud, surveyed respondents say the biggest challenges with their WAN are high costs (40%), high complexity (35%) and slow application performance (24%). Over one-third of surveyed organizations are supporting 20 or more global branches and almost 15% are managing over 1,000 applications. Additionally, almost half are leveraging five or more cloud providers and SaaS applications.
So it's no surprise that respondents across the board, regardless of company size or industry, report that their IT organization's biggest issues are slow application performance in branch offices (45%) and slow application performance for remote and mobile users (36%), followed closely by managing telcos or other services providers (29%). When SaaS applications aren't a frictionless experience for end-users, productivity suffers. When productivity is impacted, so is the bottom line.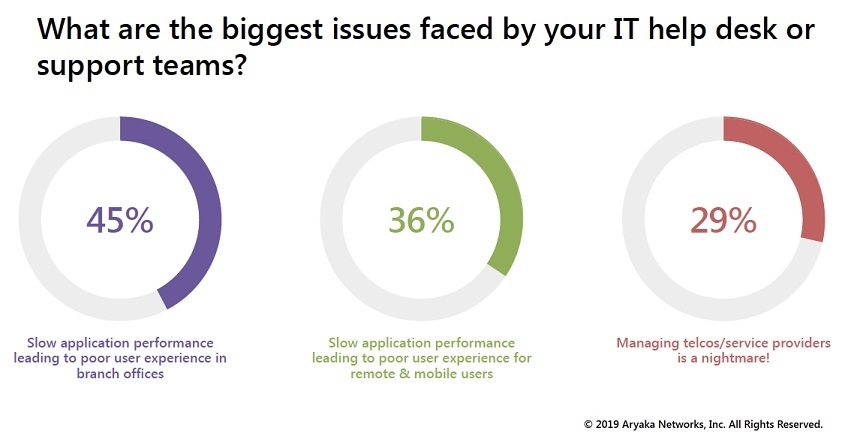 Yet when a networking team spends most of their time fixing application performance issues and managing vendors, there's little time for much else. In adopting a managed SD-WAN, however, there's one throat to choke – that of an expert that's able to give back time to an overworked networking team. That means valuable internal IT resources, who really know the business, can evolve and contribute in more meaningful ways.
The Key Findings: Looking Ahead
As surveyed respondents look to the future, they've identified network manageability (34%), automation (31%), cloud and SaaS network management (28%) and cloud and SaaS connectivity (21%) as top priorities. Many that are considering SD-WAN and are in various phases of transformation therefore understand the management aspect. And, of those looking at SD-WAN, almost half are gathering information, while 50% are further down the path, either deployed, deploying, evaluating vendors, or building an internal business case.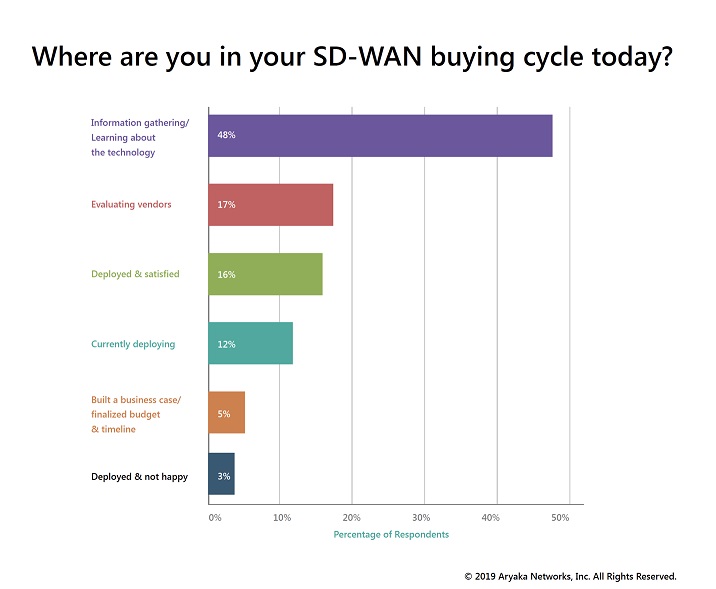 While many surveyed respondents recognize the value of SD-WAN, they also see potential barriers to adoption. 35% identify increased spending, 25% are concerned about increased complexity and 30% say the technology is still very new.
While it's true that DIY solutions can be more complex, a managed SD-WAN solution is designed for ease of use. It removes the time-consuming complexities of managing a network and optimizing application performance, while also reducing an organization's number of vendors.
Lastly, surveyed respondents identified the top features they would like integrated with their SD-WAN solution: cloud and SaaS connectivity (47%), advanced security features (43%), WAN optimization and acceleration (37%) and private connectivity to replace MPLS (34%).
Not all SD-WAN vendors can check all of these boxes. Traditional overlay SD-WAN vendors may offer speed, but they don't own the underlying network. Telco providers own the network, but lack innovation, agility and simplicity. Global enterprises need an SD-WAN solution that can offer the best of both worlds: a global private network with managed services, security features and built-in WAN optimization.
Methodology: Nearly 60% of the surveyed organizations operate in multiple countries, half of which are headquartered in North America, followed by 22% headquartered in Europe and 13% headquartered in Asia, excluding China. Surveyed respondents work in a vast mix of industries with manufacturing (13%), financial services (12%) and technology (11%) with the highest number of respondents. Surveyed respondents' organizations are also various sizes: 24% have over 10,000 employees, 32% have between 1,001-10,000 employees and another 32% have between 101-1,000 employees.