APM Convergence: Monitoring vs. Management
APM is entering into a period of intense competition of technology and strategy with a multiplicity of vendors and viewpoints. While the nomenclature used within its space has five distinct dimensions that elucidate its meaning, the very acronym of APM is in question: Application Performance ... Monitoring vs. Management.
It's strange to think that we would not normally use monitoring and management synonymously, but when used in the APM vernacular they seem to be interchangeable. This may be a visceral response, but I see the APM idiom converging on itself and becoming a matter of expectations vs. aspirations.
Application Performance Monitoring is the expectation of the tool sets themselves and how to implement them. Gartner provides five dimensions that describe these technologies which are not meant to be so "prescriptive" as much as they are "descriptive". Read: Gartner Q&A Part 1: Analytics vs. APM.
Application Performance Management is the aspiration of what we want the APM space to become. It is the umbrella over the other disciplines (e.g. enterprise monitoring, performance analysis, system modeling, and capacity planning).
To illustrate this concept consider The Anatomy of APM, which gives you a blueprint of the high-level elements to include when implementing an APM solution. Each element goes deep as a broad category, and each category encompasses specific monitoring tools that support the end-user-experience (EUE).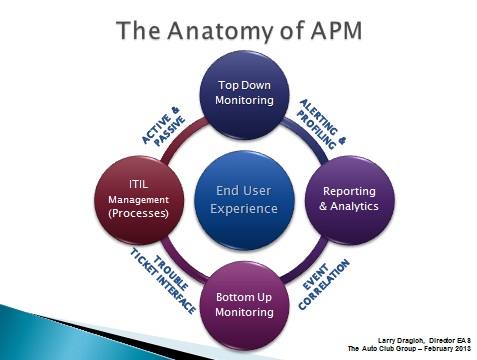 The EUE is at the heart of it all, and has become the focal point that allows us to make the connection to the business and speak to them in a language they can appreciate. Understandably, the technology overlap across the elements can leave even the savviest IT leader perplexed about APM and what it means.
Application Performance Management has the potential to become an IT discipline, however the overall concepts outlined here need to penetrate deeper into the IT culture in order for this to emerge as a discipline. Just as the ground will heave in a winter frost and then relinquish its state during the spring thaw, so will the monitoring technologies expand and converge as the market demands and new ideas are born.
No matter where you believe APM's heritage has come from (e.g. BSM, BTM, NPM, etc.), monitoring and management will both have their roles to play in the APM journey. APM is the translation of IT metrics into business meaning (value). How that is actually accomplished however, is another story.
Conclusion
It's important to consider that APM is more than just an acronym but a journey, a movement, a new way of thinking, and a new frame of reference that is stitching together business value with IT metrics. APM is promising to become the conduit that helps IT cross the chasm of "an expense to be squeezed," and land as a true business partner providing value.
You can contact Larry on LinkedIn.
Related Links:
Application Performance Management (APM) Strategies: If you're looking to connect with thought leaders and creative thinkers in the APM technology space join the Application Performance Management (APM) Strategies Group on LinkedIn.
For more information on the critical success factors in APM adoption and how this centers around the End-User-Experience (EUE), read The Anatomy of APM and the corresponding blog: The DNA of APM – Event to Incident Flow.