Enterprises Lack In-Depth Visibility into Business-Critical ECM
Reveille has compiled industry statistics to create a new infographic that reveals a lack of in-depth visibility into business-critical Enterprise Content Management (ECM) applications' components, processes, and service levels.
The infographic, shown below, clearly reveals that ECM applications are essential to business operations; however, the majority of organizations still lack tracking, performance measurement, usage trends, and service levels in the way they do for other mission-critical applications. Without this type of ECM management visibility, customers are not optimizing their ECM investment.
The infographic also shows the recent business trend to focus more initiatives on improving customer experience, while identifying that many organizations still rely heavily on end-users to report ECM performance issues.
By compiling statistics from industry associations and leading ECM analysts, the infographic supports what we've heard from customers for years — ECM applications are complex and require purpose-built application management to ensure application service levels and user performance. Without in-depth visibility of ECM processes, components and actual use activity, it's impossible to obtain the detailed information required for proactive, preemptive ECM application management.
Click on infographic for a larger version.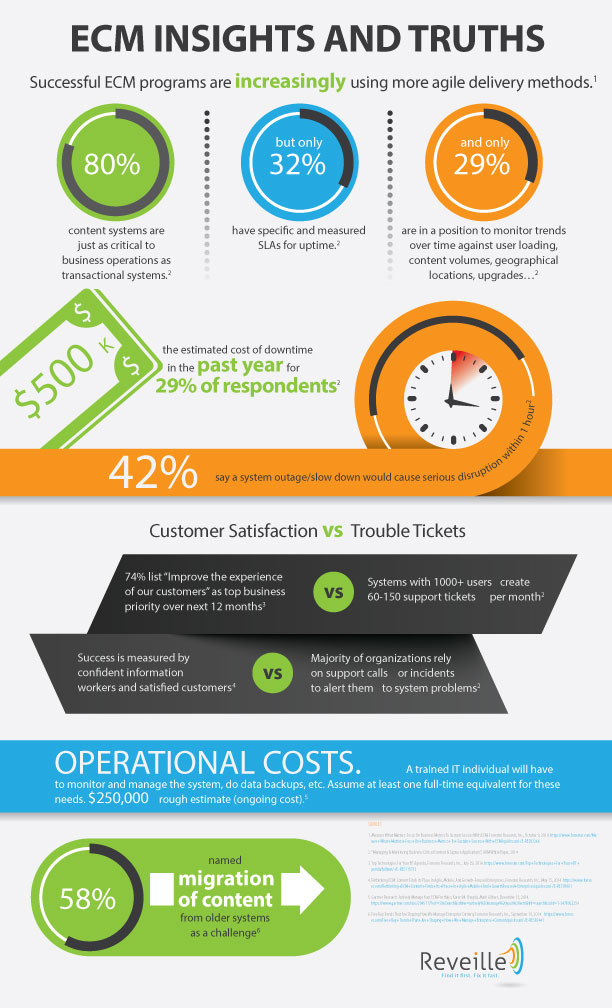 Dave Gibson is COO of Reveille Software.