Performance Management - The Retail E-Commerce Metrics That Matter
Digital transformation has given retail e-commerce a big boost, more so during the pandemic when people took to online shopping in droves. According to statistics, retail e-commerce sales in the USA are expected to touch $908.73 billion in 2021, an increase of 13.7 percent . Globally, the retail revenues are likely to reach $5.4 billion in 2022 and $6.3 billion in 2024 respectively. However, does this mean the global e-commerce story makes for happy reading and enterprises are running happily to the bank?
Remember, not every e-commerce retailer makes a killing on the internet and it is only a few that are successful. So, to achieve the key business goals and make the right decisions, e-commerce businesses need to go for performance management based on specific metrics. Although there are scores of metrics that one can track there are only a few that represent the core performance indicators of any e-commerce business. These metrics can be turned into actionable insights and help businesses to grow. And yes, performance testing remains one of the core activities for businesses to ensure the e-commerce platforms meet customer expectations.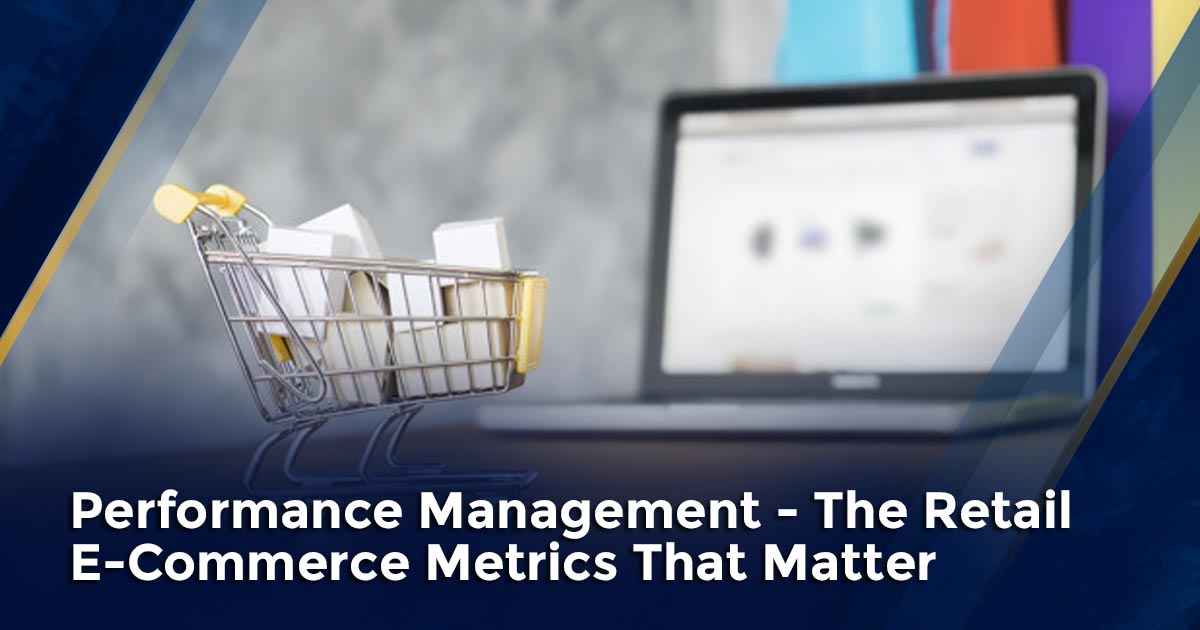 Key E-Commerce Metrics to Track
E-commerce metrics give insights on how the business is doing and operating an e-commerce platform without tracking the metrics is akin to driving a car with eyes closed. To sustain and be successful, e-commerce businesses should understand their performance and compare their progress over time. The metrics can be harnessed to derive meaningful insights on the store's performance, the average value of items sold at any given time, and the total sales clocked in a day, week, and month, among others. To help you decide the retail e-commerce metrics to monitor, we have compiled the below-mentioned list.
Sales conversion rate: It is arguably the most important metric to be tracked and tested as part of e-commerce QA. It deals with the percentage of users visiting your e-commerce store to make a purchase. The formula to calculate the sales conversion rate is: (number of sales/number of users) * 100%. In other words, if 1000 users visit your store and out of them only 10 make purchases, the conversion rate would be 1%. So, as a retail e-commerce store owner, you would want a high conversion rate, which can be a challenge. Interestingly, the year 2021 has seen the conversion rate for e-commerce business reaching 1.94 percent in January 2021 compared to 1.77 percent in January 2020 — the highest conversion rate in 7 years.
To increase your retail-e-commerce conversion rate, you may try the below-mentioned activities:
■ Speed up the loading of your product pages.
■ Upload high-quality product images on your site.
■ Use keywords to optimize your product listings.
Website traffic: Once the conversion rate is optimized because of conducting e-commerce testing, it is time to reach out to your target audience and expand your sales funnel. If post-optimization of your e-commerce site the conversion rate increases, say, from 1 percent to 5 percent for every 1000 visits, it would mean if more people visit your website the sales are likely to multiply even further. The activities to undertake to increase your retail e-commerce traffic include:
■ Promote your site/store/products/services on social media.
■ Optimize your site for search engines so that users can find it easily in search results.
■ Increase the number of the target audience subscribing to your newsletter.
Email opt-ins: Email marketing is still considered a powerful tool to remarket and generate repeat business for your e-commerce store. However, a word of caution here – your email should not be sent as spam. Rather, it should have content that provides business value to the recipient. So, by sending informative and personalized emails, you help build trust with your contacts, which may lead to forming business associations and sales.
In fact, according to content marketers, newsletters sent through emails are the best bet to nurture leads. And unlike the visitors to your website, people signing up for your newsletter are expected to be interested in getting updates on your business, products, or services. It is these people who are expected to become paying customers for your retail e-commerce store going forward.
Customer lifetime value (CLV): This is one of the most important performance metrics that can be tracked while conducting performing testing of e-commerce applications. The metric measures the amount you earn from a customer for shopping over his or her entire lifetime. It can be measured by adding the average transaction, the annual purchase frequency, and the expected years of relationship. For example, if you earn $30 over 5 transactions from an average customer throughout his or her life, the CLV for the customer would be $150. The CLV serves as an important benchmark to know the amount to be spent to acquire customers and the extent to go to retain them. In order to increase your store's CLV, you need to improve your average order value and engender loyalty among your customers so that they shop with you again.
Average order value: It refers to the average value of purchase made in your online retail store. It is obtained by dividing the sum value of sales by the number of carts (total revenue/number of orders). Tracking this metric as part of retail application testing can create a benchmark to understand how people can be encouraged to spend more while making purchases. This can be achieved by the following steps:
■ Sell complementary items to your customers and improve their usability of purchase.
■ Package products together for sale with small discounts as opposed to buying them separately without discounts.
■ Offer free shipping for purchases above a certain value.
Conclusion
Even though the above-mentioned metrics are not exhaustive, they can be a good starting point when it comes to choosing parameters to conduct performance testing. When the retail e-commerce store is small, the above metrics can help to track and optimize performance. However, as the store grows in terms of inventory scale and you expect more sales volume, you may resort to conducting load testing in e-commerce to enhance the overall customer experience and bottom line.