Positive Digital Shopping Experience Just as Important as Great Prices - Part 2
The Riverbed Retail Digital Trends Survey 2019 reveals that it's essential to provide consumers with engaging online and in-store digital experiences if brick-and-mortar retailers want to remain relevant — or risk losing their business. This doesn't mean retailers must invest in every new technology that comes along, but they do need to find the sweet spot that lives at the intersection of technology and consumer expectations, as well as having the underlying infrastructure to support these digital initiatives and ability to measure and manage the customer's digital experience.
Start with Positive Digital Shopping Experience Just as Important as Great Prices - Part 1
Man vs. Machine to Influence Retail Wars
While the idea of drone delivery continues to make headlines, many consumers have split and differing opinions about it. While 43% are positive on drone delivery (24% say it's cool and 19% think the concept is efficient), 57% are not (35% feel it's just unnecessary and 22% think it's disturbing).  However, 55% of millennials are positive on drone delivery, with 31% saying it's cool, and 25% efficient.
For shoppers to be happier in-store it looks like, over time, retailers will need to provide less, not more, human interaction. While, overall, 85% say they would like to interact with humans rather than technology at least for part of the shopping experience, the picture starts to shift when it comes down to specifics. For returns or help finding items in-store, half or 50% of consumers want to interact with humans and the others with technology.  However for making a purchase and getting shopping recommendations (or fashion advice), 63% and 67% respectively, would prefer to interact with technology versus humans. And of the consumers surveyed, 15% even said there is nothing they would rather interact with a human than a chatbot. 
Retailers Beware - Deliver a Poor Digital Experience and Consequences Will Follow
There is nothing worse than an unhappy customer, and 71% of shoppers that had poor digital shopping experiences have taken some form of action as a result:
■ 39% - Decided to shop at a different store
■ 38% - Told family and friends about the negative experience
■ 27% - Contacted customer service with feedback
■ 26% - Returned an item they had purchased
■ 19% - Posted negative reviews online
U.S. consumers at 77% are most likely to take some action for a poor digital shopping experience, versus consumers in Germany (69%) and Australia (67%). 
And while consumers want great digital experiences, they are very much on the fence when it comes to stores using their personal data to deliver a more customized experience. A slight majority (54%) prefer not to sacrifice their personal data and receive a less tailored service, while 46% are willing to give up data for a more personalized experience.

Click on infographic below for a larger image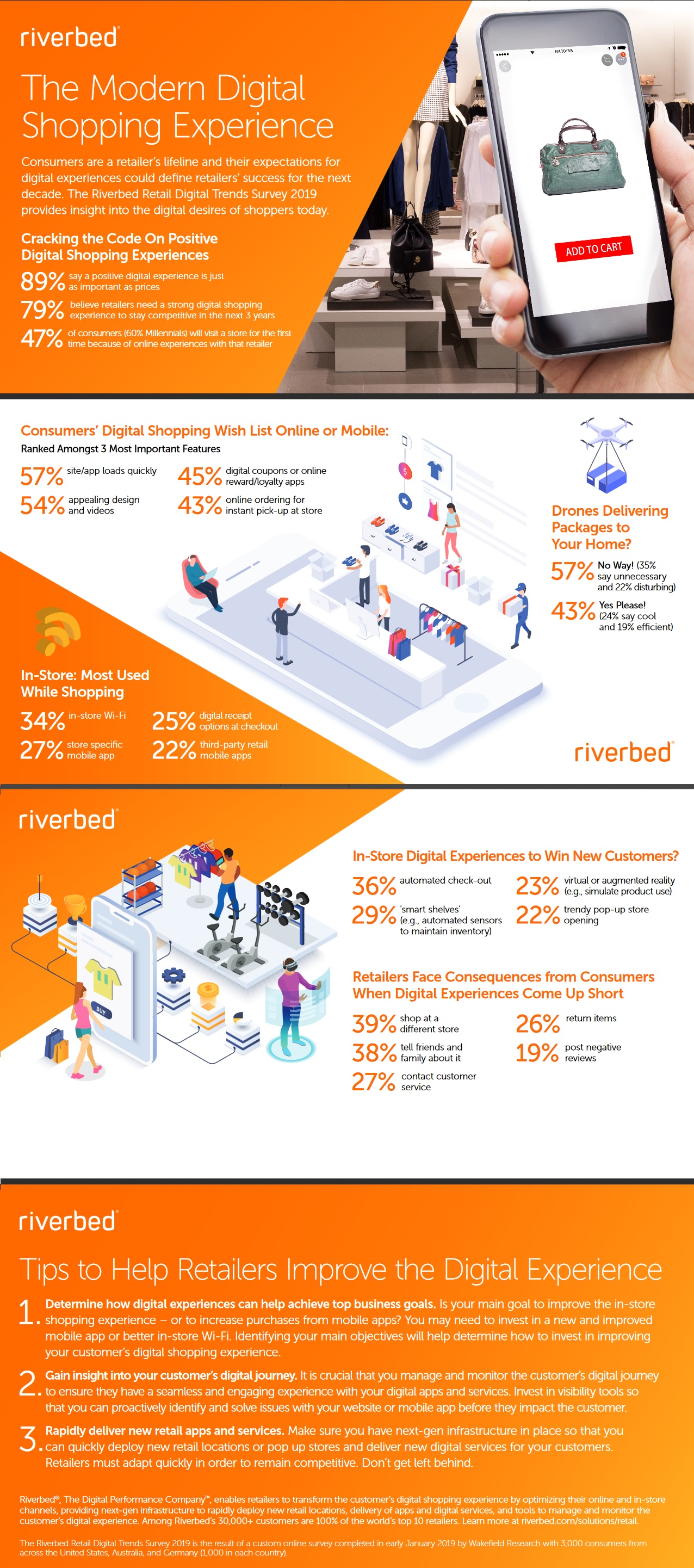 Methodology: The Riverbed Retail Digital Trends Survey 2019 is the result of a custom online survey completed in early January 2019 by Wakefield Research with 3,000 consumers from across the United States, Australia, and Germany (1,000 in each country).