Web Application Testing Challenges Facing QA and Development Professionals
Software bugs have been a pervasive issue in application development since its inception, but today's end users have come to expect a sophisticated and high-quality user experience every time. Applications have become increasingly data-intensive and complex, which can make delivering a consistently excellent user experience challenging, to say the least. Demands for cross-browser and cross-device support as well as the ability to push out changes instantaneously further increase the potential for significant quality issues. In order to remain competitive in today's application development landscape, having a failproof strategy for testing application quality is paramount to businesses' success.
In April, Sencha surveyed more than 1,000 QA and development professionals about their experiences and challenges with web application testing. The survey findings were released in a June 2017 report titled The State of Web Application Testing.
Here are key findings of the survey:
Web Application Quality Issues Persist and Have Negative Consequences for Businesses
It's no surprise that web application quality is incredibly important for businesses; 99 percent of those surveyed are in agreement. But despite technological advances in testing, including automation, problems with web application quality remain an issue for most businesses.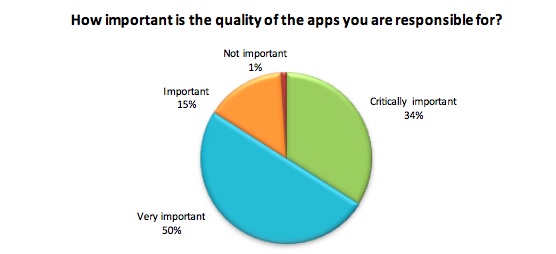 Ninety-eight percent of survey respondents reported that quality issues are a problem, with 53 percent stating that these issues occur at least once a month. It should be noted that this represents only the applications survey participants have direct responsibility for, so across any organization with multiple development teams, these numbers can be expected to be even higher. The effect on businesses is clearly negative, with 99 percent of professionals claiming that quality issues have a direct business impact, such as customer satisfaction (79 percent), damage to reputation (59 percent), costs incurred to fix problems (58 percent) and decreased employee efficiency (51 percent.)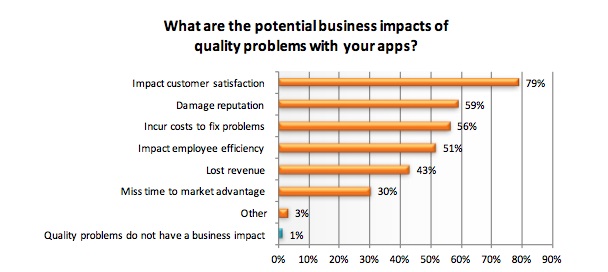 Quality Challenges Consist of a Complicated Mix of Culture, Process and People
Ninety-four percent of those surveyed face challenges conducting adequate QA, but pinpointing the root cause of these problems is not so simple. Findings indicate that quality issues cannot be attributed to a sole factor, but are rather due to a combination of variables, including a company's culture, process and people. For example, 79 percent of participants automate testing, but only 8 percent have mature test automation practices in place.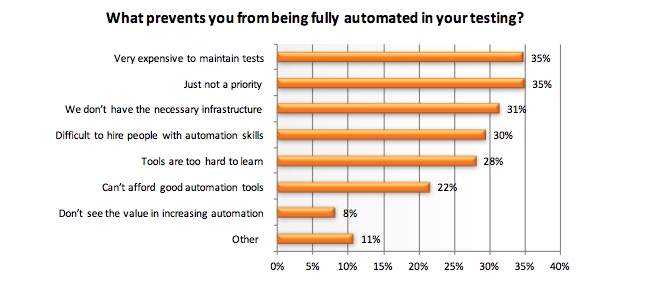 When it comes to identifying quality issues, only 52 percent have a clear process for frontline staff to flag urgent issues, 44 percent do not hold employees accountable for quality problems that negatively impact business and only 35 percent are evaluated for application quality during performance reviews. Hiring and finding talent is yet another hurdle, with 61 percent stating that it's harder to hire a test automation engineer than a software developer.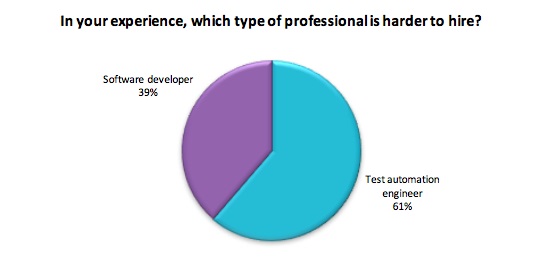 Organizations are Investing to Improve Application Quality
Despite pervasive quality issues in the application development space, companies are taking steps toward ensuring the best user experience possible for their customers. Seventy-three percent of survey respondents noted that they plan to increase their testing investment in the coming year. Reasons for increased investment include customer demand (42 percent), improved time-to-market (41 percent), cost reduction (35 percent) and pressure from business stakeholders (30 percent), among others.
Despite the fact that progress has been made, software bugs remain an issue in the application development space. In order to provide end users with the experience they have come to expect, QA and development professionals must continue to bolster their testing strategies, namely by way of automation. It is also important that teams take a close look at the elements of culture, process and people that contribute to quality challenges within a given organization.