Challenges Facing Today's Network Engineers
In today's everchanging IT industry, network engineers face a slew of challenges when it comes to network management. As networks continue to grow and become more complex, many IT professionals struggle to get a grasp on key workflows in which network engineers still rely on manual processes, including network documentation, troubleshooting, change management and cybersecurity.
In April 2017, NetBrain Technologies conducted a survey of more than 200 network engineers, network architects, and IT managers to explore specific challenges facing today's network teams. The findings of the survey were recently released in a report entitled: 2017 State of the Network Engineer: Toward an Automated Future.
Here are some highlights from the survey findings:
Growing Network Size and Complexity is Driving the Need for Automation
Networks are growing, and they are growing fast. Organizations are seeing a significant increase their network devices and applications within the networks. In fact, 83 percent of survey participants indicated that the size of their networks has increased within the past year. Networks are also becoming increasingly more complex. 49 percent of enterprises with over 1,000 employees have more than 1,000 network devices, while 21 percent have more than 10,000 network devices.
With this rapid network evolution, compounded with complex IT initiatives like network security, private/public cloud computing, and software-defined networking, network engineers are forced to consistently adapt accordingly and bring new skills to the table. For instance, 53 percent of network engineers stated they are required to know programming (beyond just scripting) for their jobs, while 30 percent said that they will invest in network automation capabilities in the next 12 to 24 months.
Accurate Network Documentation Remains Elusive
Today, 87 percent of respondents primarily rely on manual processes to create their network diagrams. Documentation is one of the network engineer's most important workflows, and taking on this critical task manually, simply doesn't stack up. For instance, 49 percent of respondents cited the length of time it takes to create network diagrams as a primary challenge, while 33 percent said it would take more than one month to document their entire network manually.
In addition to the amount of time spent on documentation, obsolescence was also cited as a major obstacle. 58 percent of network engineers said that network diagrams become outdated as soon as the network changes. In other words, by the time the network is fully mapped out, the network has already changed and therefore the diagram is essentially useless. This is particularly problematic when it comes to areas like compliance reporting or having full network visibility when diagnosing an outage.

Manual Troubleshooting is Contributing to Longer Network Downtimes
As networks continue to grow, manual methods will continue to challenge engineers when it comes to troubleshooting. For instance, 33 percent of organizations said that they experience multiple network degradations every day, with 10 percent indicating that they experience multiple issues every single hour. Whether it's a slow application or jittery VoIP connection, 43 percent of network engineers said that using command-line interface (CLI) simply takes too long, while 40 percent also indicated it would take more than four hours to resolve a typical network problem. The need to keep network availability high and reduce mean time to repair is business critical, and the longer it takes to isolate and diagnose a network problem, the costlier the impact of that degradation to the enterprise.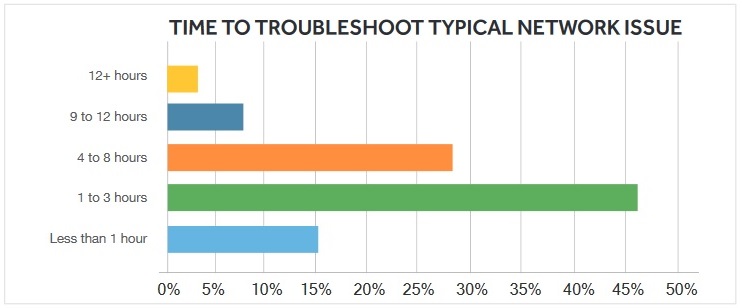 Continuously Securing the Network is a Top Priority
Another challenge associated with the growth of networks is the increased vulnerability to cyberattacks. Often, engineers may not have full visibility into what's going on in their networks, which results in the lack of necessary knowledge to effectively mitigate security risks.
Survey data showed network security was the number one project for 64 percent of respondents, who said they plan to invest in security within the next 12 to 24 months. Nearly 50 percent of respondents cited the inability to continuously monitor and mitigate attacks — without human intervention — as a significant issue and 57 percent of respondents cited an inability to isolate the area of the network where an attack is happening. Clearly, networks have become far too vast for network engineers to be able to manually mitigate risk.
Knowledge and Collaboration Gaps Continue to be Barriers in Most Enterprises
Many organizations rely on "tribal" knowledge to manage network problems. This could mean relying on a network engineer's mental picture to create a network diagram or going to the IT expert to troubleshoot advanced configurations. This leaves the ability to solve issues with just a select number of individuals and in turn, slows down processes. 33 percent of survey respondents stated this overreliance as a key obstacle.
Additionally, 45 percent of network engineers surveyed cited a lack of collaboration as the number one challenge for more effective troubleshooting, particularly when tasks involve multiple engineers in the network operations center or multiple IT groups (e.g., network, security, and application teams). Also, 36 percent of respondents felt that the lack of coordination was creating systematic issues for them when attempting to design and execute network changes.