Lack of Visibility into IT Software Can Be Costly
IT leaders have a tremendous influence on how their organization functions, setting the tone for how their teams respond to digital transformation and approach strategic challenges. Though economists are warning of a multi-year recession, Gartner predicts that IT spending will increase in 2023. As a result, IT decision makers are feeling the pressure to invest wisely when it comes to software applications, while also finding savings to offset some of the rising costs. However, research shows IT leaders don't understand how their employees are using company-issued tools.
The result? Expenses are higher than necessary, there is poor employee technology adoption — and the related risk of either under or over provisioning — and there is a lack of productivity associated with inconsistent configurations.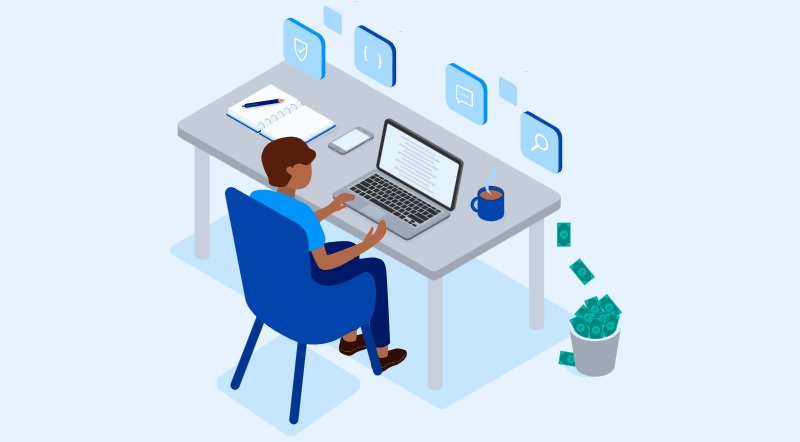 What Aren't IT Pros Seeing and What Is it Costing Them?
A recent study revealed only an alarming 5% of IT decision makers who report having complete visibility into employee adoption and usage of company-issued applications, demonstrating they are often unknowingly careless when it comes to software investments that can ultimately be costly in terms of time and resources.
On average, employees use between 11 and 50 software applications per day, with IT leaders unclear how many are actively in use, for how long, or how frequently, or how many seats (licenses) are available/used for each application.
Software licenses can easily eat large portions of an IT budget unnecessarily by teams unknowingly subscribing to overlapping or unnecessary applications, in addition to employees retaining licenses from a prior role, or using applications they are not licenced to have, all which multiply spending. The fix, in theory, is simple: Organizations can avoid overspending by creating visibility into application usage, consolidating like-for-like software, and prioritizing applications that already share similar data and don't require hard labor to create integrations. In actuality, IT leaders are in the dark about the specific applications being used and how, meaning efficient consolidation is difficult or impossible.
Think of it this way: if an organizations' subscription licenses add up to $500 in total per device across 20,000 employees, reducing unneeded license counts by a conservative 5% and consolidating like-for-like titles for an additional 5% improvement could provide $1M in cost reductions that could be booked as savings or reallocated to other more strategic initiatives.
The True Cost of Poor Visibility: Employee Productivity
For technology adoption to be successful IT needs the full support of management and the individual department heads where it is being deployed. If organizations had full visibility into how employees are using the technology at their disposal, they might uncover that their teams don't have a full grasp on how to even use the tools properly which costs time and resources to address and resolve resulting issues.
Over 70% of IT pros reported it takes their teams between 6 to 24 hours to fully resolve a single employee issue, whether it's a desktop or web application problem
For example, over 70% of IT pros reported it takes their teams between 6 to 24 hours to fully resolve a single employee issue, whether it's a desktop or web application problem. That time spent is a combination of technical issues coupled with usability and employee education and it keeps employees from doing their work and IT teams from focusing on larger issues.
More often than not, one application error is part of a larger network or device problem that exhibits itself across the application's user base that inhibits productivity long-term over a large number of people. Approaching these problems as widespread technology issues rather than individual incidents that impact one employee at a time, and looking at it from the perspective of the employees (all of them) can help IT team's see a bigger picture and get to the root of issues faster and for more people all at once.
So, What Now?
IT pros are in a difficult position amid a looming recession which calls for efficient IT investment from the C-suite, yet data shows many aren't even clear on what tools they already have in place and what capabilities they are missing. With top level executives paying closer attention to overall digital transformation that is necessary for long-term success, it's crucial that IT leaders know how their organizations use their software and applications, and how that usage can be better managed for improved financial management in the future.
There are several ways to achieve this: implementing employee surveys, technical education for employees on their tools, and monitoring services to better see the full utilization picture. The onus, then, is on IT leaders to understand how to use this information for full organizational efficiency and cost savings.