Most Travel Websites Not Optimized for Mobile Customers
Although half of all online travel bookings in the US are expected to occur via mobile device in 2016, 76% of the industry's top 100 sites are slow to load, paralyzed by third-party scripts and trackers, and image-heavy, according to Radware's study titled 2015 State of the Union: Mobile Performance of the Top Travel Industry Sites: Do Your Customers Want To Take A Vacation From Your Slow Site?
In fact, the average page took 6.7 seconds to load on the iPhone 6, slower than the 4 second ideal time tolerated by shoppers.
These slow load times create an increase in consumer frustration and, ultimately site abandonment. A recent study of mobile travel site abandonment showed 36% of respondents cited slow loading times as their chief cause for site abandonment.
Today, consumers predominantly use mobile devices to book travel. By the end of 2015, mobile-booked travel is expected to reach $52.08 billion. With this level of exponential growth, travel websites have a lot to gain by preparing for the volume of mobile traffic they'll be seeing in 2016.
Consumer habits are changing. Mobile devices are always within arm's reach, so it comes as no surprise that consumers are reaching for them as they research and book travel. When planning for the New Year, travel companies must consider whether or not their websites are optimized for mobile, including the length of time it takes for a page to load and not just if it is mobile-responsive. If consumer habits shift and your site isn't in shape, you'll be booking them a one-way ticket to your competitor's door.
Slow performance has a significant negative effect on business metrics, from shopping cart abandonment to brand perception. Radware tested the performance of 100 leading global travel sites with leading devices such as the Apple iPhone 6 and Samsung Galaxy S6 to obtain data around their performance against consumer expectations and projected industry growth for 2016.
The Radware report finds that there are a number of factors contributing to poor performance that can be fairly easily remedied:
■ Overloaded with Requests – Many of the sites have more than 62 requests on their home page for images, scripts and CSS files. Each request incurs latency and streamlining the page requests could improve performance.
■ Image Heavyweights – Mobile devices don't have the processing power of laptops or desktops yet many sites are trying to replicate the full site experience while inadvertently compromising the user experience. Images often make up approximately a quarter of the weight of a page on average and are often improperly formatted causing high resolutions to waste bandwidth, processing and cache space.
■ Responsive Web Designs (RWD) Typically Optimize Viewing but Not Performance – Although RWD crafts an optimal viewing experience across a wide-range of devices and screens, it creates a complexity that can seriously slow down performance. It is possible to build a responsive site that is both fast and responsive but it requires knowledge of both design and front-end performance optimization.
■ Less Than A Quarter of Travel Sites Are Ready for 2016: Only 24% of the 100 mobile travel sites tested loaded in the ideal time of 4 seconds or less across devices.
■ More Screens, One Speed: 85% of mobile users expect pages to load as fast as or faster than they load on the desktop.
■ Every Asset Counts: 25% of a page's weight came from images on average, and the average mobile travel site came in at over a megabyte, past the threshold for mobile's fastest pages.
■ Your Brand Is Tested on Mobile: 65% of customers say their opinion of a brand was affected by their online experience, and 33% of users will go to a competitor's site after a negative mobile experience.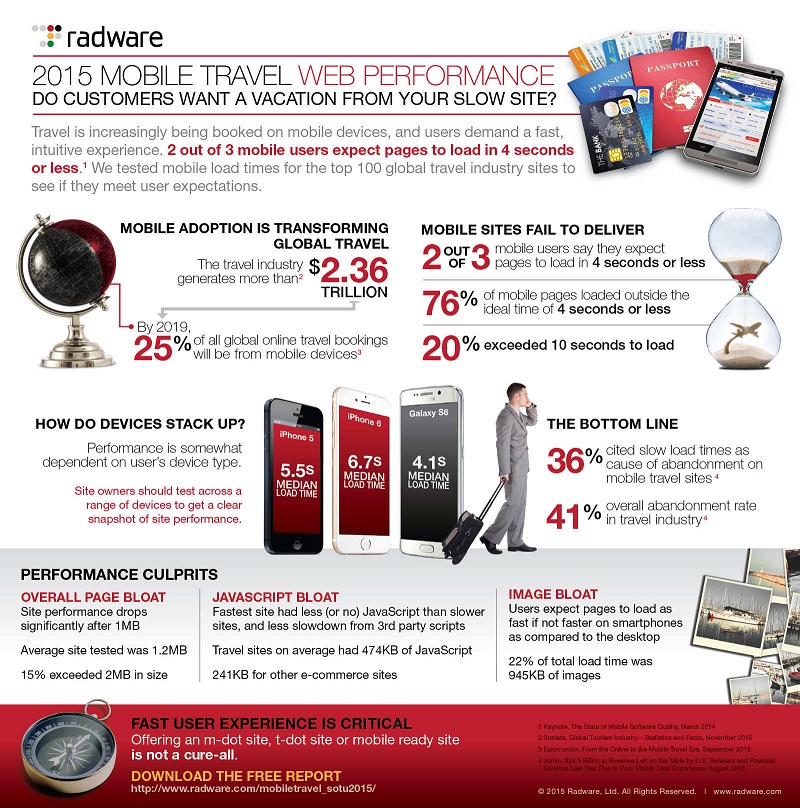 Study Methodology: Radware conducted this study within the United States in November 2015. Real-world performance of the top 100 global mobile travel industry websites, as ranked by SimilarWeb Ltd., was tested. Tested sites were accessed using actual mobile devices connected to the AT&T 4G/LTE data network.
Kent Alstad is VP of Acceleration at Radware.