In today's digital world, it is possible to gauge the cost implications of an IT outage on employee productivity, revenue generation but it is usually much more tricky to measure the negative impacts on the very IT people's lives.
Think about this for a minute:
You're a financial advisor and you are meeting with this young couple who just got married 2 months ago. They want to purchase their first place and call it "home." They are interested in what your bank has to offer for mortgage … They only have an hour for you and you've already walked them through the different options and the associated costs.
At this point, you just need to collect a few more information about their income, their credit score and just run the numbers with the mortgage computer application. You log onto the mortgage portal, you see the spinning wheel in the middle of the screen but nothing happens. You try again, you may even apologize and reboot your computer. You try again and get the same damn wheel.
The friendly couple really needs to leave now as they must get back to work. And they do. Your day couldn't get any better, right?
Now what? You could open a ticket with Corporate IT, but you really want to make sure someone hears the story of what just happened. You want to share your feelings and talk to someone real. You are now calling the dedicated 1-800 line to IT Technical Support. What you don't know yet is that thousands of agents have experienced the exact same issue and want to share their frustration with the team they think is responsible for all this mess: IT. Because of the unplanned volumes of calls, you will most likely be placed on-hold and in queue before someone can actually answer your call. From a Service Desk perspective this is called a Call Storm! An unplanned influx of angry colleagues calling the IT Desk.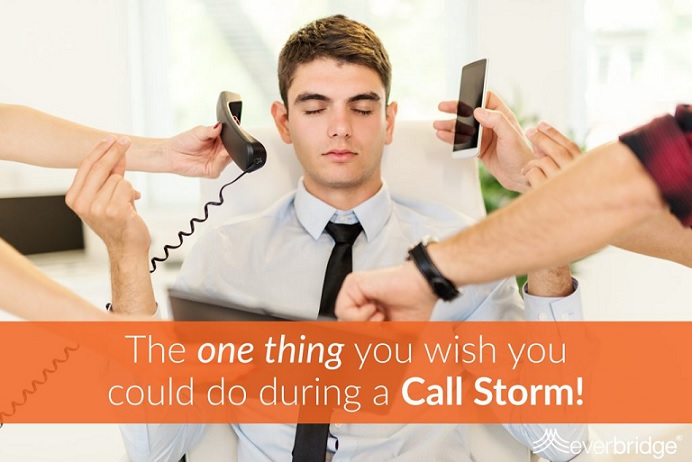 Now, put yourself in the service desk professional's shoes who will be taking your call … They have to answer hundreds of calls just like yours. They must remain nice and courteous. They usually need to apologize for the inconvenience like if they were responsible for this problem. On top of that, they may have to apologize for not being able to provide you with any update other than "Yes, we know the mortgage application is down. All our engineers are looking into the issue. Sorry, we actually don't know how long this will last"
Isn't it another great day in IT land?
What's going on? How long will this last? What are we doing about it? If you've ever had a major incident impact users throughout your organization, chances are you've heard those questions before. Your IT team may already be trying to diagnose and correct the issue, but the questions just keep coming …
Customers and end users just want to make sure IT is aware of the issue. But when hundreds — even thousands — try to contact the service desk, then you have a call storm. And the inability to properly weather it increases the urgency end users feel.
To reduce the volumes of inbound calls into the support center, IT Alerting solutions are designed to help expedite the IT response process and proactively communicated with impacted business users.