Why You Can't Keep Throwing More People at IT Issues
With the increased complexity of IT environments, the rising cyber threats and the growing number of IT alerts, IT organizations have come to the realization that throwing more people at IT issues doesn't solve the problem. According to a recent DEJ study, putting more people on a particular IT issue is not an effective approach, so organizations are finding themselves at a turning point — and they have to take notice.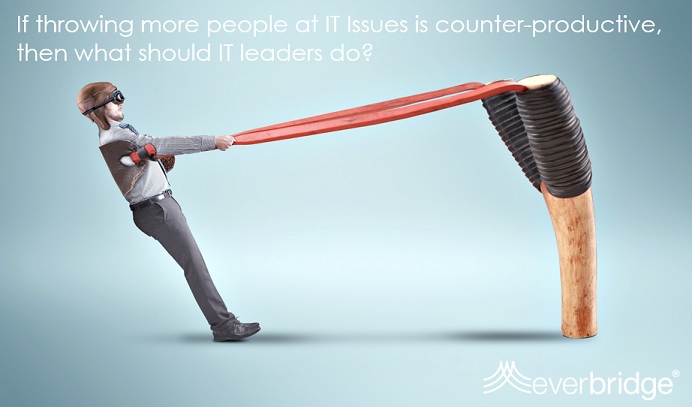 Respondents to the survey said that they experienced, on average, an 88 percent increase in processed metrics, events and alerts over the last 12 months. The study also found that 42 percent of organizations are reporting that the technology solutions they purchased in the past are not as effective when working with this level of volume and velocity of data.
What Do the Findings Tell Us?
Today, IT Organizations need to adapt quickly to new consumer behaviors which are driving increasingly growing business demands for IT services. And as the demand for digital services increases, so does the risk for service outages. Everyone in IT knows that major IT issues are unpredictable and unavoidable, and that 20th century tools and processes are no longer up for the task. Senior IT executives, along with business leaders, really need to rethink their IT strategy if they want to be able to fully embrace the future — made of big dta, AI and IoT.
Modern IT Stacks, Yet Operating with 1990's Processes
Engaging into digital transformation too late can severely hurt the business competitiveness
Every day we talk to IT leaders, we have conversations about the importance of modernizing their digital footprint so they can offer more — and faster. There is a consensus that customers' fast-changing expectations are the major driver behind digital transformation, and that engaging into digital transformation too late can severely hurt the business competitiveness. Discussions move quickly into Agile Development, Scrum team structures and DevOps, which is a good thing. It is now generally admitted that the old way of building IT services and applications (waterfall development) is no longer compatible with customers' high expectations of time to delivery and digital experience.
At the same time, there's a growing disconnect between the complexity of the new technology stack and tools organizations acquire, and the rudimentary processes they still use. This can quickly hurt both the effectiveness of the support functions, as well as the very ability of the organization to deliver new releases according to schedule.
Even in a perfect digital world, bad stuff will happen — retail websites slow down, they might not be available (DDoS, cyberattack), they might be experiencing a network outage, applications may fail, you may lose connection to your ERP, EMR, Supply Chain which impacts productivity and increases user frustration … in other words, the very same customers that you are trying to please with faster delivery may now be very frustrated with a poor quality of service when things break.
Faster Release Cycles Require Faster Response Cycles
IT leaders must review the three dimensions of their operations; their people, their processes and their technology.
Interestingly enough, the same DEJ study shows that IT Leaders have come to the conclusion that:
■ They cannot keep throwing more people to cope with the increasing number of IT issues
■ The investment they made in their ITSM platform, while necessary, is not sufficient any longer
■ Contextual information is critical when dealing with IT critical issues
■ Automation is no longer only used for tactical cost-cutting initiatives but that it is a must-have component to ensure consistent quality and delivery of IT services

What Now?
As organizations acquire new technology and adopt new digital service delivery methods, they must also inspect their processes and people assignments to ensure that their processes will:
■ Support their service delivery goals (frequency of release)
■ Enable the cross functional teams to collaborate and participate in
■ Meet their SLAs and protect business users experience when issues occur
■ Provide Senior IT Executives insight into their response team performance for continuous improvement
■ Give a way to perform post-mortem reviews using the metrics and information collected
■ Store full audit trails including conversation recording for compliance
Recommendations
IT leaders should turn to Closed-loop Response Management solutions, which help to automate the traditional, manual and time-consuming processes including:
■ Automatically gauge the severity and context of the event
■ Identify in real time the right teams and personnel based on who's on-call, location, skillset, etc.
■ Engage the right teams in real time, Escalate, Collaborate and Orchestrate
■ Gain visibility into Incident Response across all areas of IT: Service Operations, Security Operations, DevOps and IT BC/DR