3 Reasons Why An App Is Not Enough For Retail Success
Mobile apps and websites must be key to success?
Yes and no. The Centre For Retail Research in their Online Retailing In Europe, US And Canada 2015-2016 report on behalf of RetailMeNot, Inc found that eCommerce sales jumped one fifth to €156 billion last year and US eCommerce growth is anticipated to grow 14% this year. On top of this, Criteo, in their State Of Mobile Commerce Q1 2015 report found that mCommerce (fueled by mobile apps) is set to skyrocket in 2015 by almost 90% in Europe and over 60% in the US.
An app is critical to help you "play" in today's digital retail market, but having an app alone will not guarantee success. So here are three reasons highlighted in the AppDynamics report "An App Is Not Enough" which are key for mobile app success:
1. Performance is critical for the success of a mobile app and website
This is true for all industries today, as every business becomes software-defined. A mobile app or website is only useful to a consumer if it performs when they need it. In fact, our survey found that poor performance not only loses customers, but impacts their perception of a retailer: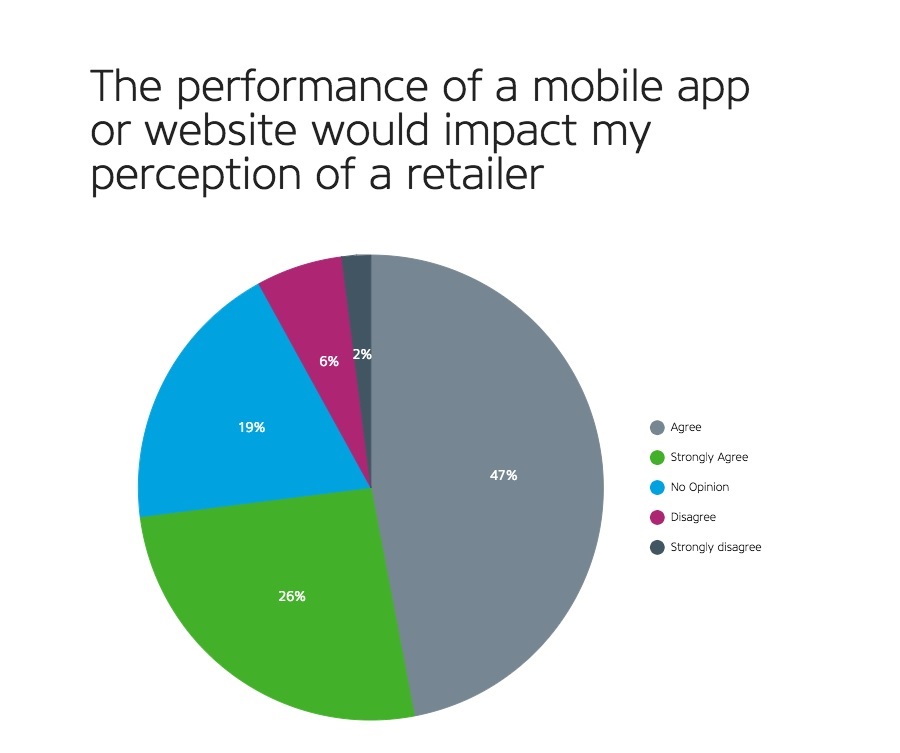 This means that 73% (Strongly Agree and Agree) of smartphone and tablet owners think that an app's performance is key to how they think about a retailer – so performance is key to brand image. The consequence of a poorly performing app is not only that a customer will stop using the app, but they will also likely think twice before visiting the store – therefore losing their custom altogether. Therefore a Unified Monitoring solution is so important to this industry. Retailers must understand that their mobile apps and websites are linked to the brand. This means a responsive design strategy is vitally important.
2. An app is part of your omni-channel strategy
So performance is key to a great app, but what's key to a great shopping experience is convenience. Today, digital and tech innovation have made us all time-poor. No matter how many task management books we read or applications we use, it doesn't solve the problem. In fact I have seen a lot of research in regards to tech innovation, but the interesting aspect for me is how tech is changing us as humans. In terms of retail, an app has to make the shopping experience and the customer lifecycle easier, more enjoyable and must meet the needs of all relevant customer personas.
Just having an app and advertising it in-store or via email is not enough. For a consumer to download it, you need to make use of GPS sensors and past buying data in order to provide highly contextual and personal offers. An app, even though it may be used by millions of customers, has to make each customer feel special – like the app has been designed just for them. This was highlighted in the survey: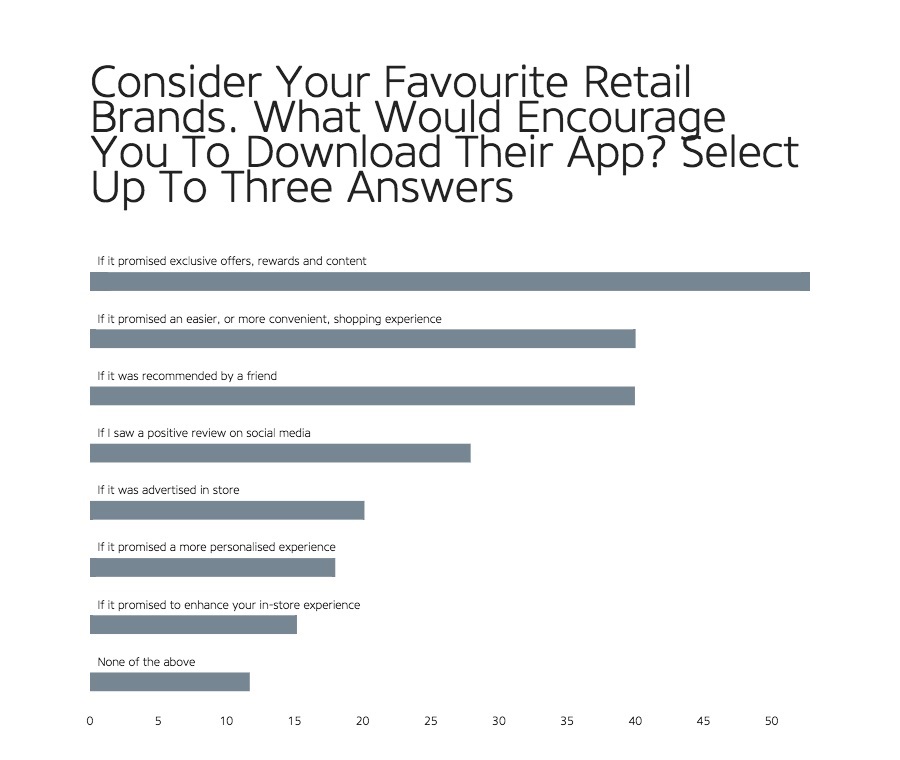 Both the top areas reflect the need for convenience but this is not just about convenience in the app itself. What's vital here is the need to seamlessly merge the experience of different channels, or the virtual (app) and physical (store) channels in particular. For example, an app should be aware when a consumer is near a store and provide offers or product details to entice them in into the store. When in the store, apps should be used to allow fast purchase and to provide shopping assistants with detail of past purchases in order to tailor the experience for the customer.
3. Humanizing your app strategy is key to success
With the excitement around technology innovation at the moment it can be easy to lose sight of what is important – the customer. Fundamentally, whether your customer chooses to shop in store, online or via their wearable – they are engaging in a service – between them and you, the retailer. A service should be bi-directional and while technology will enhance the service provided, it's only a method of delivery. Those retailers who will succeed in the digital age are those who grasp the fact that no matter the app or the technology, it's still the personal relationship and trust formed with customers, which are key to brand loyalty and success.
There are many ways in which technology can be used to help humanize a service delivered via an app. To highlight this we asked: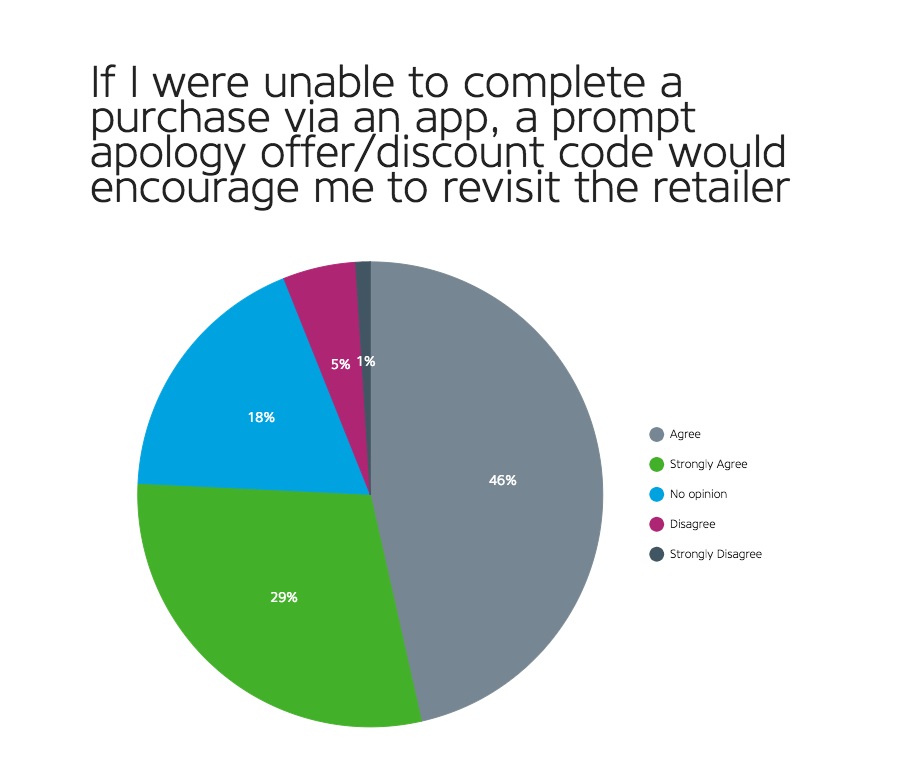 75% (Agree and Strongly Agree) state that even if an app had an issue, a prompt personal apology would help in retaining their custom. This is known as a win-back tactic. In order to do this you need an analytics solution which can correlate the customers affected, with the key business transaction they were trying to execute and the potential value of their purchase.
John Rakowski is Director of Technology Strategy at AppDynamics.