AIOps = Brains (AI) + Brawn (Automation)
Artificial intelligence (AI) may be the brains, but when the market hears the term "AIOps," it puts automation in the mix. After all, what is the use of knowing without doing?
Recent EMA research, AI(work)Ops 2021: The State of AIOps took a ground-level look at AIOps as it is used globally today and as planned in the coming months — a view more practical than aspirational. As it turns out, AI and automation form the one-two punch that makes digital service excellence possible in what is otherwise an impossible complexity of IT operations.
Both AIOps and automation are C-suite winners, strategic and enterprise-wide for organizations that self-rate their AIOps implementations as highly successful. However, automation holds the edge. When EMA explicitly separated AIOps and automation, more than half of all research participants identified automation as a C-suite initiative, strategic across the enterprise, while AIOps weighed in at 32%. An interesting side note is that, when it comes to automation, CFOs join CIOs in having a significant decision-making role, presumably because there is a fairly straight line between automation and savings.
The Double-Edged Sword
Yet, automation is a double-edged sword. Beloved by CXOs both in theory and in budget allocations, it is a harder sell on the ground, especially when it is paired with AI and machine learning (ML). In addition to the time-honored resistance to change that accompanies almost all major IT initiatives, AIOps automation faces deep-rooted fear and distrust.
EMA research shows that AI-driven automation is an acquired taste. As organizations gain experience, that experience is statistically highly likely to be positive, productive, and profitable. Just as success breeds success, automation breeds automation. It follows that the more mature AIOps implementations are also the most advanced in terms of number, types, and degree of automation in play.
What was a little bit more surprising was that all-autonomous automation is not the universal endgame. The preferred state is increased automation that retains a human touch.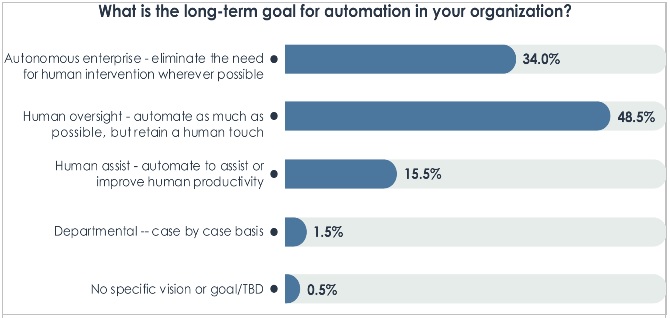 The Pain/Gain Ratio
Asked, "How would you characterize the value AIOps brings to your organization relative to the cost?" respondents were almost unanimous in achieving value. The difference was in degree. Offered a range of answers, including negative ones that no one selected, 17% rated AIOps value as a break even proposition, 41% chose "high" value, and 21% cited "very high" value relative to cost. EMA went on to explore the detail and range of benefits that comprise this value, both qualitative and quantitative. For instance, asked about the impact of AIOps on the relationship between IT and the rest of the business, 99% of the responses were positive. Notably, 21% chose the superlative "transformational" to describe that impact.
Although the gains are plentiful, the path to AIOps benefits is neither fast nor easy. Asked to rate the rigor of AIOps implementation, only 18% characterized the process as either "smooth" or "relatively easy." The rest ranged between "straightforward, but not easy" (28%) and "very difficult" (11%), with 43% choosing the midpoint "challenging" as the best descriptor. Asked to enumerate those challenges, respondents ranked cost, data, and conflicts within IT as the top impediments to AIOps initiatives.
Addressing the Data Dilemma
EMA research and experience show that cost holds a leading position in the list of challenges for all major IT initiatives, as does conflict within IT. However, the challenge of data accuracy and accessibility holds an elevated role in AIOps because of the wide range of data sources involved in its implementation and its high reliance on data in execution. For that reason, smoothing data issues can accelerate AIOps initiatives and the benefits that will predictably attend success.