AIOps Exchange: The AIOps Manifesto
AIOps Exchange, a not-for-profit private forum defining the future of AIOps, published The AIOps Manifesto discussing the role of AI in supporting digital transformation.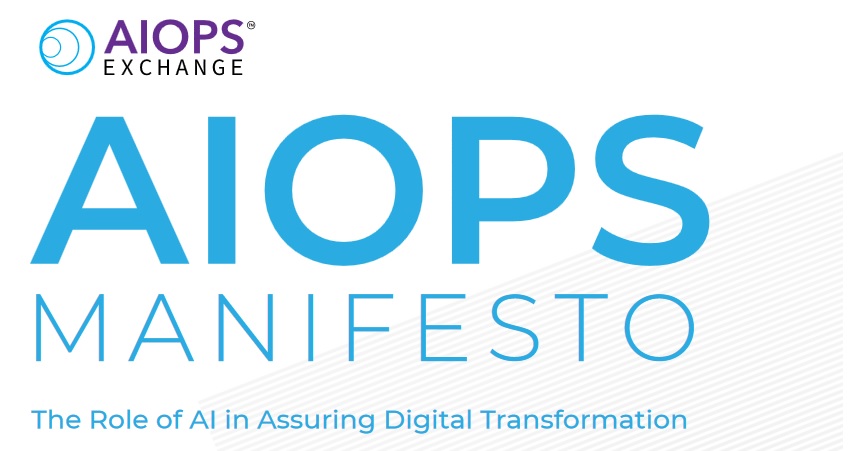 The document provides a best practices framework for deploying AIOps solutions to help IT Ops and DevOps teams deliver high-quality services continuously and consistently.
The AIOps Manifesto was co-authored by a group of industry analysts that sit on AIOps Exchange's steering committee. The authors are encouraging feedback and open debate, with the hopes of having the document ratified by Exchange members at a future meeting.
The AIOps Manifesto states: "The burdens of modern IT Operations Management can be ameliorated, even largely removed, using Artificial Intelligence (AI). The market for AI applied to IT Operations, or 'AIOps' for short, is growing in parallel with digital transformation. AI has emerged as the key to mastering both the explosion in system data and the automation of human-to-machine interactions."
The manifesto includes:
■ 5 distinct algorithm definitions
■ 6 kinds of vendor solutions
■ Key AIOps market drivers
The AIOps Manifesto was co-authored by Will Cappelli, a former research VP at Gartner (now CTO of Moogsoft); James Governor, founder of RedMonk; and Clive Longbottom, co-founder of Quocirca.
"Gartner's own definition of AIOps is still evolving, and the impact it can have on enterprise business strategy is a continuing conversation," explains Will Cappelli. "Our goal with The AIOps Manifesto is to foster an open, honest exchange of ideas among end user organizations. By debating AIOps best practices, we hope all market stakeholders will benefit, especially IT Operations teams. All feedback to The AIOps Manifesto is welcome during this open comment period, after which we hope it will be officially adopted."
In today's business landscape, the complexity of digital business supporting IT systems has resulted in an ever-growing volume of noisy event data that impact the IT Operations Management function. The AIOps Manifesto states that without the assistance of AI technology across the spectrum of IT Operations — or AIOps — it has become impossible to observe, understand, and modify digital business supporting IT systems. Additionally, it explains how AIOps can significantly reduce the fixed costs and enhance the value of IT-related decision making, as well as linking and integrating tasks performed within the different roles of IT Operations, DevOps, IT Service Management, and other functions.
"The increasingly complexity of an organization's IT platform, combined with the dependency of the business upon it, means that standard approaches to operational management are no longer fit for purpose," said Clive Longbottom. "A range of approaches need to be brought to bear: a combination of data aggregation, analysis and pattern recognition, and rule-based systems, along with data transfer and results communication to entities that are not just human. In essence, we need the equivalent of a human, albeit one that does not make mistakes and can deal with the masses of data that a modern platform produces in real time. Therefore, we need artificial intelligence. Welcome to the age of AIOps."