What Are the Biggest Barriers to Successful Digital Transformation?
Businesses — in order to remain competitive, agile, innovative, secure, and profitable — are embracing digital transformation. However, achieving success has often been a pipedream for many given the need to usher in cultural change and upgrade of the legacy systems.
It is only a small number of businesses that have successfully managed to reap the benefits of implementing digital business transformation beyond the experimentation phase. So, what has gone wrong for many and succeeded for a few necessitates thorough analysis.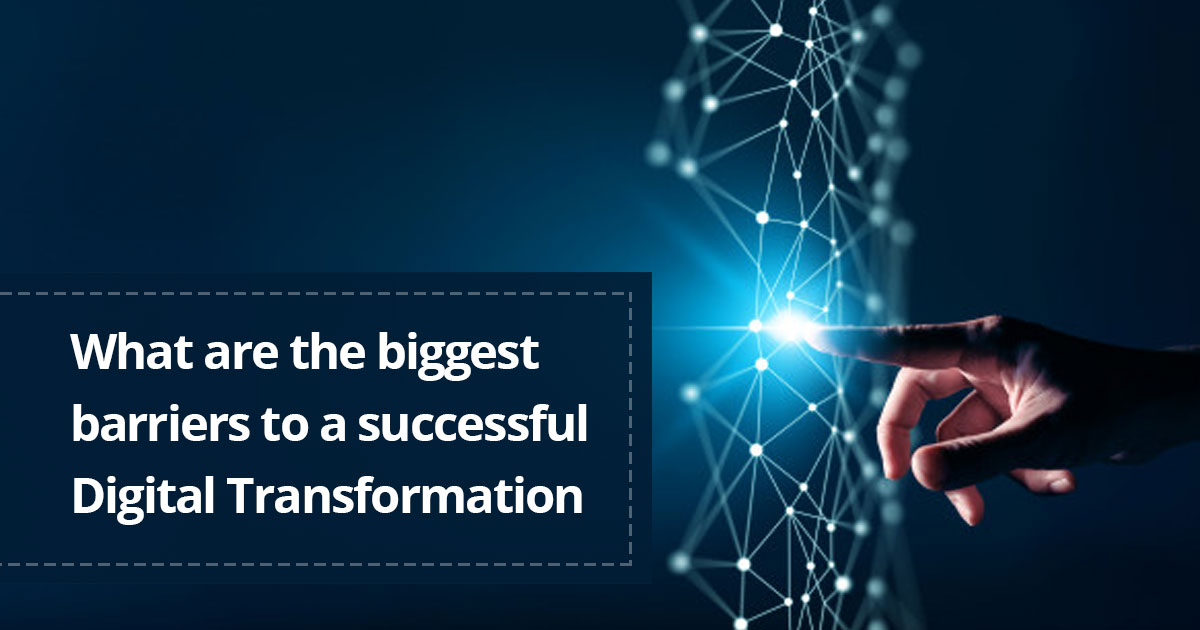 To begin with, before embracing digital transformation services, enterprises tend to be structured, process-oriented, and ordered. However, to transform them into agile units that are built for adaptation, experimentation, and innovation is squarely difficult.
Unless businesses keep up with the changes in technology, methodologies, customer preferences, and market dynamics, they risk facing obsolescence. Thus, businesses ought to strengthen their customer interfaces like social platforms, mobility solutions, and develop capabilities for innovations in the fields of data sciences, the Internet of Things, and cloud computing, among others.
So, even when business leaders are in agreement with the need for embracing enterprise digital transformation, why is it that only a few have implemented it? What are the biggest barriers to a successful digital transformation initiative? Let us find out.
Any successful transition can happen when every sinew of the organization works in tandem and towards a single goal. However, where interdepartmental rivalries, silo-driven processes, and a rigid culture to follow the dotted line exist, there can be many barriers to digital transformation implementation.
Resistance to change
Any innovation let alone digital can only succeed if the stakeholders are fully involved in it through active collaboration. They should be able to think out of the box and across hierarchies and silos. However, since most organizations have a rigid culture of hierarchy with delineated boundaries, any collaboration cutting across departments, processes, and functions remains a pipedream.
To drive a successful digital transformation implementation, the management should start with defining a digital mindset, create a digital innovation team, and give voice to people in the new digital territory. The management should aim at reducing hierarchies, demolishing silos, and encouraging communication and collaboration.
Culture of risk-aversion
Another barrier to achieving digital business transformation is the prevalence of a risk-aversion culture among the stakeholders. Since initiating transformation in the organization necessitates risk-taking in the form of establishing a new culture, a collaborative ecosystem, and a digital architecture, many are willing to wait and watch.
However, unless organizations move with the times and embrace digital transformation in its entirety, they may lose their competitive edge.
Silo driven ecosystem
Traditionally, the processes or functions within an organization are siloed where each one competes for funding and resource mobilization. Such an organizational structure may appear fine at the macro level, the lack of cohesion and collaboration may turn out to be counterproductive at the micro-level.
A robust digital transformation strategy envisages the creation of a seamless end-to-end value chain where every function will be accountable for realizing the overall business objectives.
Talent gap
Creating digital transformation solutions needs a blend of technology, people, and processes. Here, employees need to possess skills that are focused on creativity, innovation, and the knowhow for new technologies such as AI, IoT, among others.
The talent gap can be filled by upskilling or following a bimodal approach where the latter would include creating a group or team with the necessary skill sets to drive innovation.
Old practices die hard
The digital transformation services cut across silos, hierarchies, and established structures but encourage inter-disciplinary or cross-functional collaboration among teams. However, the well-entrenched practices and workflow arrangements of the past can work against the whole digital initiative.
The way forward is to identify the overlapping areas within teams and encourage active collaboration therein. The same can be scaled progressively to cover every function or process within the organization.
Change can be difficult
It is a fact that creating a new digital ecosystem with new platforms, organizational structure and capabilities, and seamless processes can be cost-intensive and time-consuming. Importantly, initiating digital business transformation should not be done quickly and abruptly.
Instead, businesses should plan and execute it slowly but steadily. This is of utmost importance as the new digital ecosystem should be able to support continuous change and innovation.
Conclusion
The barriers to driving a successful digital transformation initiative in an organization can be overcome if various stakeholders are in tune with the principles, roadmap, requirements (resources and time), and the associated risks. They need to collectively thrash out the issues and take everyone in the organization into confidence for the proposed change.