Process, Dialog, and Workflow: A Formula for Interconnection and Automation
As a follow-up to my previous blogs on change management, I'd like to step back a little and shine a light on an even broader landscape. Here I'll touch briefly on process, dialog, and workflow as a triad that can help IT organizations move forward toward a more efficient and potentially more business-aligned way of working.
Process
In a recent blog, I examined a number of processes specific to change management as per the IT Infrastructure Library. These included change management, service asset and configuration management, and release and deployment management. These processes are critical and central to optimizing IT capabilities for increasingly dynamic business requirements. Along with incident, problem, and availability management, they are among the more prevalent requirements for IT service management (ITSM) and IT overall.
To add to this list, I'd also like to mention a few other critical processes based on brand-new EMA research on digital and IT transformation. (I presented a webinar on digital and IT transformation on September 30.) Three of the top processes associated with transformational initiatives are:
■ IT service continuity management (ITSCM) for managing and minimizing risks associated with the delivery of IT services, in terms of both service-level agreements and the impact on business performance overall
■ IT operations management for ongoing monitoring and management of IT services and the infrastructure supporting them
■ Financial management for IT services for providing accurate cost data for IT services and the IT assets supporting them, both to optimize efficiencies and to plan for value and relevance
We also asked respondents to identify the benefits of following process best practices for IT and digital transformation. Perhaps not surprisingly, improved IT productivity topped the list followed by improved IT services in terms of both quality and consistency. More effective cost management and improved relevance in matching IT services to business requirements also ranked high.
However, establishing good processes requires good dialog. The worst way to approach process issues is to simply mandate a textbook-driven way of working when, in reality, all IT organizations have their own unique politics, culture, and personalities. The following comment from an EMA consulting discussion underscores this point:
"Each silo has its own process. To provision a server, you fill out a form in Oracle Financials, and then you fill out a storage form. For other requests, you pick up the phone. There is no end-to-end process. It's frustrating."
Strategic Dialog
Not only is dialog an enabler for better processes and more effective levels of workflow and automation, it is in some respects the new endgame for both IT and digital transformation. In fact, good dialog is required in order to establish a more effective human community both within IT and between IT and the business.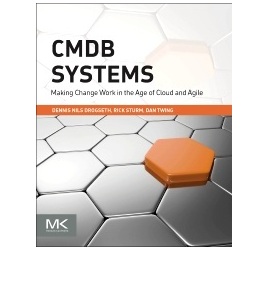 But moving toward that new "digital dialog" won't happen merely by listening to industry hype and believing that technology by itself can do it all. To be blunt, good dialog to support the new "digital age" takes work. This is especially true if you're going forward with a strategic, cross-domain initiative, where you want to err on the side of stakeholder inclusiveness. Taking a very strategic look, for instance, at a CMDB/CMS deployment, EMA consultants try to engage:
■ Executive sponsor/CIO
■ Line of business executive(s)
■ Director of IT operations
■ IT functional area managers (desktops, servers, network, service desk, etc.)
■ Enterprise IT architect(s)
■ Development manager(s)
■ IT process managers (incident, problem, configuration, change, etc.)
■ IT team leads (storage, servers, security, etc.)
Setting the stage for a cross-domain initiative means good listening as well as socializing your objectives. Dialog is all about a back-and-forth conversation, not a lecture. Dialog in preparation for an initiative can also be exceedingly valuable in itself, allowing you to clarify stakeholder priorities, concerns, areas of ownership, preferred toolsets, and leadership and process issues. EMA also recommends real face-to-face interactions, if at all possible, not just emails or channeled communications. While technology is great, there's no form, no chat room, no type of gamification, no series of tweets, that's a full substitute for a face-to-face (or, if necessary, phone) conversation with all the very human dimensions it can bring.
Workflow and Automation
Once the initial planning dialogs have been completed and documented (something we find is all too rarely the case in IT organizations), then you are ready to harden your processes and move forward with more ongoing, channeled interaction — where technology really can be useful — and to begin to automate with workflow.
In our recent research on digital and IT transformation, workflow was at the top of the list of transformation-affiliated technologies, along with project management. This isn't surprising because workflow is a critical first step in reinforcing processes, promoting more effective communication, and leveraging automation more broadly. For instance, workflow can be interconnected with IT process automation, configuration management, and patch management, or even with diagnostic analytics for event and performance issues.
From an IT service management (ITSM) perspective, workflow should be viewed as inclusive rather than narrow in scope. Not only is it an investment for use within ITSM teams, but also a means of extending dialog and process efficiencies across ITSM and operations, development, and IT executives. Workflow can also be extended to help automate enterprise services, such as HR and facilities. In fact, enterprise services represent high-growth opportunities for service desk teams and for IT in general. Not only can workflow investments extend the reach of IT in its support of business needs, but they can also bolster the credibility and value of IT in the eyes of business stakeholders.