Change Management Part 3: Optimizing Change Management for Cloud, Agile, and Mobile - How the Technologies Are Evolving
This is is Part 3 of a three-part series on change management. In Part 1, I examined both the processes and the use cases associated with managing change. In In Part 2, I looked at metrics, best practices, and pitfalls. In this third blog, I'll look at how the technologies for service modeling, automation, visualization, and self-service are evolving to address the more dynamic demands of trends such as cloud, agile, and mobile.
Start with Change Management Part 1
Start with Change Management Part 2
Service Modeling
The place to start with any discussion of service modeling is still the configuration management database (CMDB) or configuration management system (CMS). However, service modeling is also important in service catalog capabilities for self-service, as well as application discovery and dependency mapping (ADDM) solutions.
In EMA research and consulting, we have seen increasingly close ties between service modeling and automation, as well as between service modeling and analytics. EMA has also documented a growing number of agile and DevOps initiatives leveraging CMS backbones for more timely provisioning and governance. Examples can be found in our book, CMDB Systems: Making Change Work in the Age of Cloud and Agile.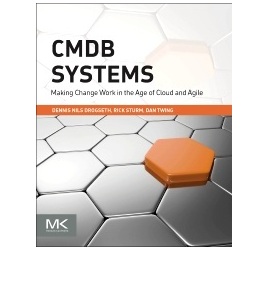 All this may seem to go against the common wisdom, especially since the notion of service modeling, and the idea of deploying CMDBs in particular, is not infrequently thought of as "old hat." But the truth is the CMDB/CMS/ADDM landscape is changing dramatically to support higher levels of dynamic currency, more advanced levels of automation, and more effective use of advanced analytics. EMA's recent report What is the Future of IT Service Management? those respondents with CMDBs were twice as likely to be successful in their ITSM initiatives as those without, and those with ADDM capabilities were eight times more empowered. Similar trends emerged when EMA did research targeting effective service delivery over cloud in Q2 2013 and when we evaluated advanced operations analytics in Q4 2014.
One reason that CMBDs and ADDM tools can make such a difference is that while cloud and virtualization make capturing service interdependencies more difficult, they actually require more not less attention to optimizing service-to-infrastructure relationships across a broader and more eclectic mosaic of choices. Optimizing cloud, in all of its iterations (public/ private, SaaS, IaaS) is ultimately about visibility and control, not a cloudy faith in blind speed.
Automation
Not surprisingly, cloud also raises the bar for automation. In that same recent research on ITSM futures, we saw that "cloud ups the ante for increasing investments in automation in provisioning services" as a top choice (just after viewing cloud as a resource for growth). This choice was tied, not surprisingly, with "cloud is forcing us to pay more attention to DevOps."
In our ITSM futures research, the top priorities for change-related automation were the following:
1. IT process automation (ITPA) – Also known as "runbook," ITPA provides policy-based capabilities for integrating and unifying automation across everything from patch management to onboarding to service provisioning using a common set of automated workflows.
2. Systems configuration – This included automation in virtualized as well as non-virtualized environments.
3. Workflow between the service desk and operations – This priority reflects the pervasive need for better integration between service desk/operations that was seen in EMA's ITSM futures research.
4. Storage and network configuration – Natural extensions of both cloud and traditional infrastructure, storage configuration and network configuration were each noted as automation priorities by 36% of respondents.
5. Automation for lifecycle asset management – This type of automation is made visibly more difficult in hybrid cloud environments. Although ranked fifth, this area was still a high priority overall and was selected by nearly one-third of respondents.
Visualization and Reporting
This may not sound new, but good visualization and reporting are more critical than ever for managing change. One way to address visualization is to ask which roles and use cases are supported. For more general change management, some of the roles to consider are domain specific (e.g., network, systems, desktop, mobile, security, service desk, applications, development). Cross-domain roles are also important, including engineering, architecture, service delivery, change management, asset management, financial planning, and user-experience management. Finally, to be truly aligned with business priorities, it's often critical to include non-IT stakeholders, such as financial planning, non-IT executives, marketing, online operations, and partner management.
Service Catalog
Ideally, a service catalog, or even a service portal, should be a natural extension of the CMDB system, with consistent modeling and insight into relevant interdependencies. This is just as true for those catalogs that include cloud-based services as it is for those including in-house services as it's becoming increasingly important to understand dependencies outside IT's physical walls. Incorporating public-cloud, private-cloud, and non-cloud services in an integrated service catalog is more and more in demand, as is support for mobile access to corporate and other services.
Mobile and Self-Service
Managing mobile devices and support for self service, while separate, are linked in how they both support escalating consumer expectations surrounding the choice, availability and performance of IT services. Our ITSM futures research showed that mobile adoption has already become heterogeneous in most environments — including iPhones, Android, tablets and other devices. Moreover, 65% of our respondents offered mobile end consumers some level of access for corporate applications.
The top priority for self-service, the most consumer-driven form of change management, was, not surprisingly, automation for end-user access to services. Near the top were also self-service via a service catalog, and mobile access. Other prioritized self-service objectives, somewhat less directly related to change management, were self-service enabled knowledge management and automation for resolving end-user issues.
Changing Technologies in a Changing World
These are not the only technologies relevant to managing change. For instance, lifecycle asset management, usage analysis, and onboarding are all part of the picture. Moreover, analytics relevant to change management is increasingly part of the story as well — a topic I'll address in October. But if there's a net takeaway, it's that change management technologies are themselves changing to address a changing world in the so-called "Digital Age." This brave new world is neither "stable nor precise" according to the traditional IT canon. But it's one of greater opportunity, greater dynamism, and greater dependency on IT services and their digital content than ever before.