Cloud-Based Load Testing - Best Practices and Benefits
Modern businesses rely on web or mobile applications to achieve a host of business objectives, including market differentiation and delivering a personalized customer experience. However, such applications can be subjected to high traffic on certain days, which, if not taken into account, can lead to unpredictable outcomes and customer dissatisfaction. These may include slow loading speeds, downtime, and unpredictable outcomes, among others. For instance, many business applications run the risk of facing customers' wrath on specific business days, such as Black Friday, when traffic is high. Hence, such applications must be tested for load thresholds to improve performance. Businesses that ignore load performance testing and fail to continually scale these applications leave themselves open to service outages, customer dissatisfaction, and monetary losses.
At the same time, the cost of setting up the infrastructure for application performance testing can be a challenge for business enterprises, especially small and medium ones. This is because businesses need to arrange computing hardware, configure the hardware and software with precise settings, and manage the whole environment. These tasks require significant time and resources. Considering all these factors, SMEs need cost-effective solutions for efficient load testing. There is a one-stop solution for performance load testing for every load threshold — Cloud.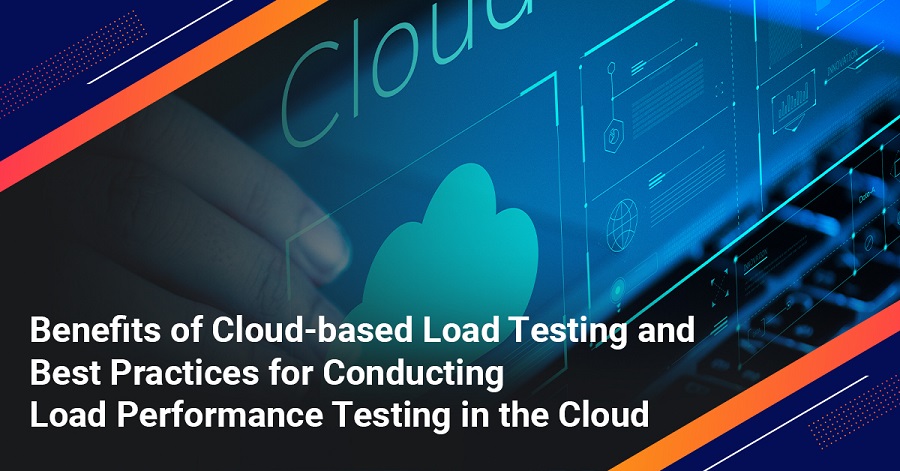 Benefits of Cloud-Based Load Testing
Cloud-based performance testing comes with a host of benefits:
: Cloud-based load testing helps businesses scale their load testing thresholds based on their needs. It provides access to unlimited computing resources, making it possible to simulate large-scale traffic without the need for expensive physical infrastructure.
2. Agility: It enables businesses to quickly adapt to changing business requirements and respond to any unexpected surge in traffic. Besides, with the ability to quickly scale, businesses can ensure their applications are ready to handle any traffic that comes their way.
3. Flexibility: It allows businesses to conduct load testing from anywhere in the world, using a variety of devices, operating systems, and other paraphernalia. This makes it easier to simulate real-world traffic scenarios and ensure the application performs optimally in an omnichannel environment.
4. Collaboration: Cloud-based load testing allows multiple team members to work on the same project simultaneously from different locations. It helps generate accurate and consistent outcomes and improves application performance.
5. Cost-effectiveness: With the help of performance load testing services, businesses can avoid the high costs associated with setting up and maintaining on-premises load testing infrastructure. With cloud-based load testing, they need to pay for the resources they use, making it more affordable.
Best Practices for Conducting Load Performance Testing in the Cloud
Conducting proper load testing can help businesses reduce costs and save the team from scrambling during a major event. Here, we present some of the best practices for cloud-based performance testing.
1. Evaluate the Load-Testing Tools & Models
Some of the applications available in the market work across all cloud platforms. However, choosing the right load testing tools that are compatible with the application structure is crucial. So, it is important to check for key features such as upload or download speeds, bandwidth simulation, and so on. These will help to properly understand the load limits.
2. Leverage Automation & Scheduling
Businesses should select effective load-testing tools containing essential features, such as reports, scheduling, analytics, and so on. This saves the DevOps team from overworking the production systems during testing as well as scheduling the ongoing load tests. Once these tests are done, these tools can generate accurate reports to show how the application is performing.
3. Test Inside and Outside the Firewall
If there are several reasons behind poor application performance, finding the main reason can be a difficult exercise. However, the right performance testing strategy can help conduct testing inside/outside the firewall to identify and fix errors.
4. Simulate Real-world Scenarios
Exposing the application to extreme loads until it fails cannot be allowed in a real-world scenario. This is because in the real world, the application needs to run on different browsers, devices, operating systems, and networks. Further, the test environment should provide a wide range of scenarios, keeping the load at a basic level with different configurations.
5. Check the Bugs
To enhance the value of cloud-based load performance testing, businesses should check for bugs or vulnerabilities by leveraging performance testing services. Once they have all the data and insights, the necessary actions can be taken to achieve ROI.
Conclusion
Cloud-based load performance testing offers numerous benefits for businesses looking to ensure the quality performance and scalability of their applications. Its ability to simulate a high volume of users and traffic from various locations irrespective of the time of day, helps provide valuable insights into an application's behavior under stress. It is cost-effective, eliminates the need for expensive on-premises hardware, and reduces the time needed to set up and run tests. With proper implementation and management, cloud-based web services performance testing can help businesses deliver reliable and high-performing applications to their users.