DataOps as a practice is maturing, according to a survey from Unravel Data.
This year, more than 44% of respondents reported they are actively employing DataOps methodologies, compared to just less than a quarter (21%) of respondents in 2022, representing a 110% increase from the year prior.
Further demonstrating the maturing DataOps practice, only 20% of respondents in this year's survey said they were at the beginning stage compared to 41% last year.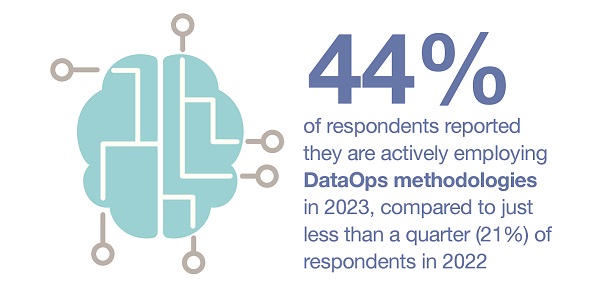 Additional survey findings include:
Cloud spending is now a critical KPI for majority of data teams
More than two-thirds of data teams surveyed said that cloud spending has become a KPI of high strategic importance. When responses were broken down by role, almost 80% of business stakeholders said cloud spending was a critical KPI while just over half (55%) of data practitioners indicated the same.
Cloud resources are underutilized
In addition to cloud spending being elevated as a top KPI, almost half (44%) of all respondents in this year's survey also believe they are leaving money on the table when it comes to their public cloud utilization.
Almost a quarter of respondents (23%) said they were unable to even estimate what percentage of their cloud resources went unused.
FinOps interest is high yet adoption lags
Despite the fact that data teams have reported a lack of visibility into cloud spending, the adoption of mature FinOps practice was not viewed as an immediate priority among respondents with just over 20% reporting that their data teams have an established FinOps practice, while a third of data teams are still in the early planning phase of implementing FinOps.
Data reliability emerges as the top challenge
This year when participants were asked what they viewed as the top challenge with operating their data stack, 41% of respondents cited the lack of data quality as their most significant obstacle while 35% noted that the lack of visibility across their environments was the second biggest obstacle to managing their data stack.