There are two words that strike fear in every IT professional: "unplanned outage." These come with a steep price tag: A recent report, The Modern IT Outage: Costs, Causes and Cures, found that downtime due to unplanned outages costs businesses $12,900 per minute. Breaking that statistic down further, the report revealed significant differences among companies of different sizes relating to downtime. For example, the outage cost per minute in an organization of 1,000 to 2,500 employees is $1,850, while the outage cost per minute in a larger company of 20,000 employees is $25,402 on average.
These statistics blow away the outdated yet often-quoted statistic that an average minute of downtime costs $5,600 because, as it turns out, this information from 2014 hasn't been adjusted to reflect the real and nuanced costs of a modern IT outage. Here, we dive deeper into this recent research so ITOps organizations can gain a better understanding of downtime's impact, causes and remedies.
Cost Factors and Causes
While we tend to think lost revenue is the biggest cost casualty of an outage, "The Modern IT Outage: Costs, Causes and 'Cures'" found that that simply isn't the case. In fact, "business disruption" and "impact on employee activity" tie for the top spot, while "lost revenue" was tied for third, along with "data breach" and "governance regulatory exposure." Also on the list are "reputation" and "hit to DevOps/SRE productivity." These came in fourth and fifth, respectively.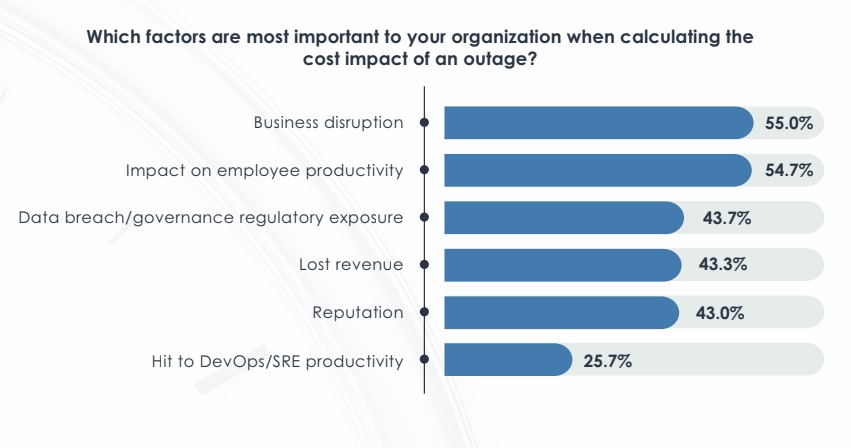 A full 41% of organizations suffer an outage at least monthly, a significant number. And these outages take an hour to repair on average.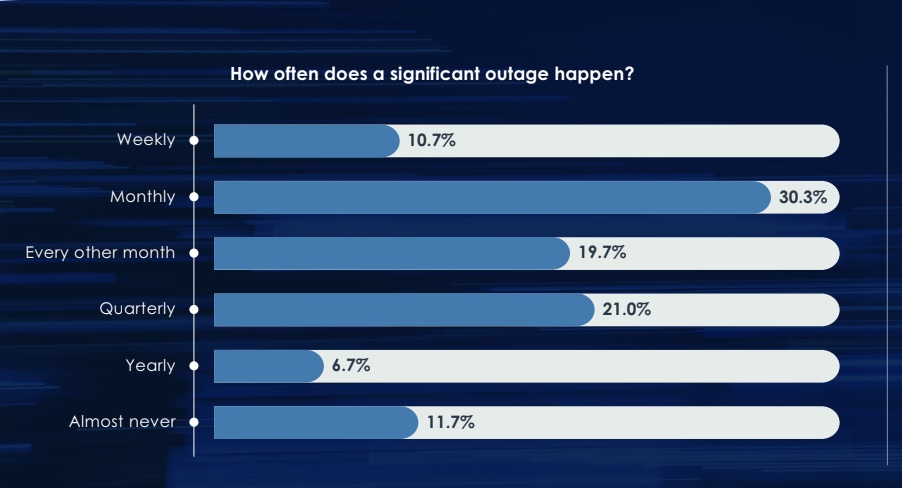 As for the outage causes, the report found important differences among organizations in two categories: those that have enterprise-wide, mature artificial intelligence for IT operations (AIOps) and those that are implementing AIOps on a departmental basis. The organizations in the first category had tamed unplanned outages for the most part and only struggled with external factors such as power outages or internet provider failure that are outside the organization's control. Those in the second category primarily suffered change and configuration issues and human error — factors that are very much in the organization's control — and therefore ready for being mitigated with the power of AI and automation.

AIOps and the Road to Better Outcomes
IT leaders' thoughts on how the future looks relative to outage costs aren't optimistic. In fact, for some, the mood is downright fatalistic, with 36% believing that increased outage costs are guaranteed.
Still, some are hopeful, and AIOps plays a part here: The survey found that 22% of respondents say that rising costs are avoidable and they plan to use AIOps and automation to stem them. Another 13% of respondents reported that proactive systems have allowed them to actually decrease outage costs. With this proof of AIOps' success, the more pessimistic IT leaders can keep their chins up.
There is no way to apply a surefire "cure" for IT outages in any organization, but AIOps and automation come close. Not only do they help minimize the costs and impact of outages, but they also are proven to reduce the number of outages, improve business process efficiencies, decrease war-room frequency, and much, much more. With AIOps and automation in their arsenal, IT professionals can rest a little easier knowing they have powerful weapons to use in their battle against the dreaded unplanned outage downtime.