With all this talk about Black Friday and Cyber Monday, you may not have realized that China's Singles Day on November 11 officially became the world's biggest eCommerce event last year, and it exceeded those results this year, thanks in large part to the huge impact of Alibaba. The online retail giant says it pulled in $9.3 billion on its own, and nearly doubled its number of orders from last year, going from 150 million to 278 million.
Alibaba wasn't the only one getting in on the action, however, as other major retail players saw huge spikes as well. Alibaba competitor Jingdong Mall (JD.com) reported a 120 percent increase over last year's Nov. 11 sales, and numerous US-based eCommerce giants like Amazon also vied for a piece of the pie.
With all of this activity, sites had to be prepared for the huge spike in traffic, and those that suffered performance and availability issues surely lost out on revenue as their customers went to competitors' sites instead. In particular, US and international retailers targeting China for Singles Day faced the tough road of competing head-to-head with Chinese companies. To have any chance of success, these foreign retailers targeting China have to deliver superior website speed and availability. The best way to do that, and navigate the regional connectivity issues and the Great Firewall of China, is to have servers, CDNs, and other infrastructure located in mainland China (not Hong Kong or Taiwan), usually recognized by having a .CN URL as opposed to a .COM URL.
As we monitored the performance of many of these retailers across international borders, some of the results weren't that surprising: the .CN sites were markedly faster than .COMs.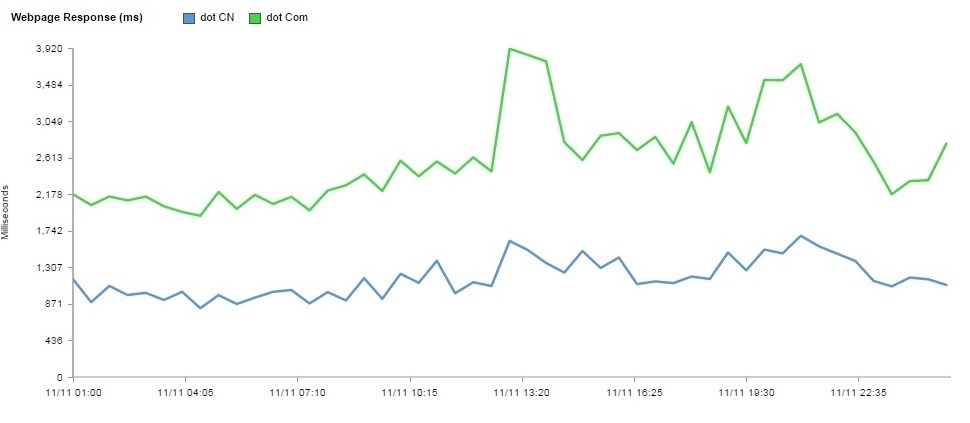 However, what was surprising was that even the US and international companies offering .CN versions of their websites (and placing infrastructure on the ground in mainland China) were, overall as a group, much slower than their Chinese e-commerce counterparts with .CN websites.
Clearly there's something else going on here. We found that the other hang-up that many US and international companies encountered on Singles Day – consistent with our past In-China web performance analyses – lies with third party tags. Many sites, even when they have China-based infrastructure, still host third party elements from blocked companies like Google and Facebook, which mitigate the benefit of having their servers inside the Great Firewall. That impact is especially problematic when those tags are not loaded after the rest of the page has completed rendering. And that, in turn, will lead to users giving up and trying to shop elsewhere.
The lessons learned are straightforward: China is a unique entity in the DevOps world, and in order to compete there, you have to treat your site like it belongs to an actual Chinese company. That means infrastructure on the ground, a .CN URL, and no third party tags from outside of the country. And most importantly, don't include content on those pages that Chinese consumers do not have access to.
Doing so won't mean that you're going to compete with Alibaba, but at least it could help to not turn off customers who did try to visit your site.