Enterprise Mobile Adoption - Where Are You on the Path to Productivity?
A Deeper Look at What's Driving Mobile App Adoption by the Enterprise Workforce
Enterprise mobility is one of the top trends of 2014. Mobile occupied the top two spots on Gartner's Top 10 Strategic Technology Trends for 2014. Accenture mentions in its Mobility Insights Report 2014 that 77% of surveyed enterprise leaders consider mobility among their top five priorities for the coming year, and 43% say the technology is in the top two. Enterprises are clearly implementing and scaling their mobile adoption strategies, with 40% of enterprise employees relying on mobile devices to get their job done, according to the recently published Mobile Playbook.
Enterprise Mobile Adoption – Beyond the Headlines
There's no doubt that mobility is among the highest of enterprise IT priorities. The question is "for what purpose?" What strategic goals do enterprises have for their mobility initiatives? And how do those strategic goals differ for consumer-facing mobile apps (like banking, travel, or retail) and workforce mobile apps (like productivity apps, ERP, or CRM)?
While it's clear that consumer-facing mobile apps drive increased customer satisfaction and revenue, the strategic drivers for rolling out mobile to the enterprise workforce may be less obvious. So, we asked the question during a recent webcast with our enterprise audience. Here are the poll results.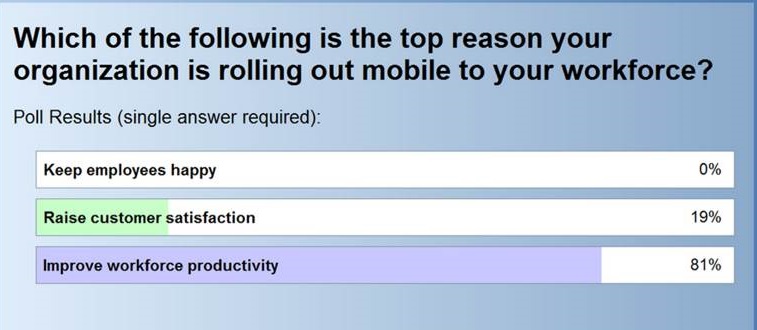 Rolling out mobile devices to the workforce is not done to keep employees happy. It is done to improve workforce productivity. Raising workforce productivity has a secondary impact on customer satisfaction, when mobile drives faster execution of critical business activities, like processing an insurance claim or looking up a patient record.
The Path to Workforce Productivity – Beyond Devices and Apps
Developments in the Enterprise Mobility Management (EMM) market reflect the current state of mobile management in most enterprises. Just as the leaders in Gartner's Magic Quadrant for EMM Suites have evolved their solutions from Mobile Device Management to Mobile App Management, enterprises have moved beyond simply providing mobile devices to their workforce, or supporting BYOD initiatives. Many have also deployed secure mobile productivity apps, like secure email, secure web browsing, and file synchronization and sharing.
But enterprises also recognize that deploying mobile devices or secure email to their workforce does not represent a successful mobile strategy. According to the poll results from our webcast, the vast majority of enterprises recognize that actually measuring and improving mobile workforce productivity is the best representation of success.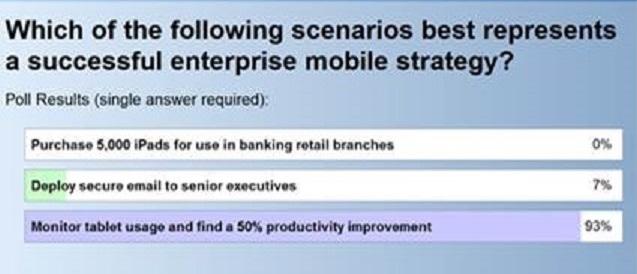 Augmenting EMM with Mobile End User Experience Monitoring
Developing, provisioning, configuring, inventorying, and securing devices, apps, and content are necessary first steps for enterprise mobility initiatives. However, by themselves, they don't enable enterprises to improve workforce productivity. Doing so requires enterprises to augment the device and app analytics available from their EMM suites with analytics that indicate the quality of the mobile end user experience.
Accenture's Mobile Insights Report reflects this need. 85% of surveyed enterprise leaders also say that a "lack of formal metrics to measure effectiveness" is a key challenge to achieving their mobility goals.