Foresee Application Performance at Peak Loads for Customer Loyalty
Businesses across the world spend billions of dollars on marketing blitzes and wait for years to achieve the elusive customer loyalty for their brands. However, the one thing that drives customer loyalty across domains, geographies, platforms, and technologies is customer experience.
Why do people prefer Apple phones, or for that matter, Google as the preeminent search engine when there are plenty of alternatives available?
The answer lies in the superior customer experience provided by the above-mentioned companies and garnering the much sought-after customer loyalty. Businesses ought to provide superior customer experience through applications when the traffic is significantly high. They should be able to foresee the performance of applications at peak loads by leveraging load testing services. The role of customer experience in building customer loyalty is a foregone conclusion.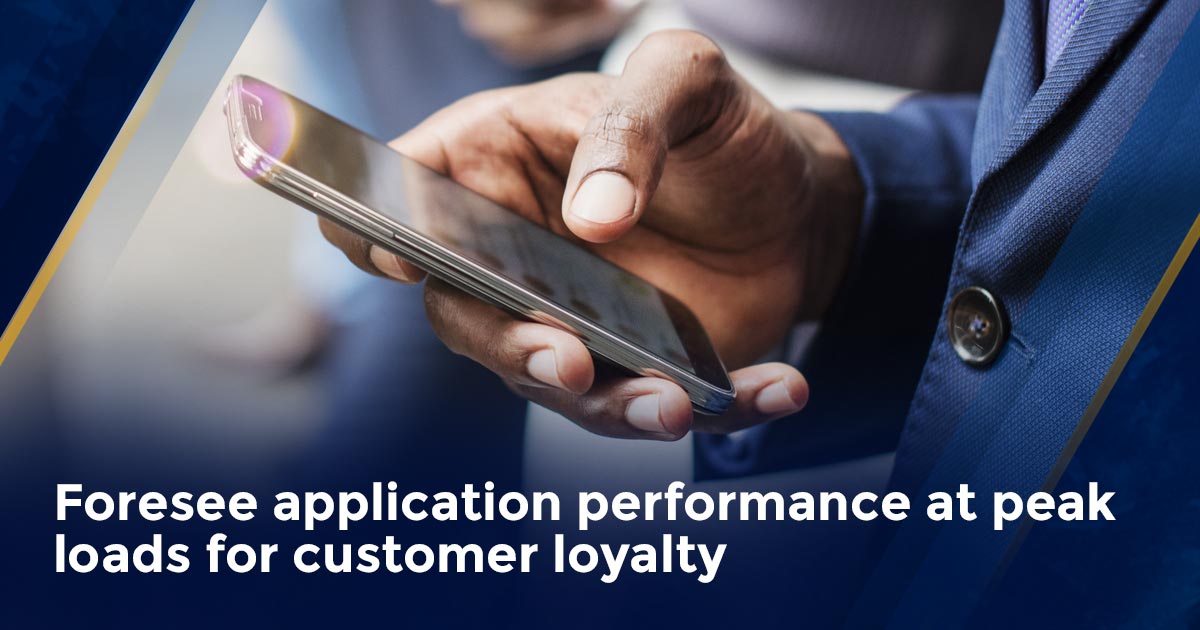 Enhanced Customer Expectations Are Disrupting the Market
The digital world has spawned hundreds of companies dishing out software applications and looking to hit the customer loyalty button. But it is easier said than done as the customers of today have a multitude of options in every domain. The enhanced expectations and preferences shown by customers have disrupted the market like never before.
Even if customer loyalty may hold true for companies dealing in physical and tangible goods such as cars or televisions, it is a different ballgame altogether when it comes to the products and services sourced through the internet. If earlier, switching a vendor was a difficult proposition given the limited competition, today, on-demand internet-based products or services have given consumers plenty of choices. As a result, switching a vendor is done in a matter of seconds as consumers download and install software applications based on their expectations and preferences.
Poor App Performance is Impacting Businesses
According to the Riverbed Survey, around 98% of businesses state the criticality of an app's performance to their bottom line. Also, around 89% of businesses state that the poor performance of apps affects their work negatively. As per Gartner's research, poor data quality can lead to a financial loss of $9.7 million per year, and IBM discovered businesses in the USA are losing around $3.1 trillion annually due to poor quality data. These figures emphasize why the performance of applications is so critical for businesses, especially when the traffic is high.
Imagine a scenario where customers line up to use an application during the festive season. Every customer has planned the things to buy and how to use them during the festival. But as soon as the user traffic hits the application, all hell breaks loose. The application is not able to handle the load and breaks down, leaving everyone frustrated and angry at the outcome.
As a consequence, scores of users may uninstall the application, leaving the business owners red-faced and their bottom line bloodied. The riled customers may even use social media channels to express their sentiments and bruise the reputation of the company. Such a situation could have been easily avoided had the business foreseen the application's performance at peak loads using software application load testing.
How Does Load Testing Ensure Smooth Application Performance?
As non-functional testing, application load testing checks an application's performance under a specific load threshold. It helps to determine the way the application is likely to behave when accessed by a multitude of users. This type of testing helps to identify and fix any performance related bottlenecks in the software application and validates its smooth functioning before deployment. Load testing solutions identify the following:
■ The maximum load threshold an application can manage
■ If the current infrastructure suffices to run the application
■ The number of concurrent users the application can support
■ Scalability of the application to support more users
What Happens in the Absence of Load Performance Testing?
There are several examples of websites or applications suffering from severe latency or downtime when subjected to high user traffic. It has been noticed that e-commerce companies focus more on advertising campaigns but do not foresee situations of user traffic overwhelming their systems. The following examples are a testament to the lack of application performance testing by businesses.
■ Encyclopedia Britannica has given a promotional offer of free access to their online database. However, the site could not keep up with the increased user traffic for weeks.
■ An airline website could not manage more than 10,000 concurrent users and crashed when they flocked to the site in response to a festival offer.
■ Toysrus.com, a popular toy store, suffered revenue loss when the website could not handle high user traffic following an advertising campaign.
Businesses face manifold challenges when it comes to ensuring the smooth performance of their software applications. This is due to the fact that modern applications with complex architecture can have performance issues in areas such as application code, device used, back-end database, or infrastructure. To address such issues, performance engineering should be applied at the planning stage.
Accordingly, the application's design strategy should have performance analysis as a critical component covering the entire end-to-end application development lifecycle. In the absence of this capability, businesses can run into app performance issues, thereby compromising customer experience and harming customer loyalty in the long run.
Any successful software testing strategy encompassing performance testing methodology ought to identify the friction points in the customer's journey and mitigate them. Hence, merely having a website or application and advertising its presence is not enough. What is important is to subject the application to different types of testing, including the most critical load performance testing, and make it resilient to increased load thresholds.
Conclusion
The customers of today are a choosy lot, with access to several online avenues to access products, services, or information. So, care must be taken to test a software application's load handling capacity during crucial periods of user journeys. Load testing services are of critical importance in ensuring the application and its surrounding architecture are able to manage higher load thresholds and deliver superior customer experiences.