Hybrid Work Introduces Heterogeneous Endpoint Pool
The more things change, the more they stay the same. Another surge in COVID infections is threatening a promising return to the office for companies worldwide. Corporate and technology leaders are once again rewriting their playbooks as prominent companies across industries, including Wells Fargo, Amazon, Lyft, and Dell, push back reopening to later in the fall or early 2022.
During the 18 months Aternity tracked the pandemic's impact on the workplace, office reopening plans remained murky, but what is clear is the permanent way in which various industries have changed. In healthcare, telehealth is here to stay. In retail, online commerce and curbside delivery are permanently shifting where back-office work gets done. These business model adjustments have a lasting effect on corporate technology investments.
Given the significant changes in the decision-making factors for ongoing technology investment — including the halting return-to-office planning and the global chip shortage — Aternity examined employee device purchases and deployment trends to understand its impact on the digital employee experience.
Enterprises Use Laptops to Support Business Transformation
With the shift to remote and hybrid work becoming permanent, IT continues to invest in laptops and related technologies to equip employees to be true digital nomads who can work from everywhere. The following chart illustrates the trend in usage away from office-based desktop computers toward laptops.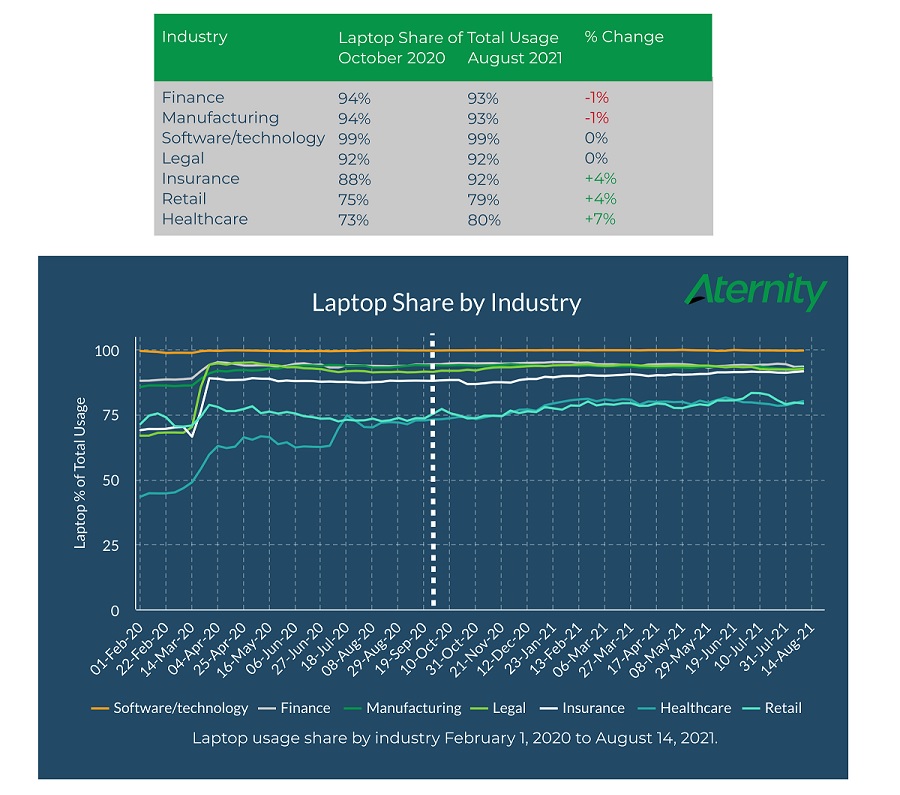 The software/technology, finance, manufacturing, and legal industries have all remained consistent regarding the percentage of employees using laptops vs. desktops. However, retail and healthcare companies made investments in laptops throughout the pandemic to support the new business models mentioned previously. The same is true in insurance, which has shifted contact centers to work-from-home models and increased investment in laptops and tablets for field service personnel.
Businesses Upgrade their Endpoint Pool
How are CIOs investing in new generations of devices to support the work-from-everywhere enterprise? In its most recent IT spending forecast, Gartner stated that overall spending on devices will increase nearly 14% in 2021, following a modest drop of 1.5% in 2020.
Enterprises typically deploy new devices two generations ahead of those replaced, with even-numbered generations driving the highest growth. As illustrated in the following chart, during the early phases of the pandemic (March-October 2020), usage of devices with 8th generation CPUs increased by 19% compared to before the pandemic. This trend corresponded with a 16% decline in the use of 6th or earlier generation devices and a 5% drop in usage of 7th generation CPU-based machines.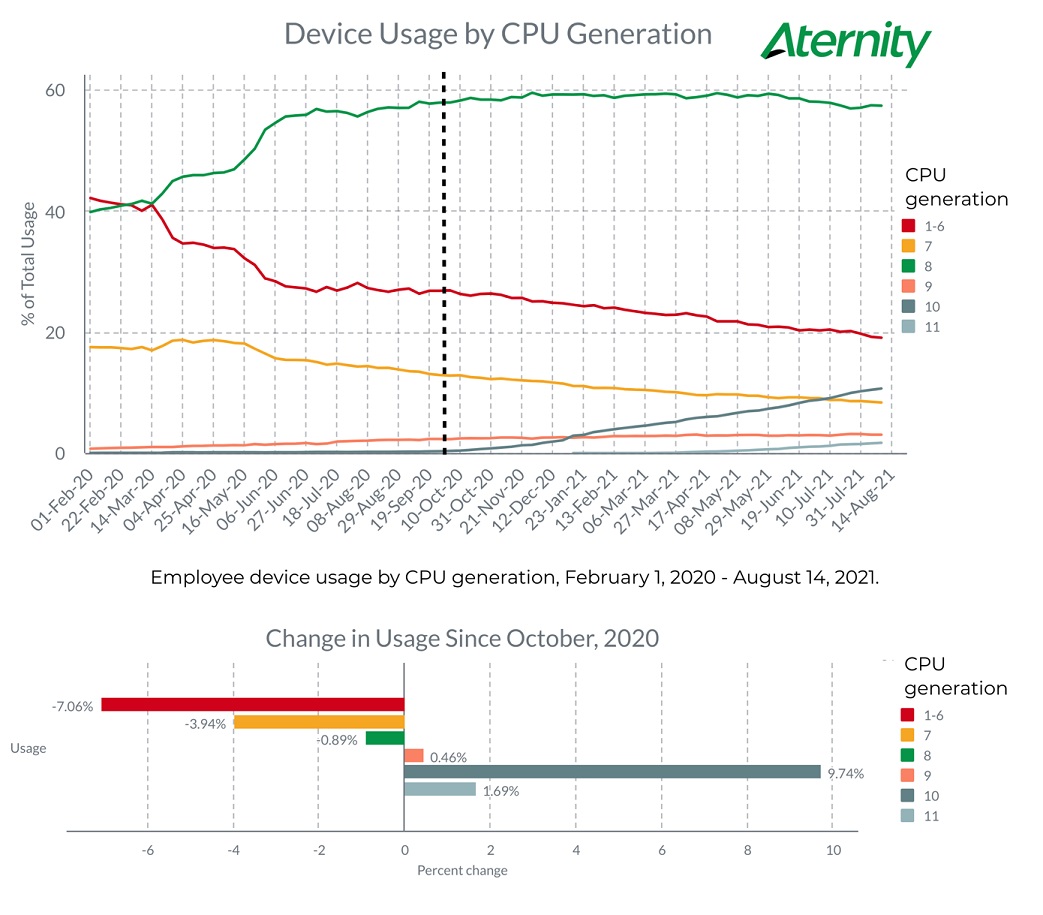 Following that pattern, since October 2020, use of devices with 10th generation CPUs increased by 9.7%, corresponding with a 0.9% decline in devices based on 8th generation CPUs. In addition, following the introduction of 11th generation CPUs at the end of 2020, machines with these chips saw initial deployment in April 2021 and appear to be gaining share relatively quickly, particularly in finance and insurance. Enterprises that might have delayed device upgrades due to budget constraints during the early stages of the pandemic also appear to be finally replacing them with the latest generation devices, especially laptops.
Global Chip Shortage Forces Businesses to Diversify Endpoint Purchases
The number of unique hardware models deployed in enterprises tracked by Aternity has grown consistently throughout the pandemic. Since April 2021, the number of new models in the field increased by 10%, with a noticeable spike last month.
HP emerged as an early winner as our data team saw a 15% surge in the number of models deployed in enterprises since the start of May 2021. (Note: From a global market share perspective, Lenovo holds the top position according to Gartner.)
In the Gartner PC market shipment data highlighted above, the firm notes, "[the] consumer PC market was less impacted by shortages than the enterprise market, as vendors can be more flexible in the system design of consumer models, enabling workarounds for certain supply constraints."
With HP offering a wide variety of prosumer and consumer-focused models, the fact that it led in the number of models deployed since the chip shortage fully impacted supply further supports Gartner's data.
At the same time, prosumer-focused ASUS made gains in enterprise usage, presumably as organizations find themselves unable to purchase from their typical vendors. Although companies appear to be buying more types of ASUS devices, it has not gained any significant usage share.
Best Practices for Optimizing Enterprise Endpoint Performance
IT teams that diversify their endpoint pool now create a support headache going forward. Given the continued reliance on hybrid work, companies should consider the following recommendations to ensure they put their employees in the best possible position to succeed and deliver consistently positive digital employee experiences:
■ Empower IT with business-enabled tools to remotely manage employee devices. Given that employees continue to work remotely, especially in critical industries such as healthcare, IT needs to monitor and manage issues on corporate devices remotely. Newer generations of devices provide advanced remote management capabilities that can speed incident resolution times.
■ Optimize technology spend. Gaining visibility into device and application usage and performance enables business leaders to determine the optimal technology investments for their environments. This helps avoid paying for unneeded large-scale asset refresh initiatives by tailoring efforts to "fit-for-purpose" requirements for specific individuals.
■ Recalibrate refresh cycles. Given supply and demand imbalances may persist, CIOs should rethink refresh cycle parameters by considering factors other than device age. Correlate actual user experience to device health and performance to determine whether devices need replacement, upgrade, or no action at all.
■ Balance demand for device refresh with increased burden on IT support. When considering going outside the standard device catalog, weigh the cost of managing, supporting, and ensuring security for a wider variety of laptops and desktops against the performance and productivity gains they provide to employees.
■ Map productivity trends to employee experience goals. Identify specific goals and benchmarks for performance for the organization as a whole and individual departments based on the most critical business applications. Measure the performance of these applications over time to identify opportunities for continuous service improvement.