The Hyperconnected Era: CIO Insights on Driving Global Growth and Success
Rapid advancements in technology, accompanied by an explosion of devices and digital applications, have reshaped the way global enterprises connect and work. CIOs find themselves at the forefront, grappling with the latest tech trends, navigating uncertainty and seeking opportunities to accelerate growth for their organizations.
We heard from over 650 CIOs across the world on how they are spearheading the transformation of their organizations equipped with future-ready networks to anticipate change, scale and adapt swiftly in today's hyperconnected world. They shared their insights into their confidence in future growth, their strategies for addressing emerging challenges and the investment opportunities they are prioritizing to thrive in the dynamic and challenging economy.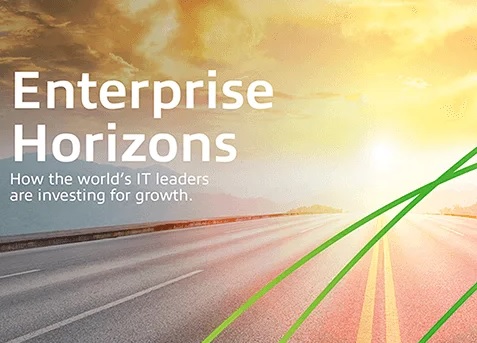 Scaling for Global Growth
Intuitive, high-speed network connectivity is critical for organizations aiming to maintain uninterrupted availability and responsiveness while scaling for growth. Forty-two percent of organizations acknowledge global connectivity as a critical business asset, allowing CIOs to concentrate on maximizing strategic growth rather than grappling with logistical and connectivity hurdles.
For successful global expansion, CIOs understand the need to establish and manage connectivity in new markets. North America and Western Europe are identified as top regions for growth opportunities. However, challenges arise in regions like South America, where local technology provider knowledge, agility, robust connectivity, scalability and performance visibility pose hurdles. CIOs are investing efforts in establishing safeguards such as firewalls, intrusion detection systems and encryption protocols to protect sensitive data in challenging security environments.
Also, the shift towards remote work necessitates robust network infrastructure that supports seamless communication and collaboration. Real-time visibility into network performance allows organizations to quickly identify and resolve issues, optimizing bandwidth usage across geographical locations. Alleviating concerns regarding geographical knowledge, corporations are investing in network providers that offer comprehensive solutions and support their growth plans.
Solving for Network and Workplace Challenges
Nearly half of enterprise CIOs agree that connectivity is critical to their global plans, but there are challenges to overcome.
More than a third need to deal with network performance issues (37%); expanding connectivity effectively into new markets (37%); and the constraints of legacy platforms (35%).
CIOs can also face internal challenges. Around 25% of executive boards regard connectivity mainly as a cost center. CIOs in China face the most investment pushback, while in the US and continental Europe, the strategic value of connectivity is rarely questioned.
When it comes to their ideal enterprise network, CIOs want it to be:
■ Robust – zero downtime
■ Flexible – adaptive to changing market conditions and user needs
■ High performing – consistent in terms of latency and delivery, no matter the level of demand
■ Scalable – able to adjust capacity
■ Easy to use – reconfigurable and manageable
Additionally, a big driver for investing in a more flexible, scalable IP network is the fact that the nature of work has changed. Organizational boundaries were redrawn during the pandemic and many global enterprises have moved to a hybrid working model.
Across countries and industries, nearly half of CIOs now need to support hybrid arrangements. Many (41%) report that existing workers and new hires specifically expect to work from home.
The effort to support remote workers with similar levels of security and performance as they would experience if working in the office complicates CIOs' connectivity challenges. A dynamic network solution allows you to shift workloads around the world at a moment's notice, whenever the need arises.
Investment Opportunities
As organizations plan their technology investments, they must understand the significance of prioritizing network connectivity for achieving growth and success.
By allocating resources strategically, addressing emerging challenges and adopting robust security measures, organizations can thrive in a dynamic and challenging economy.
Key investment areas for CIOs include:
■ Security: With 61% of respondents planning to allocate more funds, organizations are prioritizing robust security measures to protect valuable data in an increasingly digitized landscape.
■ Automation and Analytics: Nearly 60% of CIOs aim to bolster automation and analytics capabilities, recognizing their potential to enhance operational efficiency and drive innovation.
■ 5G Technology: The rise of 5G technology prompts 58% of organizations to invest in its implementation, capitalizing on its potential to enable transformative applications and services.
■ Cloud Computing: Public/hybrid cloud solutions garner investment interest from 55% of organizations, providing scalability and agility in supporting business operations.
■ Emerging Technologies: Big data analytics, Edge computing, IoT, SD-WAN and SASE all receive attention, with 54% investing in these technologies to foster innovation and automation.
For CIOs in today's hyperconnected world, the focus must be on consolidating and simplifying complex operations while building the foundation for long-term business success. Intelligent, global connectivity is mission-critical. It not only enhances operational resilience but also unlocks the enterprise-wide flexibility and speed which is necessary to spark innovation and drive growth.