How the Network Stole Christmas
Annual Ipswitch Survey Reveals that Holidays Continue to Create Stress for IT Professionals

In its second annual "Happy Holidays?" survey, Ipswitch surveyed more than 200 IT professionals to gauge the impact of their job on the ability to enjoy the holiday season. Jump to infographic.
To the surprise of no one, IT pros, yet again, are getting scrooged by some of the most common network issues or "grinches". Taking a deeper dive into the data reveals that:
Who's Feeling Like "Bob Cratchit"?
49 percent of all respondents noted they are either on-call or working this holiday season, and nearly the same amount (48 percent) will be thinking about work even when they're not in the office!
Remote Access is the Most Common Holiday Problem
During the holidays many companies allow their employees to forgo the office and work from home – sounds nice, right? Not for IT professionals! Survey respondents noted that more than half (57 percent) of users experience problems with network access. Other user and network issues include poor application performance and forgotten passwords (18 percent each).
Who's Topping IT's "Naughty List"?
When asked who would top the "IT naughty list" respondents said that executives (24 percent), fellow employees (20 percent) and vendors (12 percent) would receive coal in their stockings. Notably, nearly one third (32 percent) of all survey respondents believed all three groups of people should top the "network naughty list".
Gadgets "Grinches"
Some of the gadgets topping our wish lists this year actually pose threats to our networks by draining wireless bandwidth and application performance. According to the IT pros polled, the gadgets identified as most likely to disrupt their IT network were smartphones (35 percent), wearable technology (26 percent), laptops (23 percent) and tablets (16 percent).
Thinking Ahead to a More Prosperous 2015
When asked what New Year's resolutions were most important to them and would be most beneficial, solving network and IT problems faster tied with Increasing IT security measures, both at (43 percent). Tracking down and finding the organizations bandwidth hoarders was the third most popular response (14 percent).
So while many of us are doing last minute gift shopping and making New Year's Eve plans, network managers and system administrators are once again hard at work keeping business networks up and running and making themselves available to solve your problems.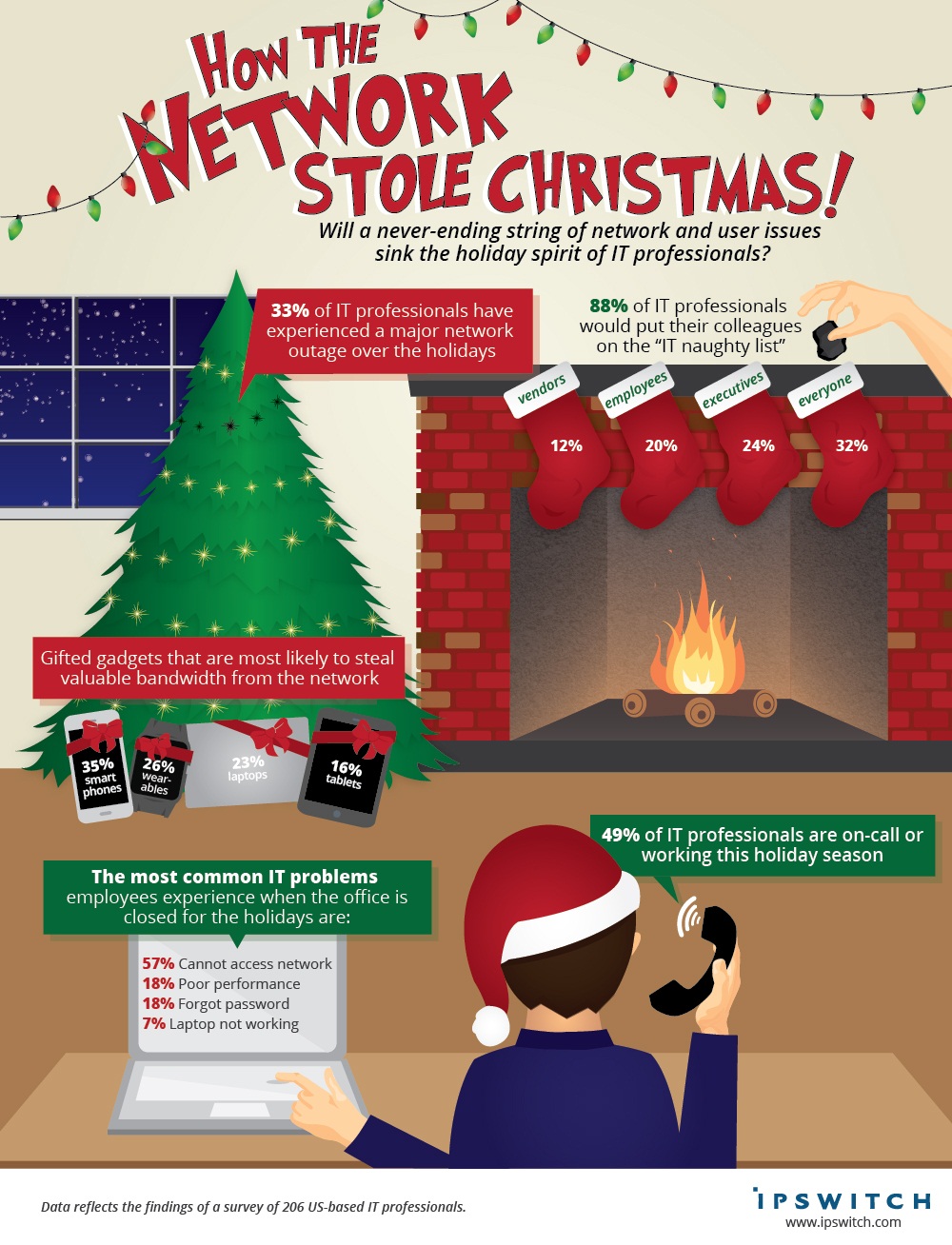 Daniel Okine is Director of Product Management at Ipswitch.