IT Faces More Hurdles with Win 10 Anniversary
Win 10 is now in official anniversary mode with its 1607 anniversary update ready to roll out to some 400 million devices. Microsoft is optimistic users will covet this update and offers suggestions on how you can fast track your update if so desired. While users may find the anniversary update features such as improved taskbar management helpful, IT pros will continue to grapple with the new way Microsoft is executing updates: these feature updates were previously called branch upgrades and quality updates, the latter also known as cumulative patches.
Feature updates' impact lies between a service pack and an operating system upgrade. They can be as large as 4GB and will typically occur every six months. They contain a combination of new features and fixes, and will cause an upgrade impact to the end user. These feature updates are going to have a much bigger impact on your network and local storage than the old service packs. They are bigger, going to be released more frequently, and will have a higher user impact during upgrades.
To add to the complexity, Win 10 is executing a number of types of servicing branches.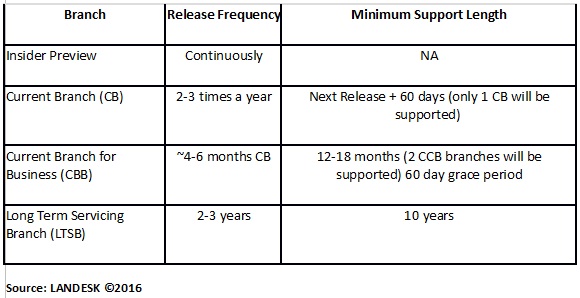 Even further, Microsoft has announced Win 10 Ver. 1607 is initially considered the Current Branch (CB) and will become Current Branch for Business (CBB) in four to six months.
If you're an IT pro charged with optimizing the performance of your enterprise, what do branches mean for you? Here are a few things to consider:
■ Choose Stability: Enterprises that must have minimal service disruptions, such as health care, may want to opt for the Long Term Servicing Branch, with updates every two to three years and a long support lifetime.
■ Test the Waters: IT can choose to deploy a more frequently changing branch on a subset of computers, the early adopters. This gives IT a type of beta trial, if you will, to identify potential application compatibility issues that could adversely affect performance.
■ Standardization: For your organization you may find that one branch will work for most machines.
■ Mitigate Risk: Some of the branches are supported for only months so where does this leave your network security? It means IT will have more work to do in making sure it deploys feature updates as they become available, since like it or not, Win 10 feature updates are frequent and support has an end date.
Upgrade Model
We've discussed how to parse out these branches, but let us emphasize that these branch updates are going to be constantly rolling out, and will often overlap.
Here is a four step approach that can be applied to different rollout plans:
■ Preview Insider Branch: Insider branch should be installed and used to preview features, perform early testing and prepare for the release of current branch. Due to release cadence, it will pay large dividends to use early branches to find and resolve issues. This enables IT to prepare for the release and piloting of CB and have time to mitigate potential issues.
■ Pilot on Current Branch: As branches are progressive in nature, rollouts should schedule the pilot phase to commence with the release of Current Branch. Current Branch will stabilize over time so pilot systems can detect issues that may affect production systems. This branch should be used for application compatibility testing. Leveraging CB enables the organization to test applications and be prepared to migrate to the branch when it is slated as CCB (Current Branch for Business).
■ Production on Current Branch for Business: When the branch is declared Current Branch for Business, it should be very stable and the pilot rollouts should have already identified branch compatibility issues that can be addressed before this phase begins. Production systems should be run on CCB.
■ Grace Period for Problem Upgrades: Enterprises should be done with upgrades before hitting the grace period and use this time to address problem upgrades only.
IT needs to evaluate the performance impact of these various branches, in terms of frequency, support limitations and security risks and have a plan in place to avoid disruption as these Win 10 updates start hitting your enterprise.