IT Leaders Embracing Automation to Stay Competitive, Reduce Costs and Scale
IT leaders are driving an increasing number of automation initiatives as a way to stay competitive, reduce costs and scale as they navigate an unpredictable social and economic environment, according to the 2023 State of Automation in IT survey conducted by Jitterbit.
In particular, businesses are turning to integration technology as a way to connect systems and automate workflows to boost productivity and efficiency.
Organizations are also discovering that to truly move the needle on their digital transformation journey, strategic collaboration and alignment between IT and business technologists is a must.
Business Process Automation is Top Priority for IT Teams
A significant 89% of companies state that business process automation is part of their technology strategy this year, with the IT department taking precedence over other departments.
Concerns around competitors accelerating automation efforts are a key driver for this prioritization. However, only one-third of respondents feel they are currently ahead of the competition when it comes to automation — a perception that is motivating IT leaders to take action.
Operational Optimization Fuels Demand for Automation
According to respondents, the top two forces driving the need for automation are operational optimization and rising economic pressures.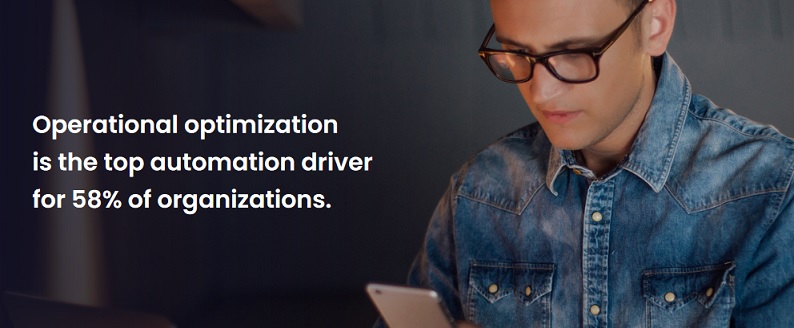 However, there are still lingering concerns when it comes to implementing automation tools. Among the top automation challenges reported by IT leaders, security and data privacy took the lead, followed closely by cost and complexity.
LOB User Participation Rising with Explosion of SaaS Apps
While IT leaders remain at the forefront of organizational automation initiatives, the survey reveals that business leaders in HR and Marketing departments are increasingly responsible for executing automation and integration projects. In terms of integration requirements, hybrid integrations are in high demand as companies continue to incorporate SaaS apps into their existing ecosystem, often consisting of legacy, on-premises systems.
"The data shows a clear commitment from today's IT leaders to leverage automation as a way to drive real change and accelerate digital transformation," said Manoj Chaudhary, CTO at Jitterbit. "With mounting pressures for efficiency and productivity gains with reduced budgets, embracing integration and automation technology helps unburden IT teams and lay the groundwork for a truly optimized and futureproofed enterprise."
Methodology: Within the context of a larger study into the current state of business automation, Jitterbit collected survey data from IT, marketing, and human resources executives at organizations spanning B2B, B2C, and B2G sectors. There were 167 respondents to the survey, all in firms with 100+ employees.