IT Organizations Lack Visibility into Application Performance and User Experience
A lack of integrated monitoring capabilities impacts companies' ability to optimize application performance and influence business outcomes, according to the AppDynamics Business Impact of User Experience survey, conducted by analyst firm Dimensional Research.
The global survey, which included responses from 423 web and mobile application stakeholders, also found that only 38 percent of respondents quantify the dollar cost to the business of poor user experience.
Overall, the survey found that few companies have a fully integrated view of end-user experience, and most companies lack solid metrics about the cost to the business of poor user experience.
Specifically, the three most important take-aways consisted of:
■ Existing tools are not integrated and create data silos: Most companies lack a single view of application performance and business metrics. Fewer than one in four respondents have integrated their user experience tools; 77 percent say their metrics exist in "data silos" and most of those — 74 percent— say that lack of integration impacts their ability to use performance data effectively.
■ Most companies are unable to connect the dots between poor digital performance and the cost to the business: While 88 percent say it is valuable to know the dollar cost of poor user experience, only 38 percent quantify it.
■ Executives want — but don't have — real-time performance metrics: More than half of executives (61 percent) said it was "very important" to get business impact/performance metrics quickly, yet only one-third (32 percent) have the ability to track metrics in real time.The rest use reporting systems that run on a schedule (46 percent) or correlate data from systems of record into a data warehouse as needed (22 percent).
"Based on our findings, the majority of companies are still trying to get a handle on measuring and managing user experience," said Diane Hagglund, Founder and Principal at Dimensional Research. "Lack of integration of application performance management tools is one major problem, but there's another issue, too: the lack of visibility into how experience affects business metrics also prevents IT leaders from influencing business outcomes positively."
The study validates that very few IT organizations have an accurate, comprehensive view of how their users experience their application. A fully integrated solution that presents performance and business metrics in a single-pane-of-glass can deliver what these companies are missing: a way to trace and monitor transactions from the end user's perspective, across all their interactions, through the entire application and infrastructure environment, to help proactively solve performance issues and ensure a better user experience.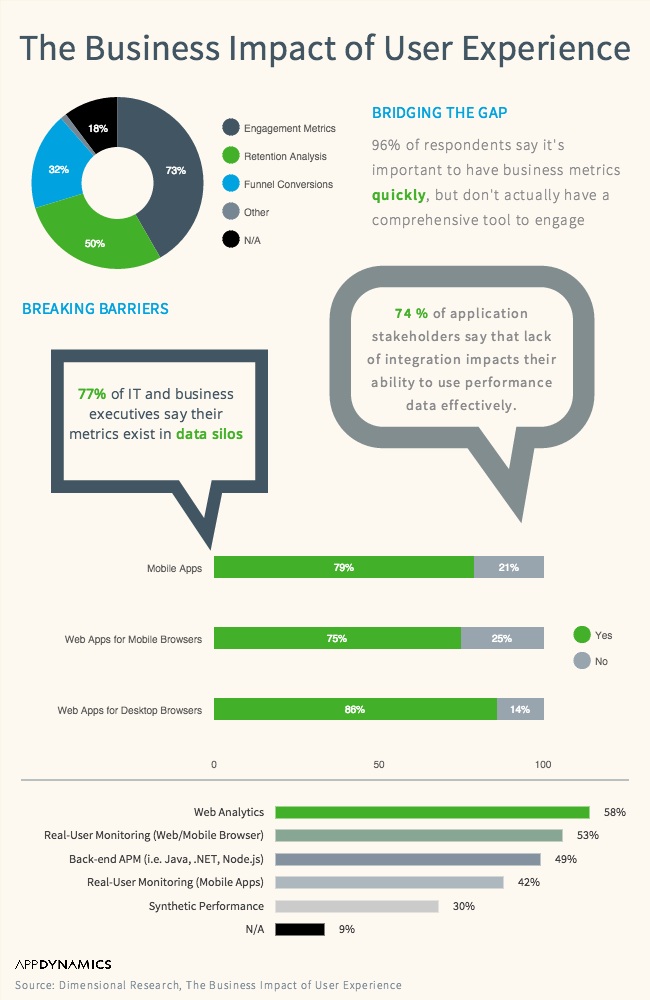 Dimensional Research Survey Methodology: AppDynamics commissioned Dimensional Research to conduct a survey of individuals with responsibility for web and/or mobile applications. Of the 423 respondents who completed the survey, the largest category (32 percent) worked for companies with more than 5,000 employees. Approximately equal numbers of respondents worked for companies with revenues up to $50 million, from $50 million to $1 billion, and $1 billion plus. This global survey included participants from the United States (75 percent), Canada, United Kingdom, France, Germany, and other countries.
Kalyan Ramanathan is VP Marketing at AppDynamics.