Managing the Changing Hybrid Workforce
The pandemic saw lockdowns, quarantines, self-imposed isolation, restructuring business for online platforms, and remote workers. In short, enterprises the world over participated in the biggest remote work experiment in human history.
Now, more than a year since its start, we are in a relatively better position to gauge the impact of remote working on how we communicate, connect, and create. Large Tech companies have provided tremendous flexibility for their employees. However, this is not possible for all types of businesses and as several CEOs have made a call to bring their employees back into the office, the transition may not be as easy on the technology or human side.
One thing is certain: The hybrid workplace, a term we helped define in early 2020, with its human-centric work design, is the future.
According to Gartner, by 2025, 50% of knowledge workers will be working remotely. Of those, 80% will be hybrid, splitting their time between home and an office, while 20% will be totally remote. For this article, we'll define onsite workers as those who work either in an enterprise branch or HQ, and for the sake of argument, remote workers are those working only from home and hybrid workers are those splitting time between a branch/HQ and home.
To remain competitive, enterprises must embrace every type of hybrid work style whether it's planning for a co-located or distributed workforce. And it doesn't matter which country or continent your enterprise calls home or specific roles within the organization; there's not running away from this trend. According to Capgemini, even when the pandemic subsides, around 45% or employees think they will spend three days or more per week working remotely. What's interesting is that Capgemini also found that 63% of the organizations they surveyed observed an increase in their productivity levels during the Q3 2020 reporting period, versus 16% who said they saw no change and 20% who believed they saw a decrease.
From an enterprise perspective, 88% agree that they have realized real-estate cost savings with remote working in the last three to four months, and 92% expect savings in the next two to three years. One positive outcome of this is potential reallocation of investment that shifts from facilities to better equipping the hybrid worker with an "enterprise-class" experience.
However, this new hybrid work flexibility does not come without its costs. According to Microsoft, which looked at year-over-year growth, weekly meeting times for MS Teams users increased 148%, between February 2020 and February 2021 they saw a 40 billion increase in the number of emails, weekly per person team chats is up 45% (and climbing), and people working on Office Docs increased by 66%. This speaks to the need to further optimize remote interactions to avoid burnout.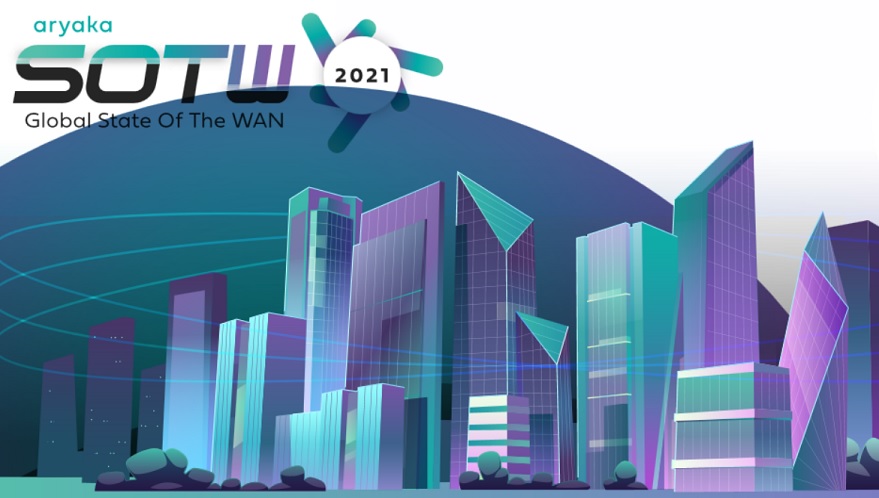 And this type of work activity is bandwidth intensive and poses challenges to enterprise remote workers. According to Aryaka Networks' 2021 State of the WAN report, enterprises ranked the biggest barriers to effective collaboration as follows:
■ Set up and management of underlying network infrastructure (42%)
■ Lag/Delay in communication (42%)
■ Poor voice or video quality (40%)
■ Frequently dropped calls (38%)
■ Only 13 percent of respondents said everything is perfect.
The State of the WAN report also identified the top existing WAN infrastructure challenges with the top ones being:
■ Complexity (37%)
■ Slow access (33%)
■ Slow performance (32%)
■ Deployment times (29%)
■ Security (28%)
■ Poor voice or video quality (23%)
■ High cost (20%)
■ Lack of visibility (20%)
Taking a Cloud-First Approach for Hybrid Workforce Simplicity
For enterprises to effectively manage the new realities of the hybrid workforce, they can either do it themselves through various hardware and software solutions, or they can take a managed service provider route. The do-it-yourself approach while maintaining application performance offer some levels of autonomy, it is arguably more complex, especially when you're talking about securely connecting people/branches on a global scale.
A managed approach, on the other hand, offers an "as-a-Service" consumption model that features more agility, lower TCO, fewer SLA headaches, and high application performance. Just be mindful of how the service provider integrates/stitches together all the key components, their effective global reach, and that they don't try to lock you in with their services contracts. Also, it helps to look for one-stop-shop service providers that offer their own technology.
If you've still not started planning for the future of your hybrid workforce, you might want to start now. When shopping for an enterprise WAN solution, make sure it is one that is flexible, with the ability to adjust bandwidth across sites as needed, support potential surges of remote/hybrid workers, and enables the rapid deployment of cloud-based or other SaaS-based solutions. Investing in a WAN solution that's geared for the hybrid workforce gives enterprises a safety blanket to weather whatever life throws your way.