Do You Know What Network Brownouts Are Costing You, and What You Need to Do About It?
COVID-19 has changed a great deal this year about the way we live and work. Some things, like mass remote working and surging e-commerce sales, will long outlast the pandemic. But this creates a challenge. As businesses increasingly come to rely on high-speed, high performance networks, and the applications that run on top, what happens when brownouts occur?
The past year was all about survival. Now it's time to thrive. That means a renewed focus on network and application performance management to spur the next stage of growth, as we move out of the shadow of the pandemic.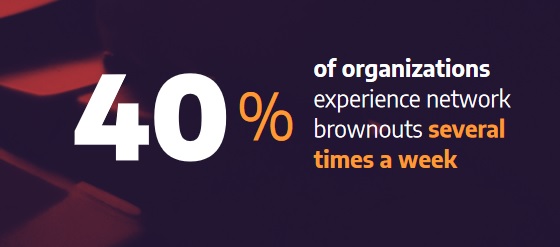 Going Digital
Global business was already transforming digitally well before COVID-19 struck, although in some industries at a faster rate than others. Retail had become an increasingly competitive vertical, with brands under intense pressure to deliver seamless personalized experiences across multiple channels. In fact, the growing influence on online retail and direct-to-consumer brands like Warby Parker and Dollar Shave Club may have hastened the demise of many bricks and mortar stores including Payless ShoeSource, Gymboree and Charlotte Russe.
COVID-19 has accelerated the push to all things digital. Businesses that used to talk about digital strategy in "one- to three-year phases" must now scale-up in just days or weeks, according to McKinsey. A major part of this is about supporting the newly distributed workforce. In April, over half (51%) of Americans said they "always" work remotely.
Under Pressure
Unfortunately, network infrastructure has in many cases been unable to support these surging demands. A poll of over 1,000 IT decision makers in the US we conducted recently revealed that over 40% suffer network brownouts several times a week, while end user complaints about application performance soared by 60% due to performance degradations, excessive slowdowns and network congestion.
Nearly a third (30%) reported problems with SaaS applications like Office 365 and team collaboration tools, which have become a vital means to maintain employee productivity amidst mass remote working. Fast, uninterrupted access to such applications is not only essential, but also expected by home workers today. However, this doesn't tell the whole story. Respondents also highlighted problems with the performance of business-critical databases, streaming services that support webinars and online events, Infrastructure as a Service (IaaS), ERP and finance systems, and customer communication channels.
This is not only a barrier to employee but specifically to IT worker productivity. A fifth of organizations experience brownouts on a daily basis, and more than half spending an average of 2.5 hours resolving a single incident. For many, that means as much as 12.5 hours each week is wasted on network troubleshooting. This is also an issue that goes beyond staff productivity to the very heart of business performance. If you can't access and use critical databases, IT infrastructure in the public cloud and enterprise software, or interact with customers in a timely manner, everything starts to fall apart.
What's the Problem?
Nearly half (47%) of the organizations we polled blame network connectivity providers for these brownouts, as well as maintenance and upgrades (43%) and unexpected traffic increases (43%). A broader problem is that IT and network teams simply don't have visibility into performance. We found that over a quarter of network brownouts are not even discovered by IT or NetOps, but are instead found and reported by users or customers. That means problems aren't being addressed early on, before they can escalate. They have already become acute enough that end users are starting to notice.
That's bad news not only for staff productivity and satisfaction, but also your brand reputation. Both can have a serious knock-on effect on the bottom line. So where should IT and NetOps leaders turn?
Getting Proactive
Active monitoring can certainly help to resolve the top three issues highlighted by IT leaders as causing brownouts. It means that you're proactively monitoring service quality rather than waiting for others to inform you when performance degradations get out of hand. By getting hold of independent performance data, organizations can enforce the relevant SLAs with their broadband provider and ensure they're getting the bandwidth they're paying for. Also consider running service activation tests and high-definition network testing after any upgrade or changes, to further minimize the chances of disruption down the line.
Any third-party technology suppliers serving your organization must also have access to the right tools to anticipate and tackle brownouts.
As we emerge from COVID-19, life for many of us will return to a pre-pandemic normal. But in many other ways it will be forever changed — 72% of office workers want to work remotely going forward, for example. This will require a closer focus on performance management, to ensure your IT and network services are ready for a new cloud- and digital-first era.