The End of Traditional Shopping: Omni-Channel Transforms Holiday E-Commerce
The holiday season used to be simpler for retailers. In the dark ages before the Internet, efforts focused around one goal – getting shoppers into stores. And even after the tech explosion, while the job was more complex, the process was still segmented and direct – for the most part companies advertised in print to lure buyers to a store, and advertised online to lure customers to shop on their website. But the explosive growth and now ubiquity of mobile adoption has thrown a gigantic wrench into what was once a simple process for maximizing holiday retail success.
Dynatrace commissioned a survey this year in advance of the 2014 holiday rush. Findings reveal mobile has become embedded into every aspect of the sales process. Not only are more shoppers than ever (56%) using mobile devices to make purchases, they are using smartphones and tablets every step of the way from browsing to comparing and then finally purchasing. So, this is forcing retailers to take a good hard look at their entire holiday e-commerce and retail strategy.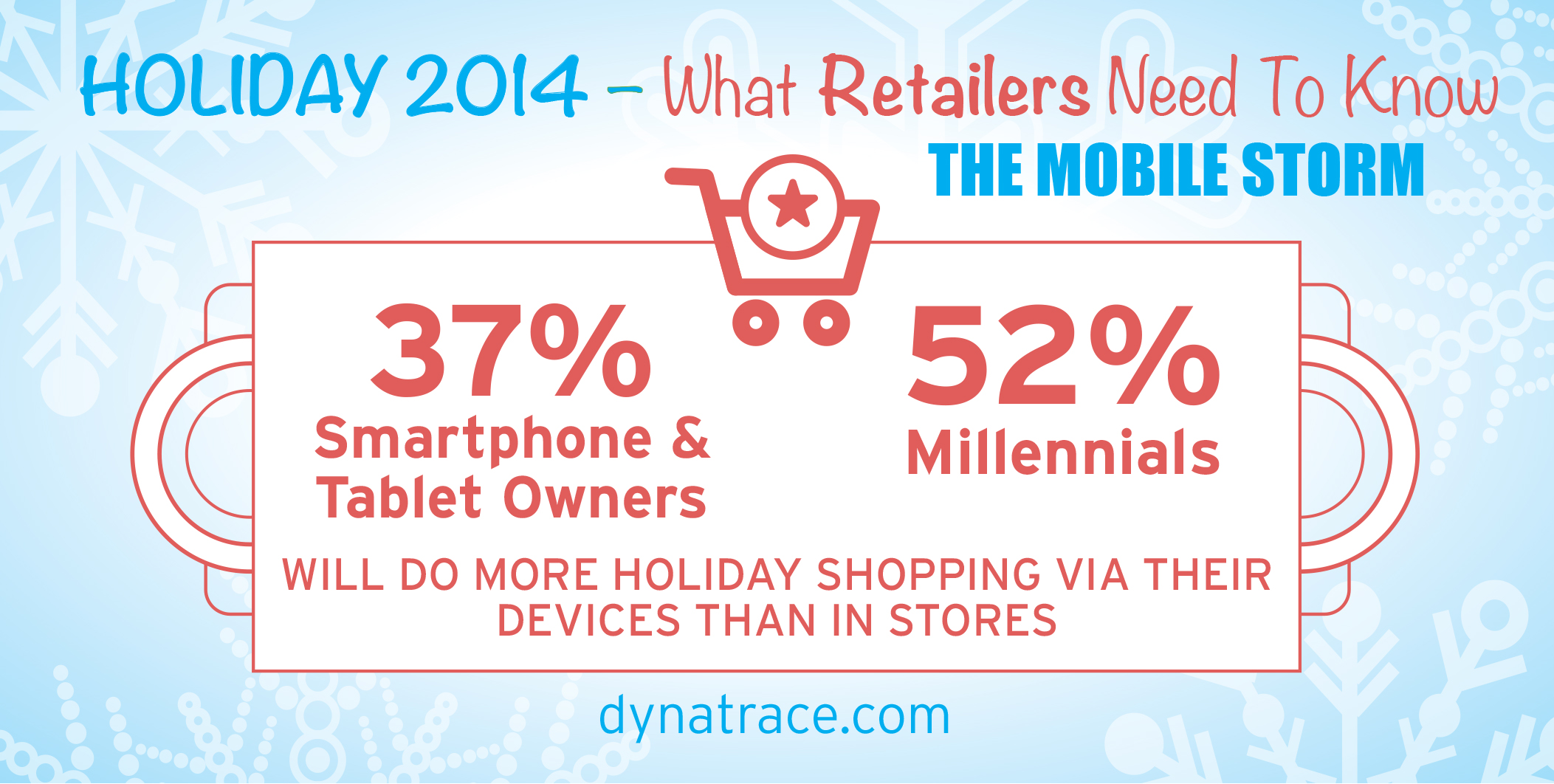 Jump to the full infographic below
When mobile first emerged, it was a complement to the holiday shopping big picture, a bonus that could help a brand's perception – particularly among the younger generation of online shoppers. Your primary seller was still a brick-and-mortar location and your website. Companies have long worried about creating and consistently delivering a good customer experience in-store and online, and in past years if you had these elements nailed you were in great shape. But this year, your old approaches won't cut it.
Mobile is no longer just a piece of the pie, it is now a primary touch point in digital customer engagement and the driving force in the way millions of shoppers search for and buy gifts. 36% of all mobile users, and an astounding 52% of Millennials (adults age 18 to 34), say that they will do more shopping on their devices than they will through in-store purchases this holiday season, making mobile user experience vital to a winning holiday e-commerce strategy.
What's more, consumers are using their devices at all times. Indeed, 26% of those surveyed indicated that they will use mobile devices to make purchases even while strolling the aisles inside of stores this year. As a retailer, you really can't think of your customers as web OR mobile OR in-store. They are probably all three. The world has become omni-channel, and as a result, mobile performance is the defining characteristic of a winning holiday strategy.
The important thing to remember in this dynamic landscape is that while mobile adoption and usage spike, user expectations don't allow room for forgiveness. End-user demands are relentlessly high, and continue to rise. Patience for slow or buggy digital experience has almost entirely evaporated, and even shoppers in your stores will abandon and shop elsewhere if it is slow to load, has errors or crashes. In fact, 46% of those surveyed indicate that they will shop elsewhere if a mobile site or app fails to load within three seconds, and once they connect, 80% will abandon a mobile app or website if it is buggy or prone to crashes.
If you want to delight your mobile users - and these days you really have to - you need to have a proven solution in place to ensure your digital experiences deliver optimally at all times. Your users are impatient, and if you do not meet their expectations your bottom line will bottom out. And, worse than that, you will feel the burn in more than just lost revenue. 44% of Millennials are likely to jump on social media to complain and vent, torpedoing brand equity in the process.
Mobile user experience has become a cornerstone for successful omni-channel strategies. Mobile websites and apps that do not meet user expectations will crush every aspect of your sales process. You won't just feel it in-store or online; you (and your CEO) will see it in your company's top line performance.
The most important thing retailers can do to make the most of this holiday season – and all peak shopping events – is be sure their performance strategy is top-of-mind every day of the year.
Click on the infographic below for a larger version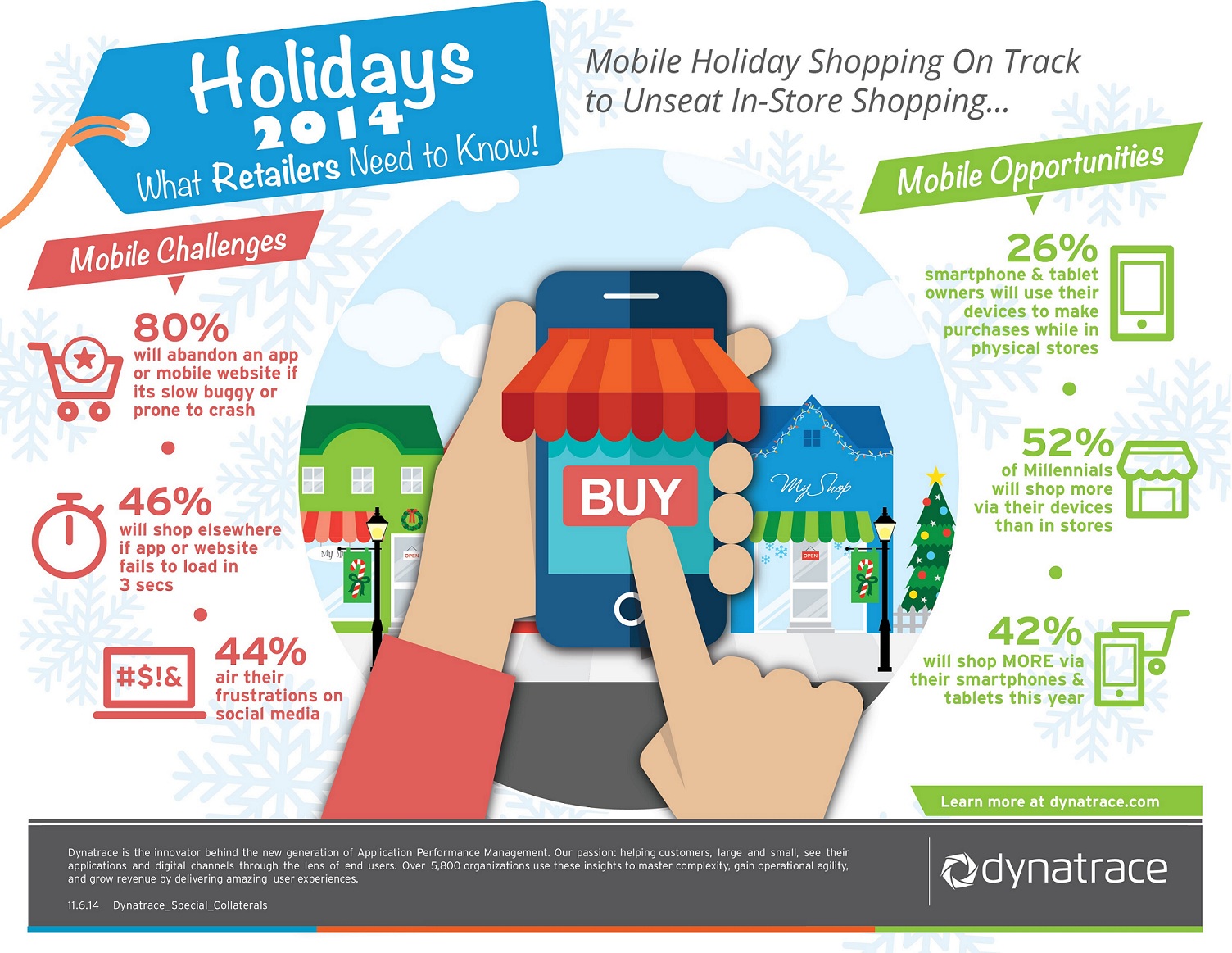 Erwan Paccard is Director of Mobile Performance Strategy at Dynatrace.