Online Holiday Shoppers Will Only Wait for 2 Seconds
Almost one-third (28 percent) of customers will not return to a slow site, according to SOASTA's 2016 Holiday Retail Insights Report.
The report's key findings include:
■ In 2015, 57 percent of Black Friday traffic came from mobile
■ Amazon accounted for more than a third of 2015 online holiday spending
■ The "sweet spot" for peak conversions is a load time of 2.4 seconds
■ A mere one-second slowdown resulted in an 8 percent increase in bounce rate
How fast do holiday shoppers expect websites to be?
According to more than 1.5 million beacons' worth of user data for 10 leading retailers during Cyber Week 2014 and Cyber Week 2015, the load time "sweet spot" for peak conversions was 2.4 seconds, a 37 percent decrease from the 3.8-second page load time for peak conversions in 2014. In other words, consumer expectations and behavior shifted sharply toward a preference for pages that were 37 percent faster.
Following this trend, the performance sweet spot in 2016 is likely to be two seconds or less.
What's more, just a single-second slowdown triggered an 8 percent increase in bounce rate. A 5-second slowdown in load time (from 2 to 7 seconds) resulted in a bounce rate increase of 42 percent.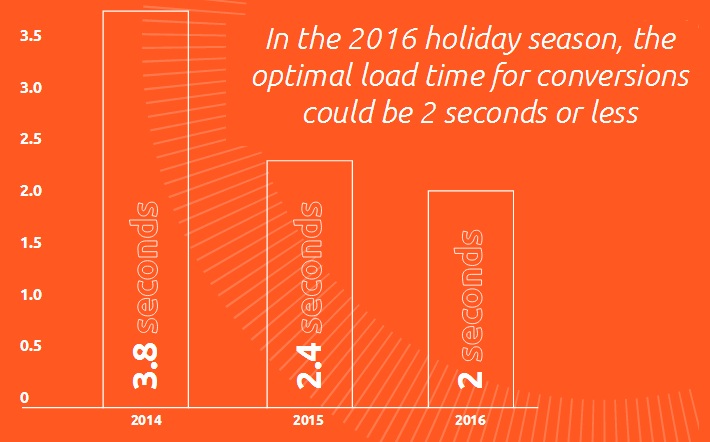 E-tailers should therefore be particularly vigilant and proactive with their load times: while overall load times improved between 2014 and 2015, in 2015 fewer visitors experienced "sweet-spot" load times than in 2014.
Online retailers must also avoid downtime at all costs, as there is a correlation between downtime and market value of brands and a significant negative correlation between outage announcements and stock returns.
The hourly cost of downtime varies by industry and size of the brand, but estimates are all mind-boggling. A 20-minute Amazon outage cost about $3.75 million. For Fortune 1000 companies, the average total cost of unplanned application downtime per year is $1.25 billion to $2.5 billion. The average hourly cost of an infrastructure failure is $100,000 per hour.
Be Like Amazon
Amazon alone accounted for more than a third (34.5 percent) of 2015 online holiday spending.
"Why? Massive inventory, competitive pricing and free shipping are part of the equation, but Amazon was also an extremely early adopter in the study of how seconds — and sometimes even milliseconds — of latency affect bounce rates, conversion rates, sales and revenue," explained SOASTA Director of Research Tammy Everts. "As a result, Amazon enjoys a 13 percent conversion rate — and an impressive 74 percent for Prime members."
Everts added that the key to preparing a site for the holidays requires a balance between making the site both reliable and fast. "The best solution to preparing your site for the holidays is to create an ongoing environment of continuous testing and improvement in your organization," she explained. "You can compete with Amazon and, in fact, successfully manage all peak traffic events by offering site visitors a good experience, including secure, reliable and fast performance."
Ann Ruckstuhl is CMO of SOASTA.