Reaping the Benefits of Cloud Begins with Facing the Realities of Implementation
The flexibility and ease of deployment of cloud technology demonstrated its worth during the pandemic. Gartner expects global spending on cloud services will reach over $482 billion in 2022, up from $313 billion in 2020. With no end to its growth trajectory in sight, it's now time to review the current state of cloud infrastructure within the enterprise — how effective it has been and what else could be done to drive up its value.
A survey from Snow Software polled more than 500 IT leaders in the US and UK to determine the current state of cloud infrastructure. Nearly half of the IT leaders who responded agreed that cloud was critical to operations during the pandemic with the majority deploying a hybrid cloud strategy consisting of both public and private clouds. Unsurprisingly, over the last 12 months, the majority of respondents had increased overall cloud spend — a substantial increase over the 2020 findings.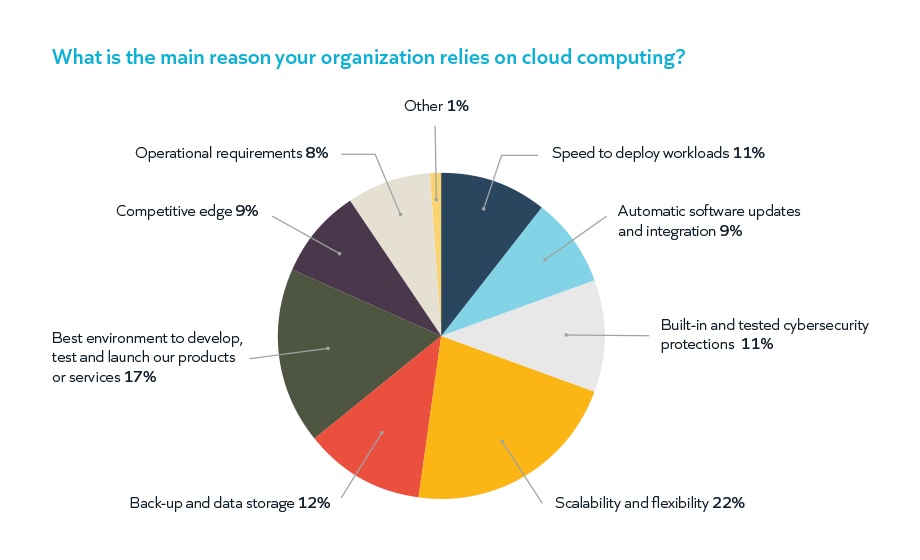 Meanwhile, many IT leaders believe they will have to add to cloud services to support demand as hybrid working becomes the norm. This figure was significantly higher in the US compared to the UK.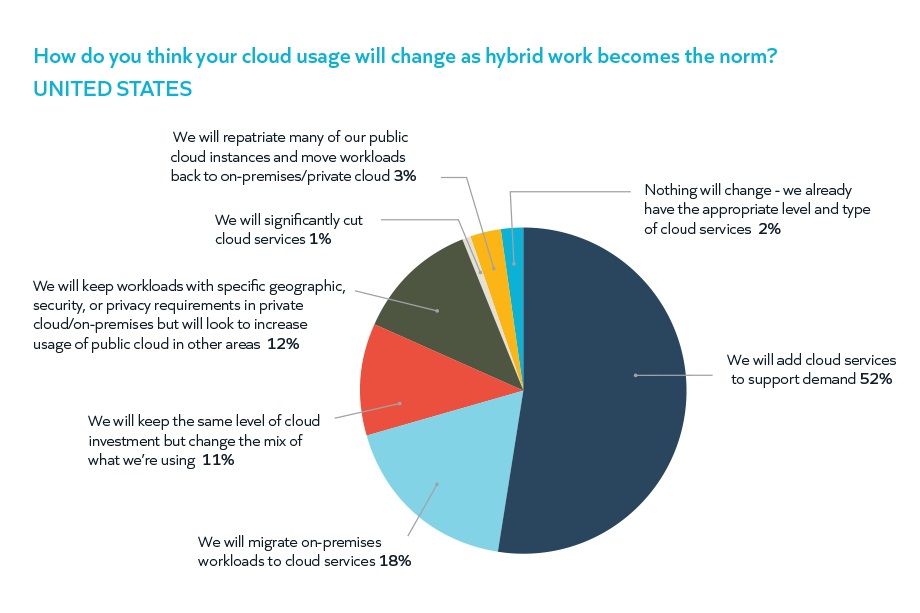 Additionally, IT leaders plan to move less workloads to private cloud in 2021 compared to last year. In 2020, a fifth said they were bringing cloud workloads back on-premises whereas this year only three percent of US IT leaders and less than one percent of UK IT leaders plan to move workloads to private cloud.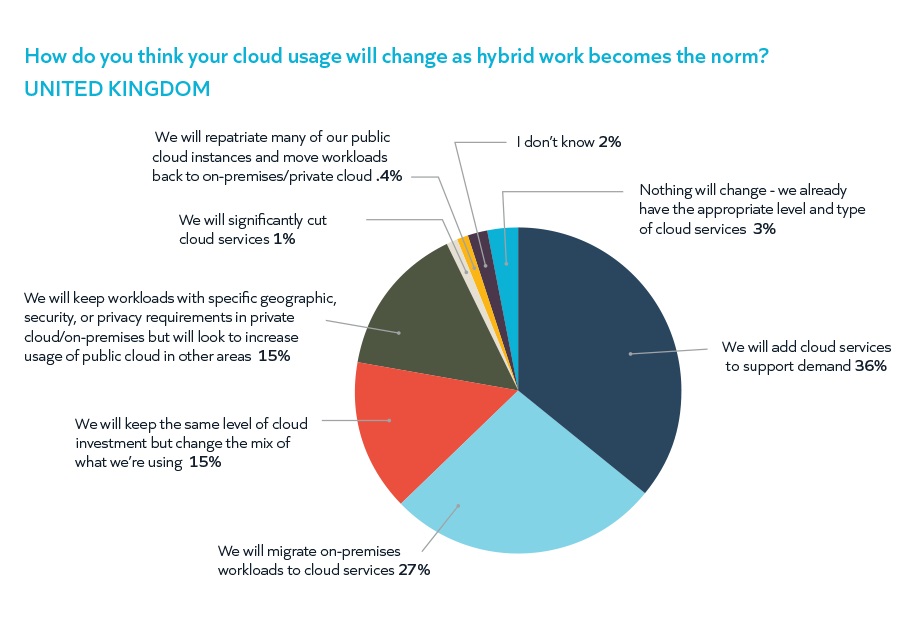 When asked about the main reasons for relying on cloud computing, scalability and flexibility was cited by many of organizations, with another solid group of IT executives stating it is the best environment to develop, test and launch products and services.
However, many of them have found that they are now experiencing an array of cloud and infrastructure management challenges from cybersecurity threats to skill gaps.
Issues Arising
One area where this is particularly apparent is cybersecurity. Approximately one-third of IT leaders felt that mounting cybersecurity threats are their greatest infrastructure management challenge. This highlights that while the majority believe security is a core driver for cloud adoption, it is also a key concern for many IT departments who are not equipped with the right staff/skillset to adapt their security approach accordingly.
Additional challenges cited include lack of integration between new and old infrastructure technologies, meeting governance and compliance requirements and managing spend. Perhaps unsurprisingly, mitigating concerns about cybersecurity protections is at the top of IT leaders' list of cloud management challenges they'd wish to solve in the blink of an eye — along with a lack of skilled IT staff and lack of cloud standardization.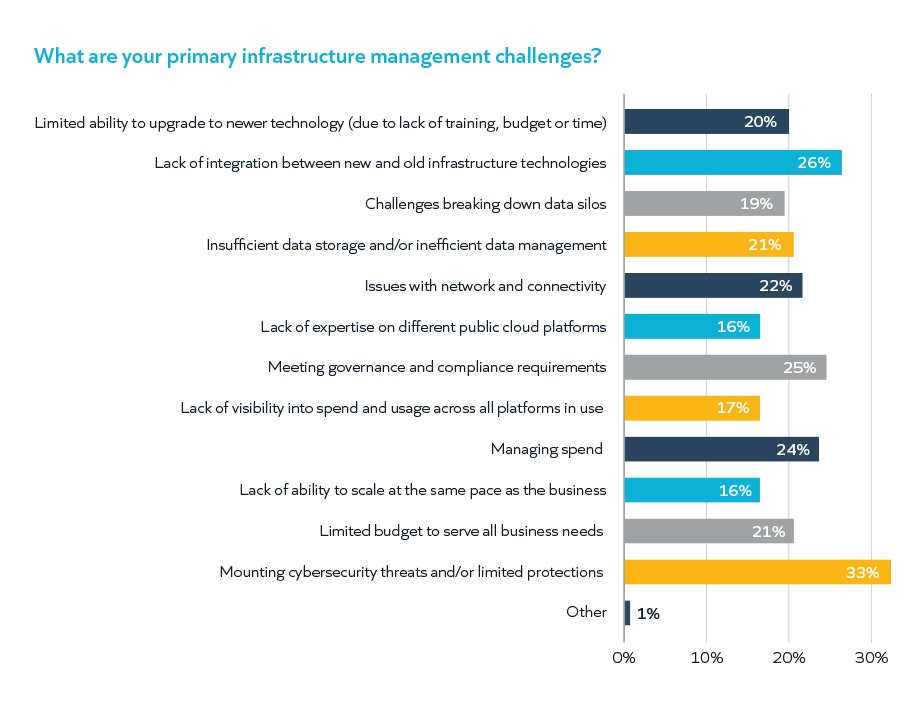 Cloud Brings Questions as Well as Answers
The acceleration of cloud infrastructure over the last year has caused some management challenges for organizations. Only a fraction of IT managers, and IT directors, rated themselves as experts in Cloud technology — highlighting that greater education is needed for mid-level executives for them to manage cloud infrastructure effectively.
These figures become even more worrying when it comes to managing spend. While the majority of respondents claimed leadership is familiar with cloud investment, a significant minority say leadership gets updates but do not question spend. Although there is no need for leadership to get involved if cloud spend is within budget, it has been found that cloud investments can sometimes bring unexpected (and expensive) costs. At that stage, leadership will jump in to understand the budget demands, but this can be tricky if they haven't previously been engaged.
Cloud investments are showing no sign of slowing down, and while the benefits cannot be denied, without the necessary training, education, and visibility to effectively implement and manage cloud, organizations could be limiting their ROI.