Regaining Control: The Battle of CIOs and CTOs Over Their IT Roadmap
In today's rapidly evolving business environment, Chief Information Officers (CIOs) and Chief Technology Officers (CTOs) are grappling with the challenge of regaining control over their IT roadmap. The constant evolution and introduction of new technology releases, combined with the pressure to deliver innovation on shrinking budgets, has added layers of complexity for executives who must transform the perception of the role of the IT leader from cost managers and maintainers to strategic enablers of growth and profitability.
Technology is often seen as simply a budget line item, but when leveraged strategically, is a powerful tool capable of driving growth and profitability. This shift in perspective places IT leaders in the spotlight, requiring them to redefine success in terms of business value and measurable outcomes. A significant aspect of this new approach involves reevaluating mission-critical transaction systems, such as Enterprise Resource Planning (ERP) and the relationship with software vendors who lock licensees into their advantageously designed roadmap.
To gain insights into how executives are embracing their IT investments and strategies, a recent survey has been conducted focusing on key challenges related to ERP and database support, vendor relationship management and the need for a better IT support and services model. Let's dive into the top takeaways from the report, along with the findings' impact on the IT industry as a whole.
Concerns over Vendor Subscription Models
One of the most notable survey takeaways is the level of concern over vendor subscription models by IT decision makers. In fact, 99% of respondents expressed concerns about implementing vendor subscription-based licensing models. These concerns are driven by fears including being forced into subscription models with no clear return on investment (ROI).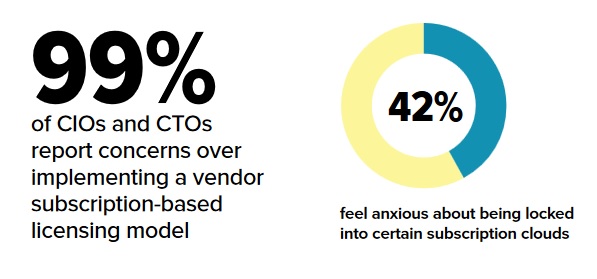 For 42% of respondents, the primary worry was the perceived lack of ROI, while the same percentage were concerned about vendor lock-in. The remaining 24% believed that subscription models offered little or no value. Some software vendors are pressuring customers to give up their bought and paid for perpetual licenses in exchange for the opportunity to pay an annual subscription for access to essentially the same software capabilities.
As software providers continue to push a subscription-based status quo, the apprehension among IT leaders regarding these approaches is likely to intensify, driving the value of freedom and choice in an increasingly anti-competitive market.
Transitioning to New ERP Models
Another finding from the survey found that business leaders are proactively taking measures to transition to new ERP models, which include shifting towards a composable approach, utilizing a mix of vendors and solutions to meet specific business needs. This strategy offers greater flexibility, the ability to evolve at the company's own pace and maximizes ROI by selecting technology aligned with specific business objectives.
The survey found that 99% of CIOs and CTOs are committed to transitioning their business to a new ERP model, with focus areas including optimization (74%), evolution (44%) and transformation (63%). In this case, optimization involves reducing total cost of ownership and improving outcomes, evolution allows for innovation at their own pace and transformation involves modernizing technology and functionality.
With these advanced capabilities, business leaders are reclaiming control over the application lifecycle management of their infrastructures. This provides key capabilities, including the ability to schedule upgrades when it is right for their roadmap strategy and resource availability, without succumbing to pressured migrations or forced upgrades imposed by vendors. They also achieve substantial time and cost savings, breaking the cycle where a minor upgrade can trigger a cascade of expensive, and possibly unneeded, updates throughout their entire system.
Modernization without "Rip and Replace"
As vendor lock-in emerges as a primary concern, business leaders have been facing increased tension in their relationships with their vendors. For example, over half (57%) of the surveyed CIOs and CTOs concur that they would have opted against ERP upgrades if not for vendor-mandated support requirements. This means they have found themselves forced to follow a vendor-imposed path, diverting their attention from the primary needs of their business.
A notable revelation coming out of the survey is that IT leaders are currently exploring alternative options beyond the conventional offerings presented by vendors — citing that modernizing ERP systems does not necessarily require a "rip and replace" approach. In fact, leaders believe that digital transformation can be achieved without completely overhauling core ERP applications. This sentiment is especially prevalent in industries such as healthcare (75%), manufacturing (64%), banking (62%) and IT (63%). The stark disparity between providers' wants and enterprises' needs is sure to increase the rift between vendors and their partners, who were once tightly aligned on achieving the needs of the business.
Embracing Modern ERP Systems with Agility and Control
CIOs and CTOs are navigating a complex landscape where they are expected to deliver innovation and maximize IT budgets. They face vendor pressure, concerns about ROI and the need for strategic agility. However, the good news is that organizations have options. Rather than adhering to vendor-dictated roadmaps, they can optimize costs through cloud solutions where it makes sense, retain core enterprise applications when "rip and replace" won't add value, and invest in products and services aligned with business strategies for growth and innovation.
As technology continues to evolve, IT leaders will remain at the forefront, driving change and ensuring that their organizations thrive in an increasingly digital world.