Improving Retail Digital Shopping Offerings
Retailers continue to grapple with challenges wrought by the pandemic and its after effects: supply chain woes, difficulty staffing positions, surging inflation and more. And just as they had to do as a result of the pandemic, retailers continue to depend upon digital interactions to attract, maintain and retain consumers.
In fact, people around the world spent more than 100 billion hours in shopping apps in 2021, an 18% increase from 2020. While that eye-popping number is impressive enough on its own, it takes on even more significance when you consider that most of the world was locked down during the bulk of 2020. Yet even as restrictions were relaxed during 2021, people continued to turn to digital alternatives for their retail needs.
But shoppers expect a great deal from their digital retail interactions. Research shows that almost 90% of consumers will leave a trusted brand after only two unsatisfactory experiences, and 17% of consumers will abandon a purchase after just one negative experience. Moreover, half of consumers abandon apps after just one day, which not only hurts a retailer's app store rankings but also results in lost revenue.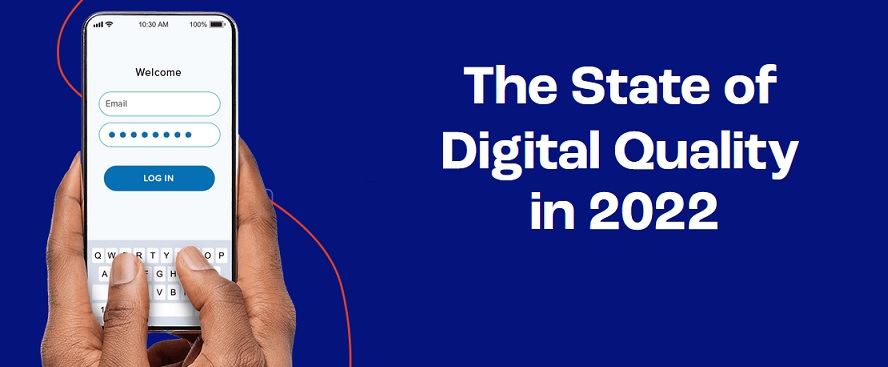 But building strong customer relationships via digital channels is no simple task for retailers given the seemingly endless number of digital platforms, devices, payment methods and technologies available today. So how can today's retailers ensure their digital offerings overcome these challenges and attract and retain the valuable customers they desperately need?
According to The State of Digital Quality In Retail 2022, the answer is that retailers need testing strategies to ensure their digital retail experiences are seamless, easy to use, intuitive, inclusive and localized. Specifically, the report calls out a number of issues that are concerning for retailers, including:
Workflow errors are the most common flaw on retail sites
These functional errors account for almost 75% of all functional test bugs, with the overall result that consumers can't complete tasks they're attempting – things like adding things to the cart or accessing chatbots for assistance. Combating these issues requires retailers to research and develop test plans that take advantage of the valuable data they have about their customer, and those tests should be based on data from actual customers.
Accessibility has to be a primary focus and not an afterthought
The World Health Organization estimates that more than 1 billion people – or about 15% of the world's population – live with some form of disability. The report shows that 72% of all accessibility bugs relate to screen readers, which means customers can't navigate or discern what's on the page. Combating these types of issues requires retailers to utilize a variety of testing approaches to ensure customers can complete tasks, and those tests should be conducted by people with disabilities to ensure digital experiences are accessible to everyone.
Localization testing is vital for expansion into new markets
Shoppers want experiences in their local languages, yet 63% of bugs are related to poor and missing translations. Addressing localization errors requires retailers to validate translations in context with in-market speakers, and to research and understand cultural nuances.
Functional errors account for 89% of payment testing bugs
And those errors mean that orders and payments didn't go through for a number of reasons, including issues with particular payment instruments, merchants or capture devices. As such, retailers must focus on ensuring the payment methods most used by customers work properly, and include functionalities like refunds, promotional offers and discounts.
There's no question that digital retail interactions will continue to grow and evolve as people increasingly turn to devices for their shopping needs. Providing high-quality digital experiences is vital for retailers that want to attract and retain customers and protect their brand's reputation. By conducting comprehensive testing, retailers can identify ways to improve digital quality, and ensure better shopping experiences that are accessible to all.