The State of Digital Operations: Downtime Costs $1 Million Per Hour
Many organizations are struggling to resolve customer-impacting incidents quickly enough to preserve brand loyalty and revenue, according to PagerDuty's recent State of Digital Operations Report. Through a two-part survey of more than 300 IT personnel in development and operations, as well as over 300 consumers, the report also revealed a perception gap among those IT personnel who feel their organizations are properly equipped to support digital services, and revealed superiority in the use of DevOps practices to achieve the best IT outcomes.
DevOps is King
While digital services are adding extra pressure on developers and IT operations teams, many practitioners identified a number of processes and tools that help them prevent disruptions.
According to the report, DevOps reigns supreme among IT organizations that feel they are equipped to handle the rise in digital services.
Other best practices employed by these organizations include incident management and modern development methods like agile or continuous delivery.
Nearly one third of these organizations are also using ChatOps, or conversation-driven development, to help support digital services.
The Digital Services Expectation Gap
The survey of IT personnel in development and operations illustrated a gap between IT teams' ability to fix disruptions in digital services, and the performance consumers expect from these services. It found that consumer-impacting incidents take IT teams approximately double the amount of time consumers are willing to wait for a service that isn't working properly. According to the survey results, 69.2 percent of consumers will stop trying or even leave a digital app or service if it takes more than 15 minutes to resolve a service disruption (i.e., stops working or the service slows down).
Meanwhile, 38.4 percent of organizations take at least 30 minutes to resolve IT incidents that impact consumer-facing digital services, increasing the chances that customers will leave during the time it takes to get things back up and running.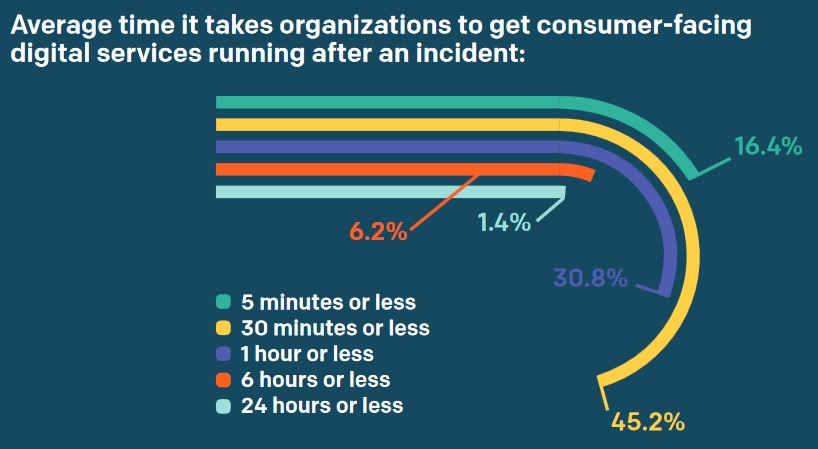 As 59.8 percent of consumers surveyed use digital services to complete tasks such as banking, making dinner reservations or finding transportation at least one or more times daily, and 85.3 percent use these services at least one or more times a week, it's no surprise that consumer brand loyalty is heavily influenced by digital experiences.
But the impact of IT disruptions doesn't stop at the developer and IT operations teams responsible for managing infrastructure. Nearly one third of respondents (32.7 percent) reported that one hour of IT downtime costs their companies $1 million or more, meaning stakeholders in the lines of business –– ranging from finance to marketing to customer service –– are also facing difficulties due to the disruptions.
IT Readiness Perception vs. Reality
The survey also showed a misalignment between IT professionals' perception of their organizations' readiness to deploy, manage and maintain digital services, and the high frequency of consumer-facing IT incidents they currently face. Although 83.9 percent of IT personnel who took the survey felt confident that their IT organization is prepared to support digital services, 59.1 percent of those who identified as prepared to support digital services are still experiencing customer-impacting incidents (slowness or downtime) at least one or more times a week.
They cited increased complexity resulting in more cognitive load, an increase in the number of tools and increased difficulty in capacity planning (e.g., increase in volume of data) as the top operations challenges, illustrating how the rise in digital service offerings has created operations challenges for IT organizations.
Consumers' demands for digital services will continue to grow alongside their high expectations for flawless experiences. To prepare for this, organizations must gain a better understanding of the digital customer journey and employ the right combination of digital operations practices. By turning to DevOps, event management and modern incident management, organizations will be able to not only close the customer expectation gap, but exceed customer expectations.