The 2023 State of IT Operations Survey Results Are In
It's never easy to forecast the future. But lately, life and work have gotten even more unpredictable. It's no secret we're living through days of heavy economic and workplace uncertainty.
Unfortunately, in such times, IT operations teams are up against even more endpoint management challenges than usual. A surplus of software and devices means avalanches of complexity and escalating endpoint diversity within organizations' IT environments.
Plus, in many cases, today's financial crunch will translate to companies cutting back on hiring, tightening budgets, limiting spending on tools, and pushing teams – already running on fumes – to do more with less. How are you supposed to overcome all this?
Teams want fast, scalable ways to make it easier to manage their complex IT environments
In the 2023 State of IT Operations Report, nearly 500 IT operations professionals from across the United States expressed their hunger for more efficient ways to centralize and simplify IT operations. Teams want fast, scalable ways to make it easier to manage their complex IT environments. Frankly, there's really only one solution: automation.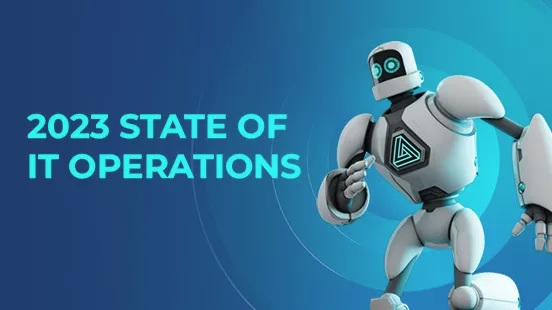 Automation to the Rescue
This year, the survey behind the State of IT Operations Report dug into IT teams' most challenging efficiency hurdles and limitations. The results showcase significant discoveries about how automation is increasing IT agility, reducing costs, and enhancing IT operations teams' endpoint management capabilities in the modern workplace.
Here's a sneak peek at some of the findings:
■ 87% of ITOps professionals say their companies are still experiencing rapid or steady growth, but over half worry about reduced budgets, should the economic climate become more challenging.
■ 55% of organizations do not feel they are managing their endpoints very efficiently.
■ Only 23% of organizations have fully automated endpoint management, but 77% say they are at least mostly automated.
How Will IT Teams Clear Endpoint Management Hurdles? Trust in Automation
Learning to trust automation to tackle previously manual tasks is key – but easier said than done. ITOps teams often worry about human error, ineffective workflow, or complex setup if they choose to adopt automation fully. But automation isn't about relinquishing your hold on your endpoints – in fact, automation has evolved to give teams tighter visibility and control than ever, and without the costly manual effort.
As you'll note when you read the State of IT Operations Report, automating endpoints is an essential productivity enabler. Plus, it's a catalyst to assure your IT leadership you can take your org forward. 
Because many orgs are upping their attention to reduced costs, control over diverse endpoint landscapes, and improving their security posture there's no better time than now to start putting your trust in automation.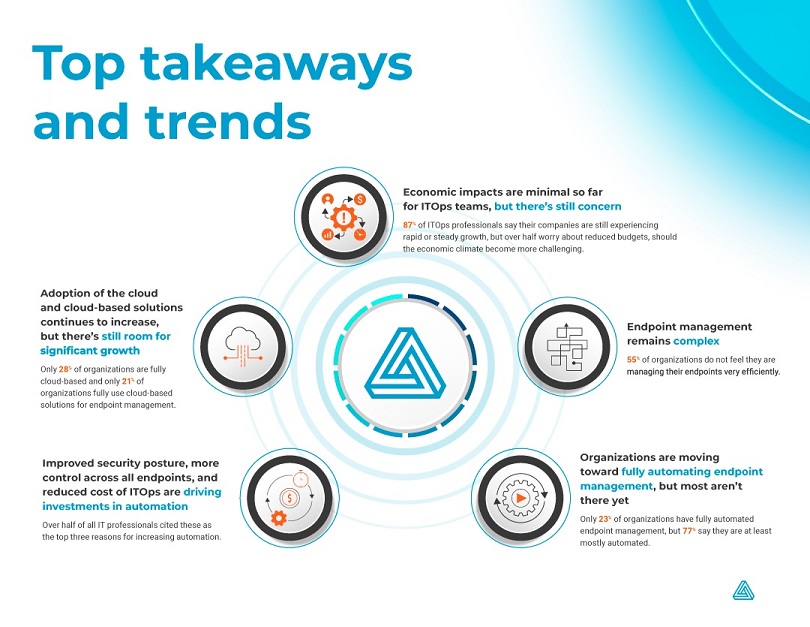 Click on image for larger version

So, How Will Your Team Win the Endpoint Management Game?
There are radical ways to boost efficiency with automation while maintaining control over your diverse IT environment. Dig deeper into automation insights and share the State of IT Operations survey findings with your team by downloading the full report here.