The Critical Role of Workload Automation in Achieving Successful Digital Transformation
Digital transformation has become a ubiquitous term in today's business landscape, describing the integration of digital technologies and cultural change to achieve organizational objectives. While discussions surrounding digital transformation have been ongoing for over a decade, the progress made across industries and organizations varies. In this blog, we will explore the state of digital transformation and examine the critical role that Workload Automation (WLA) plays in supporting its development and ongoing operations. We will also delve into how organizations are leveraging WLA to drive their digital transformation initiatives.
EMA WEBINAR ON-DEMAND: The Critical Role of Workload Automation in Achieving Successful Digital Transformation
The State of Digital Transformation
Digital transformation is a journey that organizations undertake to embrace the potential of digital technologies. However, the pace of this journey varies across industries and organizations, influenced by factors such as organization size, priorities, technology infrastructure, and talent readiness. Some industries, including e-commerce, digital media, and financial technology, have made significant strides in digital transformation. However, sectors like healthcare and government are still in the early stages of digital adoption.
EMA conducted a global survey of 406 IT and business leaders to understand how workload automation software is changing to adapt to modern IT needs and to support digital transformation. The first chart shows where global enterprise IT and business leaders self-assess the state of digital transformation in their organizations.

The second chart summarizes these results into 5 categories. Most of the enterprise market, 97% of organizations, have initiated digital transformation activities. However, only 21% are considered mature or looking towards the next generation, while the majority (77%) are still in the early stages or just beginning their transformation journey. These findings highlight the wide range of progress and the ongoing nature of digital transformation.
The Role of Workload Automation in Digital Transformation
Workload Automation (WLA) tools play a critical role in supporting the development and ongoing operations of digitally transformed processes. During the development phase, WLA tools streamline and automate various tasks in the software development life cycle, such as code builds, testing, and deployment. By automating these tasks, WLA accelerates development cycles, reduces errors, and enhances code quality.
The survey conducted by EMA sheds light on how organizations are leveraging WLA to support their digital transformation initiatives. The most mentioned use case, as highlighted by 51% of respondents, is the support of DevOps processes. DevOps emphasizes collaboration and integration between development and operations teams, and WLA tools facilitate the automation and orchestration of tasks involved in this process.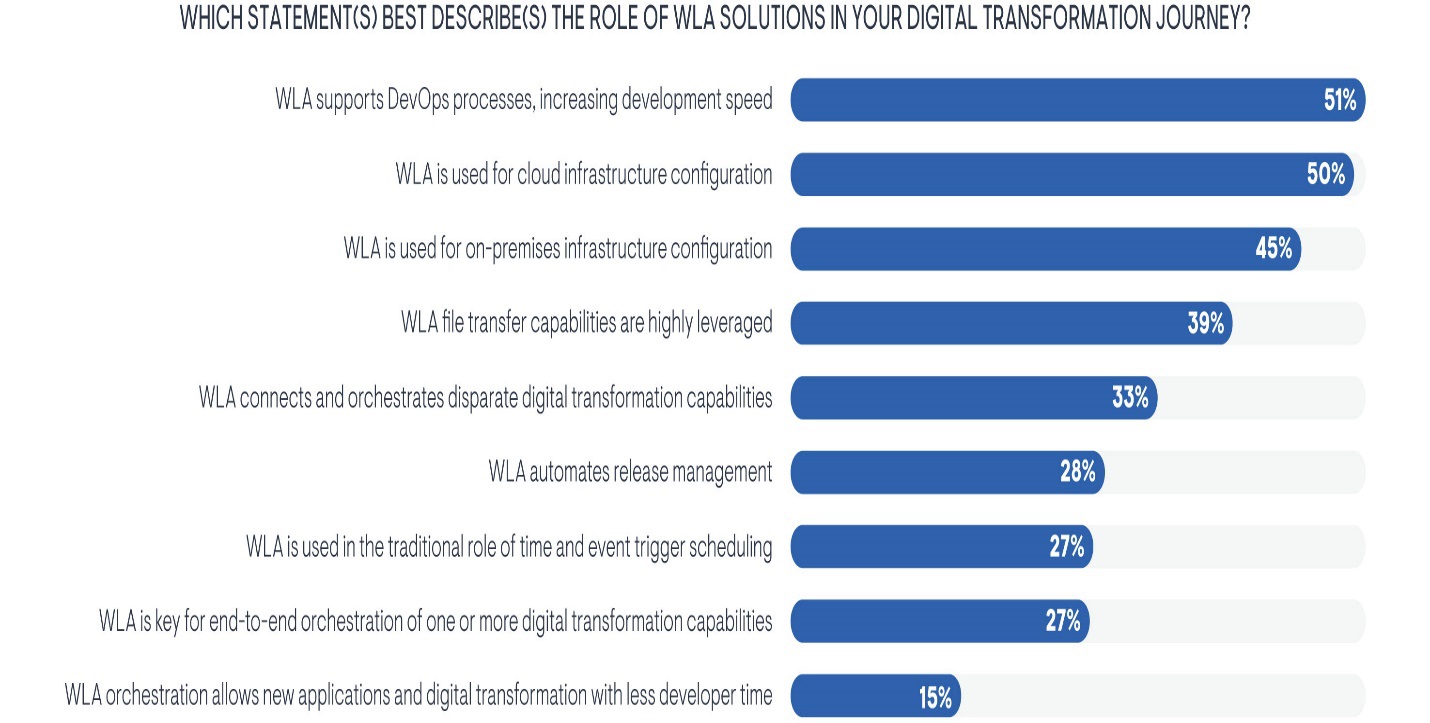 Another significant application of WLA in digital transformation is the configuration of cloud and on-premises infrastructure, mentioned by a considerable percentage of respondents. By automating infrastructure provisioning and management, organizations can scale their digital capabilities effectively.
Additionally, WLA plays a crucial role in automating release management, ensuring efficient and error-free deployment of digital solutions. This aspect was highlighted by 28% of respondents in the survey.
Furthermore, organizations are leveraging WLA to orchestrate automation in support of digital transformation. This includes connecting and orchestrating disparate digital transformation capabilities, as mentioned by 33% of respondents. Another 27% use WLA for end-to-end orchestration of digital transformation processes. EMA believes that if developers have a better understanding of WLA orchestration, new applications and digital processes could be completed with reduced developer time.
WLA is a critical component of digital transformation. It not only plays a vital role during the development phase, streamlining and automating various tasks, but also continues to support ongoing operations by automating IT operations tasks, ensuring operational efficiency and reliability. WLA enables scalability and flexibility, allowing digital processes to handle varying workload demands without compromising performance. By leveraging WLA, organizations can accelerate development cycles, improve operational efficiency, and deliver innovative digital processes to customers.
Where to Learn More
If you would like to learn more about the role of WLA, watch this on-demand webinar, The Critical Role of Workload Automation in Achieving Successful Digital Transformation. You can see how those further along the digital transformation journey recognize the need to centrally manage automation, and how organizations with developers who understand and value the role of WLA tend to be farther down the digital transformation path.
Use the player or download the MP3 below to listen to EMA-APMdigest Podcast Episode 1 — Dan Twing, President and COO of EMA, discusses Observability and Automation.
Click here for a direct MP3 download of EMA-APMdigest Podcast Episode 1