The Secrets to Success with Open Source
In the age of digital transformation, enterprises are migrating to open source software (OSS) in droves to streamline operations and improve customer and employee experiences. However, to unlock the deluge of OSS benefits, it's not enough for organizations to simply implement the software. They must take the necessary steps to build an intentional OSS strategy rooted in ongoing third-party support and training.
To better understand the current state of OSS and how enterprises' varying levels of support and training efforts correlated with business success, we worked with Forrester Consulting to survey leading open source and cloud adoption decisionmakers at North American enterprises and uncovered an overarching theme: when running open source packages, companies need third-party expertise and skilled resources to fully realize their business goals.
Non-Optimized Support and Lifecycle Management Limit OSS Success
Open source software has emerged as a central pillar of enterprises' efforts to future-proof their IT strategies. When implemented correctly, it delivers tremendous business value, from greater flexibility and innovation to reduced costs and security threats. In fact, an overwhelming 96% of enterprises find OSS mission critical or important to their company's digital transformation initiatives and 97% intend to move at least one aspect of their IT infrastructure to OSS, according to the Forrester study.
Despite this welcome attitude toward open source software adoption, few have taken the necessary steps to embrace it fully, and run it at enterprise scale, securely, with minimized risk and maximized results. The idea of OSS is appealing, but when it comes time to implement, enterprises often don't understand how the individual technologies operate or how to take advantage of OSS in a comprehensive manner. Rather than establishing enterprise-wide policies for overseeing and regulating their open source, they leave it to individual departments or developers to control.
The result? 64% of enterprises report sub-optimal, siloed approaches that fail to factor in the external expertise or skills required of sophisticated OSS. Consequently, these enterprises risk falling behind in maintenance lifecycles, losing out to their modernized competitors, increasing security vulnerabilities and struggling to hire and retain talent that prefer OSS environments.
Even though a majority of organizations reported subpar OSS strategies, they understood the value external skills and support could have on their success and were receptive to change. Areas respondents believe would benefit from greater assistance include initial setup and architecture design, ongoing maintenance of OSS implementations and improved access to training, among others.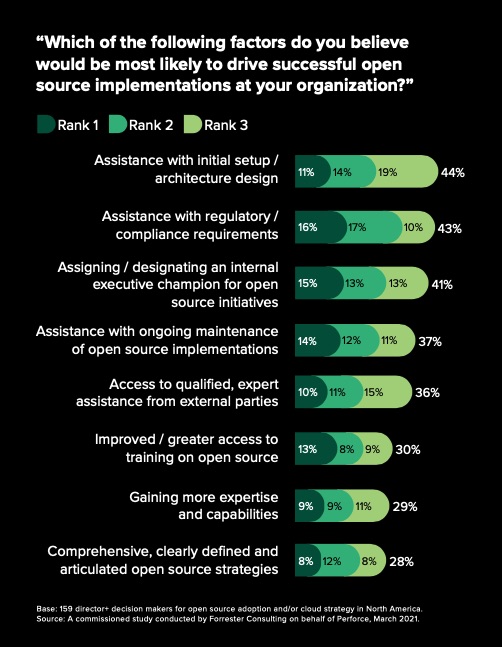 Digital transformation requires more than the mere adoption of new technologies; it demands an ongoing, holistic approach. There are a host of OSS factors that, left unchecked, could result in disaster for businesses and their bottom line.
External OSS Guidance Leads to Better Business Outcomes
In the Forrester report, nearly every respondent who adopted open source experienced at least one of its benefits, including greater flexibility, faster product innovation, enhanced employee experiences, lower operational overhead and better customer satisfaction. However, those who added ongoing external support services to their open source strategy were 82% more likely to report that they exceeded business expectations, underscoring the tremendous cost-benefit of third-party support.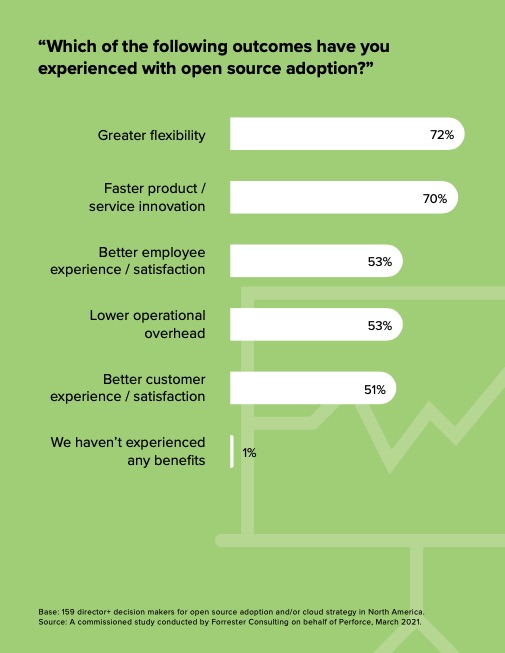 Despite these findings, many organizations have not optimized their OSS strategies with enterprise-level support and maintenance — effectively missing out on such benefits as greater flexibility, efficiency and innovation.
For those enterprises that are eager to close this gap, but are unsure of where to start, consider conducting an internal audit of the key areas required of a robust OSS strategy: security, support and maintenance.
Businesses should ask themselves the following questions to help pinpoint their current position:
■ Are the business-critical components you are using supported commercially?
■ Do you oversee or monitor the OSS packages teams are allowed to deploy?
■ How often do you experience expensive service interruptions or outages?
■ Do you find that architectural changes are necessary to resolve production issues?
■ How much time do your developers spend engaging in support roles?
If IT and DevOps teams are spending most of their time fixing bugs, self-supporting or rearchitecting applications, it may be time to tap a third-party support group to manage the many moving parts associated with a fully-realized open source strategy. Not only will added support and skills better position enterprises for long-term IT excellence, but it'll quickly catapult them into the elite 82% of organizations outpacing their business goals.