The Threat Behind Digital Transformation
The age of digital disruption is upon us, as the last decade alone has proven in terms of technology and disruption with the progression of organizations like Uber, Airbnb, and Netflix. We are also on the brink of new disruptions in industry, including banking or payments, insurance, healthcare, construction, packaging, and many more. These not only come from startups disrupting a sector, but companies being able to shift from their existing focus areas to build on new opportunities. They're driven internally or by creating a new spinoff company into additional areas.
The CxO organization is becoming more concerned with outsiders entering into their markets. In the past, the cost of entry into a new market was significantly higher than it is today. Digital businesses and software-driven business models are changing the playing field, for new entrants to shift into new markets. The cost of experimentation continues to decrease, with lower cost computing models that allow for the rental of resources and software.
Open source plays a key role in both building new applications and creating community leverage; and senior executives are taking notice. IBM's Global C-Suite Study is a great data set consisting of data collected between January and June 2015. They surveyed 5,247 business leaders from 21 industries in more than 70 countries. The sample comprises 818 CEOs, 643 CFOs, 601 CHROs, 1,805 CIOs, 723 CMOs, and 657 COOs :

Today's native digital generations prefer to work on digital channels versus in-person channels. This ongoing trend has given rise to improvements in customer service, where interactions are delivered across multiple digital channels, ranging from social channels like Twitter and Facebook to text and voice communications. However, there is still more work to be done to unify these platforms more seamlessly. Technologies such as social, chat, and more recently, bots create the personal touch in a more scalable manner, reducing costs and increasing customer satisfaction. These trends will continually take hold, personalization and fast touch points are valued by today's users who seemingly have less time than ever before.
The level of patience and complexity involved in making these channels seamless is an increasing challenge with today's IT complexity. Your customers will not tolerate failure, and expect technology to just work. IBM's survey data confirms this trend.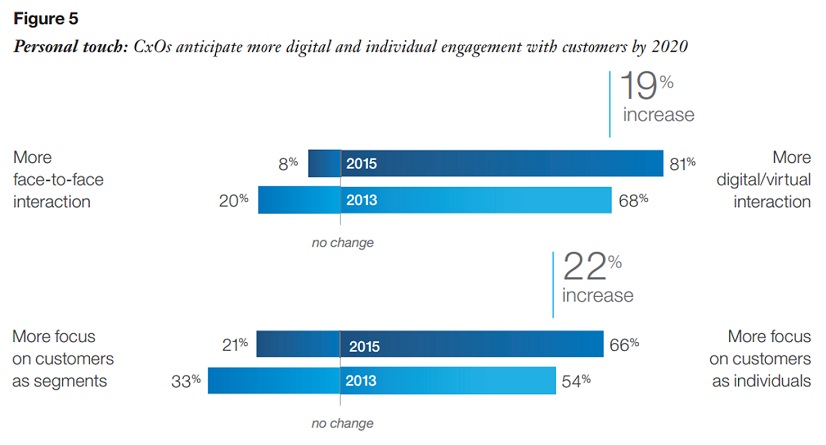 This accelerating trend is what will differentiate those businesses who learn to engage in new and differentiated ways across multiple channels. Companies which lead, versus those that follow have very different perspectives on what will likely transpire during a time of disruption.
In Figure 8 below, those indicated as torchbearers see companies who look for another market to expand into being able to enter these markets quickly as innovators in another segment or market. Similarly, these first-mover companies see the need to enter into new or adjacent markets. For this reason you see most companies creating labs or innovation centers. We increasingly see next generation visibility being required for these new and highly agile software systems. This demand is critical for survival, innovation, and growth.
These experiments can only be done promptly when the organization adopts smaller agile teams across the business and technology groups. Breaking up large, and likely slow moving monolithic organizations, software, and systems into smaller units which operate independently. The ability to experimentation and make decisions on their own.
The companies who lead tend to do this far more frequently than those who follow or are laggards. We see this regularly in our customer base, where a large degree of diversity exists in the autonomy within each team. The question remains as to how this will play out with economic changes or political change.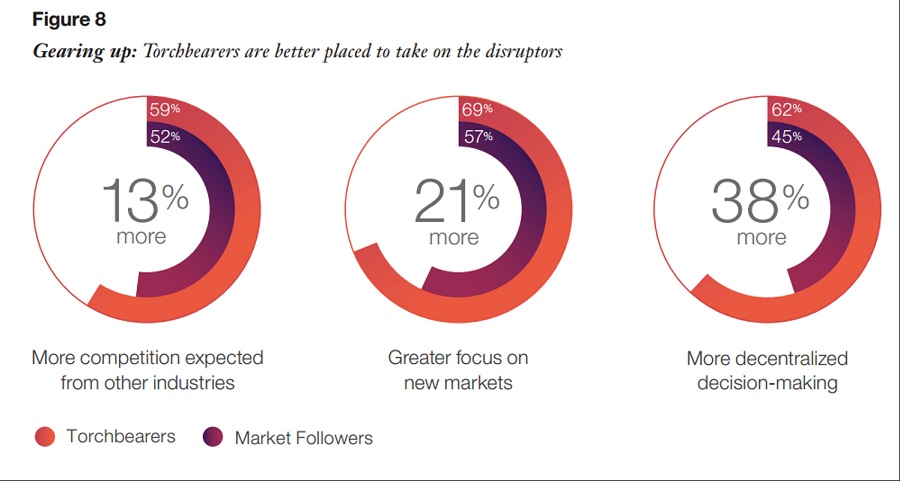 In summary, while this data and analysis confirm many trends, it shows clearly different and increasingly changed thinking as digital becomes the preferred channel for many businesses. The IBM data also informs that decentralized decision making and experimentation are clearly taking hold, but those who lead are in a different place than those who follow. It will be interesting to see how this progresses with IBMs new survey data.