Trends in Performance Testing and Engineering - Perform or Perish
Rising competition across the business landscape is forcing enterprises to up their ante and leverage cutting-edge technology to reach out to their target customers. On the customer's side, the amazing array of diverse products and services is enough to drive frenzy, confusion, and demand. The tech-savvy and highly demanding customers of today want every application to perform 24 x 7, 365 days a year across a plethora of devices, browsers, operating systems, and networks. Business enterprises are hard-pressed to cater to this segment of customers and are migrating to newer technology to stay relevant and competitive. They need to deliver products or services while focusing on personalization, customization, predictions, analytics, and user preferences, among others.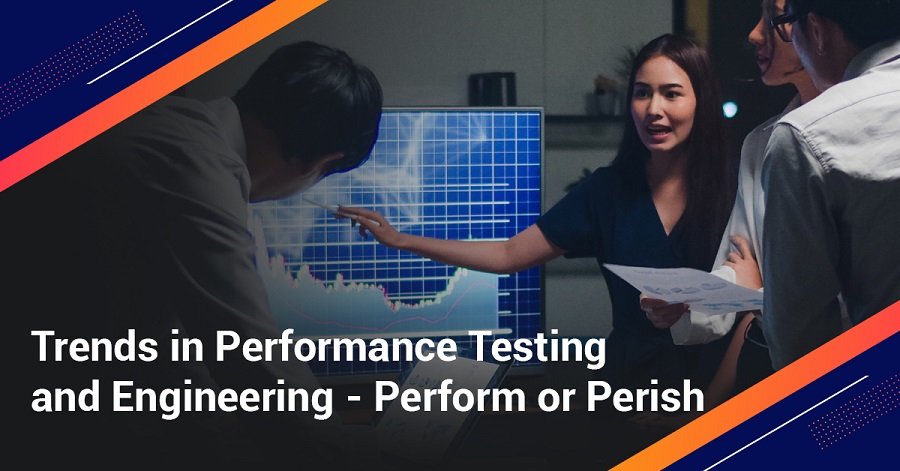 However, adopting the latest technologies can impact the performance of a software application in one way or another. It is only due to the improved performance of software applications that customers can adopt them and help businesses increase revenue. Performance testing services are an important part of the SDLC that help to determine if the performance of the software application is on target. Let us look at the performance testing trends that can help business enterprises score over their competitors and deliver superior customer experiences.
Leveraging performance testing services is necessary to prevent the software application from facing downtime, lag, or other issues. These services can help with easy tracking of issues that have the potential to impact the functionality, features, and end-user experience. The trends in performance testing and engineering are as follows:
Protocol-based load tests versus real browser-based tests
Traditionally, protocol-based load testing is used to test web pages and applications for multiple protocols such as IMAP, AJAX, and DNS. However, with React and Angular-based web development frameworks, a huge amount of computation has moved to the browser engine. So, neglecting performance load testing using real browsers can generate vague results and create performance issues. Since real users largely interface with browsers, QA testers should adopt browser-based load testing services, including choosing performance metrics for JavaScript and HTML/CSS code rendering. This will ensure the running of load tests that are very close to what real users are likely to face.
Shift-left testing
Here, application performance testing is run very early in the development cycle and is made part of each sprint. It aims to monitor performance metrics if and when a new feature is added to the application. This allows the QA testers to determine if the bugs or issues present in the code can cause performance degradation. A robust performance testing strategy should be set up so that performance tests are triggered at every new stage of development. Besides, the results of such tests should be compared to the performance trends of previous test runs.
Chaos testing or engineering
Chaos testing is about understanding how the application should behave when failures are randomly created in one part of the application's architecture. Since several uncertainties can take place in the production environment, chaos engineering can help identify such scenarios and the behavior of the application or system. It allows testers to understand if any cascading issues are going to be triggered due to the failure in other parts of the system. Such a performance testing approach can make the system resilient.
In other words, if one part of the web services or database faces sudden downtime, it should not affect the entire infrastructure. Chaos engineering can help find vulnerabilities or loopholes in the application so that any performance issues can be predicted and mitigated beforehand.
Automated testing using AI
Performance testing scripts are often changed based on customer behavior changes. However, with AI and machine learning, business enterprises can identify the patterns around the user journey and know what the real users are up to when using the software application or visiting the web platform. AI can help the QA team use a performance testing methodology to generate automated scripts that can eventually find new issues or vulnerabilities in the system.
Conclusion
The above-mentioned trends in performance testing can help business enterprises scale and adapt to the dynamically changing software development frameworks. By keeping abreast with the latest technologies and key testing trends, businesses can ensure stable applications, superior user experiences, and possibly customer loyalty.