5 Reasons to Migrate to UCaaS
Hybrid and remote work models are a reality in the present and future of work, despite efforts to return employees to the office. With 74% of US companies planning to or having already implemented hybrid work policies, identifying and implementing a unified communication as a service (UCaaS) solution that will address both employee and organizational needs is non-negotiable in the future of work, according to Info-Tech Research Group's latest research, Assess Your Readiness to Implement UcaaS.
"Given the reality of the new ways people work, there's a genuine need for a UCaaS solution," says John Donovan, Principal Research Director in the I&O Practice at Info-Tech Research Group. "Aside from remaining agile when accommodating different work locations, it's advantageous to be able to quickly scale. New technology is moving at such a rapid pace that using a UCaaS tool is truly beneficial, especially given its AI, analytics, and mobile capabilities. Being held back by an on-premises solution is no longer a wise option."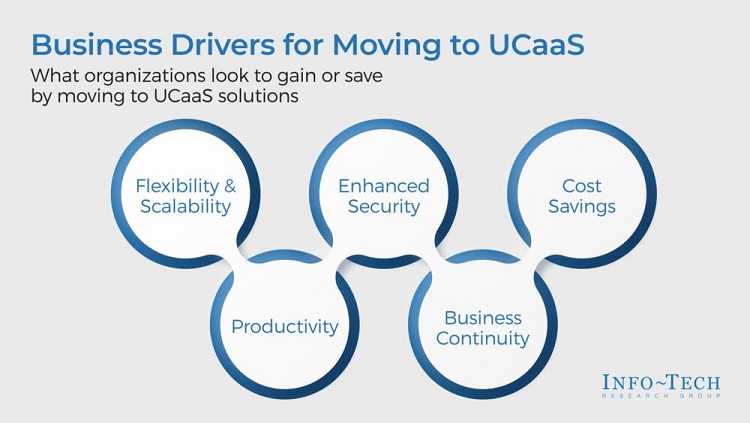 There are numerous organizational benefits to UCaaS, as indicated above, but Info-Tech Research Group's research pinpoints five key reasons for migration to a UCaaS solution:
1. Advanced technology
Cloud hosting and advanced technology provides the ability to deploy advanced communications technology quickly and offers a faster, easier communication flow across teams and with customers with phone, messaging, audio, and video conferencing available in one place.
2. Scalability
Since UCaaS is an on-demand service, companies can scale their communication needs to what is immediately required at an affordable price.
3. Cost efficient
With the implementation of UCaaS, the need for multiple platforms and devices is eliminated, allowing companies to purchase a single communication management tool in place of several.
4. Highly available
As the need for a robust UCaaS tool grows, an increasing number of reputable vendors are offering customizable solutions to meet both organizational and employee needs.
5. Security
UCaaS offers robust security, with a single point of contact for troubleshooting, built-in redundancy for improved reliability, enhanced data security, and reduced risk of fraud.
As remote and hybrid work present additional challenges for IT management, UCaaS offers a host of benefits that make the IT function run more efficiently overall. Some of these benefits include eliminating ongoing maintenance as well as a decreased need for upgrades and patching and managing servers or private branch exchanges (PBXs). UCaaS is easy to deploy, and due to its scalability and flexibility, users can easily be added or removed as required.
"The days of on-premises private branch exchange (PBX) and legacy voice over internet protocol (VoIP) solutions are numbered, and organizations are examining alternative solutions to redundant desk phones. The new norm must be a cloud-based solution that integrates via application programming interface (API) with content resource management (CRM), email, chat, and collaboration tools," explains Donovan.