Why AR and VR Need 5G and Adaptive Networks to Reach Full Potential
Gaming introduced the world to a whole new range of experiences through augmented reality (AR) and virtual reality (VR). And consumers are really catching on. According to Statistica, 15 million augmented and virtual reality headsets were sold globally in 2020. Given the widespread success of this technology, especially amid our current reality, enterprises are eager to take advantage of this new medium to increase the extensive use-cases it provides.
To unlock the potential of these platforms, enterprises must ensure massive amounts of data can be transferred quickly and reliably to ensure an acceptable quality of experience. As such, this means that enterprises will need to turn to a 5G infrastructure powered by an adaptive network, which can support the capacity and low latency required. When these technical considerations are made, enterprises will be able to extend the capabilities of these new media to create new and engaging experiences for employees around the globe.
The Global AR and VR Boom Right Now
Enterprises are increasingly deploying AR/VR to create more efficient and reliable enterprise operations, as employees continue to work remotely due to COVID-19. Industries like healthcare, manufacturing, and retail are adopting the use of AR/VR for business continuity. And, as there is no clear indication of when offices will physically reopen, many enterprises are also looking at how these technologies can promote a stronger workplace culture, even while remote, as employees leverage AR/VR for virtual meetings, presentations, and conferences.
In the healthcare industry, we're seeing AR/VR used for medical training, remote patient visits, and even virtual surgeries. AR/VR can help both patients and providers wade through an already complex system to increase accessibility and the effectiveness of medical services to improve the overall efficiency. As surgeries require absolute attention to the detail, AR/VR can provide immersive training exercises before actually operating on a real patient. As the lack of trained medical professionals continues to be a global challenge, AR/VR-based training provides increased interactivity and engagement to prepare professionals for various scenarios so they are ready for any real medical emergencies they may face in their career.
Manufacturing facilities have been able to use AR/VR to train employees and prevent injuries on the job. Engineers and factory floor workers are utilizing AR glasses that give them the ability to view the ongoing status of machines, access data, measure key performance indicators (KPIs), and spot issues more easily. These AR glasses speed up production time because it removes human error in recognizing issues. It also improves worker safety as they can simulate the production process and view areas that could be potentially hazardous situations, before they start working. This helps to maintain environmental health and safety within these facilities.
Another industry that is utilizing AR/VR is retail. Retail companies are using this software to create a better brand experience for their customers. Whether the customer is browsing online or physically in a store, companies are bringing their products to life with AR/VR. One use is virtual mirrors that allow customers to virtually try on clothes without doing it physically.
When it comes to online shopping, customers can look at 3D products and move them around as if they were in the store. One brand that has successfully created an AR shopping experience is IKEA. IKEA Place is an AR app for smartphones and tablets that gives customers the ability to virtually see and place furniture in their homes before buying it. The app also allows customers to hold their smartphones and tablets up to furniture that is already in their home and it will search in IKEA's catalog for items that look similar.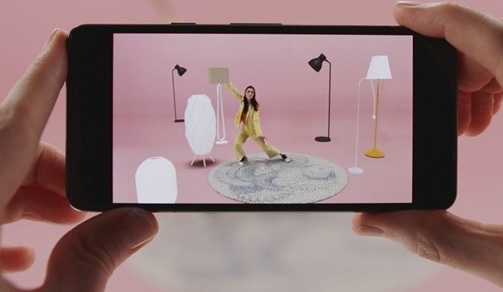 The 5G Connection to AR/VR
For AR/VR to be successful, enterprises should transition their networks to support 5G capabilities. 5G guarantees full mobility and guaranteed low latency across the network and supports high capacities of data at high speeds wirelessly without delay.
5G is expected to provide upwards of 10x increase in throughput, 10x decrease in latency, and 1000x increase in overall traffic volumes when compared to the 4G LTE capabilities. For the user, this means there is a tactile internet in which they are seeing and hearing changes in the virtual experience in real time. This component is critical as it prevents the user from feeling any headaches or nausea due to buffering and delays in AR or VR experience.
Why 5G Needs an Adaptive Network
The network needs to change and adapt to meet the needs of AR/VR. With a programmable network infrastructure coupled with analytics, automation, and intelligence, service providers will help AR/VR to reach its full potential. With a flexible network, providers can better plan for heavy traffic surges that may result from increased AR/VR usage and effectively streamline it so enterprises have the best experience possible when using these technologies. With an adaptive network, network performance is optimized on an ongoing basis, as changes occur in the network over time, for an optimal AR/VR quality of experience to end-users.
5G is critical in implementing mobile AR/VR for a fully immersive experience. Enterprises will need to ensure they have the optimal network infrastructure backed by an adaptive network to support 5G capabilities. Only then will they see the leaps and bounds that AR/VR technology can reach to provide best-in-class experiences for enterprises and their employees.