Why Joining an APM Vendor's Solution Ecosystem Makes Sense
If your company has experience in developing applications or performance management solutions, then you might want to consider joining an APM vendor's ecosystem to grow revenue. Here is how it should work: you develop market solutions incorporating your industry and technology experience, the vendor sells the solution globally through multiple channels, and you collect your check each month. The key is developing solutions for a market, not just one customer!
Why Do Vendors Need More Development Partners in Their Ecosystem?
The application performance market is rapidly evolving and driving new requirements on enterprise APM. Line of Business Managers need an easier way to manage the user experience of key enterprise apps. Developers need to find and fix slow code before its gets deployed. New open source software tools for app developers appear by the week, challenging the vendors to keep pace with new use cases, new technologies, and tougher SLAs around application availability and performance. The truth is that no vendor, no matter how large, can match the pace of the market by working alone.
The winning formula marries partners' industry experience and technology expertise with vendors' platform capabilities. Combining partner and vendor strengths accelerates the availability of higher value solutions to the market. A partner who knows the Healthcare industry already understands end-users' daily trials and tribulations, which performance metrics are important, and what insights they offer. As the volumes of data continue to rise, end-user needs real business insights from APM solutions – not more KPIs to look at. In addition, they need integrated capabilities to increase DevOps productivity for business agility on hybrid cloud.
Partners who apply their expertise to quickly build APM solutions can grow new revenue streams as their APM solution extensions are re-sold across the platform vendor's digital, direct and partner sales channels.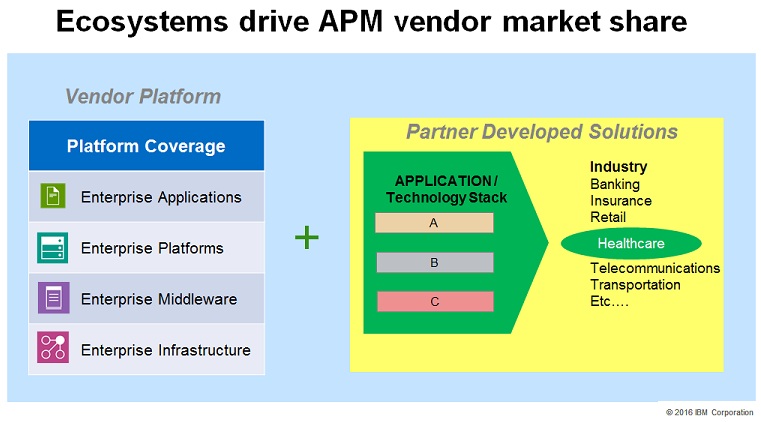 A Recap of Why the APM Market Opportunity in Enterprise Is Growing
Enterprises have ongoing challenges including gaps in app performance insight, lack of consistency in the depth of insight available, and keeping APM current with the latest platform updates. The results: more time needed to detect, isolate, diagnose and fix customer impacting performance issues. They need coverage of all domains including applications, middleware, and infrastructure. They need a consistent level of performance data coverage end-to-end, and a consistent depth for key applications & infrastructure. The APM system must be up-to-date with the latest versions of the technologies being monitored. As new technologies are introduced and existing ones upgraded, the APM system should discover, correlate, and visualize the latest available data and distill insight and foresight for the business.
This increased breadth of monitoring required for an Enterprise's Hybrid Cloud environment adds complexity for APM. New consumers of APM solutions have their own particular needs. Whilst the well understood IT Ops user responsible for managing the hybrid infrastructure wants to monitor the infrastructure end-to-end, the Line Of Business and Application Owner wants to ensure that users continue to have a good experience using their apps. Enterprises evolving Dev Ops practices and extending development platforms want app performance issues and infrastructure impacts resolved before the new or updated app goes live.
Colette Finneran is an Offering Manager, Application Performance Management, at IBM.